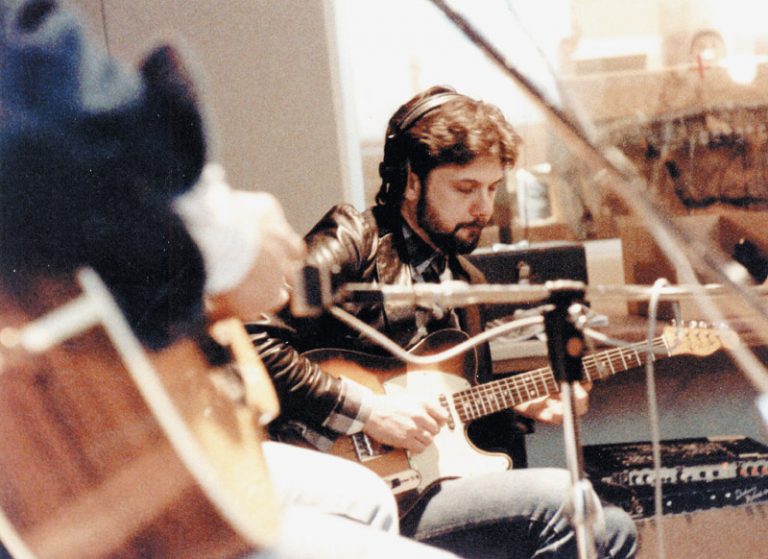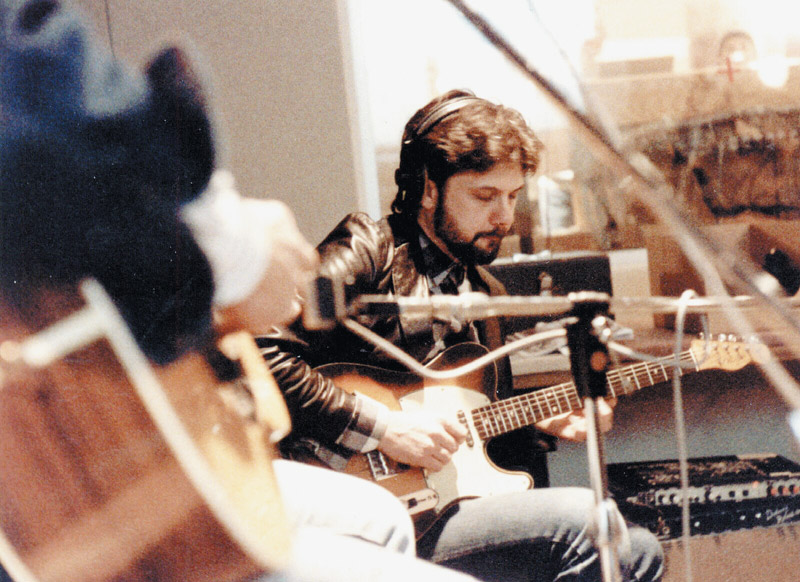 Despite prevailing trends and "industry wisdom" – an oxymoron Pete Anderson has disproved several times over – the 20-year association of this guitarist/producer/label-head and country star Dwight Yoakam has been one of the most fruitful in country music history.
Based in Los Angeles instead of Nashville, with a guitarist doubling as producer, using their seasoned bar band instead of session musicians, and daring to actually play rootsy country music (even proudly calling it "hillbilly music") instead of some homogenized substitute, Yoakam and company reached #3 on Billboard's country chart in 1986 with a kick-ass remake of Johnny Horton's "Honky Tonk Man" – which had created a buzz as part of their self-released EP before signing with Warner/Reprise. The first two Yoakam albums yielded six Top 10 country hits, and the boys were mainstays on the rock circuit long before the third release, Buenas Noches From a Lonely Room, scored two #1 country singles.
The term "neo-traditionalist" was often applied to Yoakam, often in the same reviews that credited him with pushing the envelope of country music. Deftly making sense of this seeming incongruity was Anderson, in the control room and on the Telecaster. His arrangements and solos refused to settle into a comfortable rut, preferring to take chances and explore new sounds. The best of the pair's Reprise output (spanning 15 albums), is compiled on Rhino's four-CD box, Reprise Please Baby: The Warner Bros. Years – from the Bakersfield shuffle of "Little Ways" (featuring an Anderson baritone solo) to the ethereal "A Thousand Miles From Nowhere" (with Pete's slide recalling Duane Allman).
Anderson became an in-demand producer, working with Michelle Shocked, Rosie Flores, the Meat Puppets, and k.d. lang and Roy Orbison. In 1993, he founded Little Dog Records, and released his eclectic solo debut, Working Class (with the ad campaign, "It ain't country, Homer!"), in '94. He followed with 1997's Dogs In Heaven and a live CD, and was mixing a new solo CD, tentatively titled Daredevil, at press time.
In 2003, he helmed Yoakam's Population: Me but didn't tour with the singer for the first time in many years. Having co-produced the compilation A Town South of Bakersfield album and its sequel (Another Town South of Bakersfield), he showcased another fine crop of unsigned country talent on Little Dog's A Country West of Nashville and was spotted gigging with new signee Moot Davis, who just might become the next Dwight Yoakam.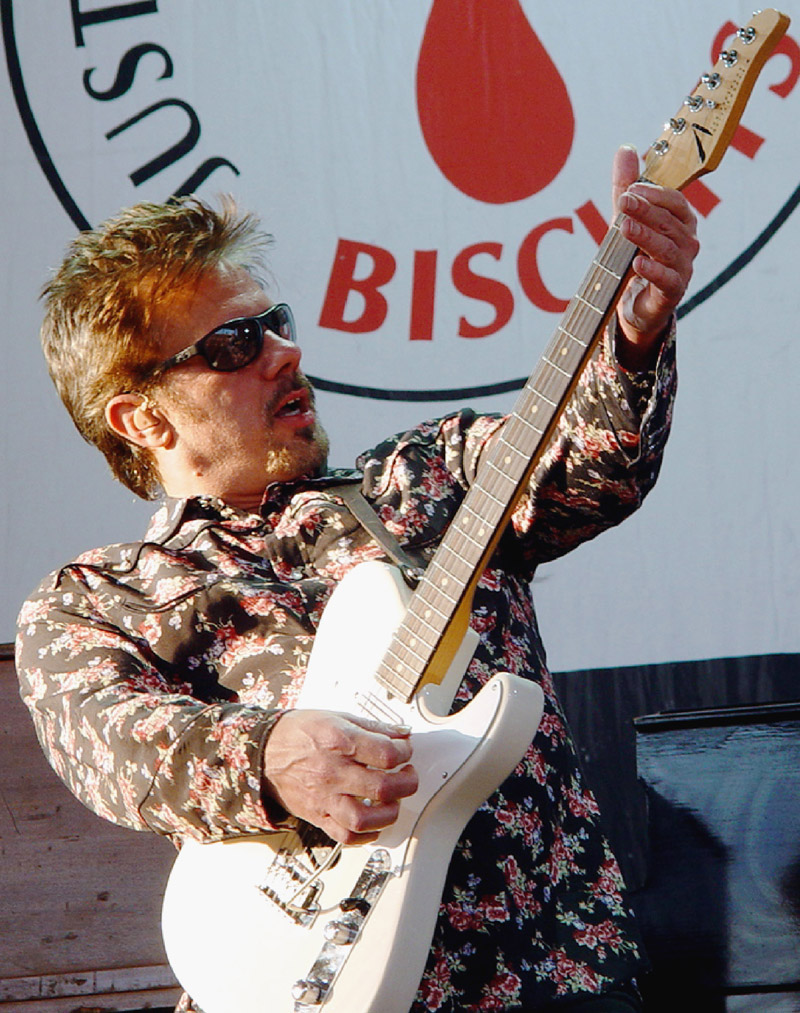 Vintage Guitar:You're working on another solo CD?
Pete Anderson: I was asked to do some instrumental cues for CMT – 45 seconds or a minute each, for shows like "Rockin' Country," "Gig Bag," "The Morning Show." I played all the instruments, and when I went back and reviewed the cues, there were 10 that I decided to make into songs.
I know some people would like me to make a country record with a lot of fast picking, but that's not what I do; I'm of the Steve Cropper/James Burton, economical school. Compositions interest me more than guitaristic exercises. I consider myself a musician first, rather than a guitarist. I learned a long time ago, when I first started recording with Dwight, that I was going to subjugate what I did to make the songs better.
The hook seems paramount in your mind…
Always. I'm going to get eight bars, or 16, in a song to play something, and the watermark is [Amos Garrett's solo on] "Midnight At The Oasis." But what happens prior to and post is equally important, because it has to be subservient to the song. I'll do it on the acoustic guitar, on the electric, the rhythm, up-chunka-chunks, whatever.
None of that is random in my mind; it's all purposely patterned out to contribute to some texture of the song. Should it be tuned down to D; should it be a six-string; should it be with soapbars? It's not about Pete; it's about the song. In most cases I'm almost making the painting. Dwight will give me an outline, and I have to choose the colors.
Who were your earliest influences?
In retrospect, my earliest influence, unbeknownst to me, had to be Scotty Moore and also the guy who played with Bill Haley, because that music attracted me to the guitar. Who was the Italian guy with Bill Haley (hums Danny Cedrone's solo on "Rock Around the Clock")? What a player! Just the coolest ever. Nobody can play like that.
Those guys got me into guitar, but then I got into Dylan as a folk singer, and the folk guys like Dave Van Ronk and Koerner, Ray & Glover, Tom Rush. My buddies and I had a jug band. I played harmonica on a rack and had a brand-new '65 Gibson LG-1. I drilled an extra hole in it and put a seventh string on it, doubling up the A string, because Spider John Koerner had a nine-string Stella. We played a coffee house on Detroit's West Side, and I saw Paul Butterfield play there in early '66, with Mike Bloomfield and Elvin Bishop.
When you got into playing country, did you still draw on your blues influences?
All the time. My right-hand technique was an extension of that, because when I started playing, I used my fingers. I had to learn to use a pick. Then I got into country and learned the hybrid picking technique, and I would palm my pick sometimes and go back to my blues-type fingerpicking to get different sounds – the downstroke, the upstroke, the pluck, the pop.
Growing up in Detroit, I sort of realized that if you learned to play blues really well, you could play anything – meaning that to be a good blues player, you've got to have good feel. And Muddy's stuff is symphonic. That stuff was played that way every time; it wasn't a jam. It wasn't like these drummers you want to shoot, who go, "It's just a shuffle." There's no "just a shuffle." This one's called "Trouble No More" – learn it!
When I later started playing country bars, I was still playing blues pretty much – minor pents. To get by, I chicken-picked, but a la Hubert Sumlin on Howlin' Wolf records. I applied blues knowledge, and then mentally slid the minor pentatonics into major pentatonics and back-doored it, a la Jesse Ed Davis. He was pretty much the first guy who I thought was playing cool steel licks. I mean, you're listening to Taj Mahal and one day he does "Six Days on the Road," with Jesse Ed on guitar (Giant Step). That was definitely a turning point.
With Dwight, on Guitars, Cadillacs…, I played something that was a little more me, and I made a conscious effort to not go down the road of (in order of my favorites) Ray Flacke, Albert Lee, Vince Gill, and five other guys who were playing like Albert Lee. I would have just been in their wake. So I remember specifically thinking, "What would Freddie King do?" I was channeling all that "Hide Away" kind of stuff.
When you moved to Arizona, did your musical tastes change?
I went back and forth to Phoenix each winter from '68 to '72, and I was just bombarded by country music. I was a Dylan fan, so that led me to the Band. And I was into the Byrds, and that led to the Burrito Brothers.
When I moved to L.A., by '79 I joined a group called Rick Tucker & the Good-Time Band, with Pete Gavin, who was the drummer with Head, Hands & Feet. We worked constantly, especially after Urban Cowboy hit. So my playing just leaped, and I really formed a style.
It's ironic that you had this on-the-job training thanks, in part, to the Urban Cowboy explosion, because when you and Dwight hit the scene, you were flying in the face of that whole trend.
We were coming out of the post-Urban explosion. As it was dying, the Hollywood cowpunk scene was emerging. We were just trying to play ****hole clubs in the Valley and make 30 bucks each, and somebody said, "Hey, you should play the Lingerie and Madam Wong's and all these cool rock clubs." So we went and saw them, and all these bands were really bad, trying to play country music, bless their hearts. We said, "Let's get in on this scene."
So we got sharkskin jackets and tight pants, and went down there and just hurt people. Because we could really play. You can imagine a bunch of guys 25-and-under who had been in punk bands and now wanted to learn George Jones. God bless 'em, but they were pretty horrible. The band was me, Dwight, Jeff Donavan, J.D. Foster, and Brantley Kearns [the Babylonian Cowboys] – it was pretty overpowering. Before the first record, we were already doing "I Sang Dixie," "I'll Be Gone," "It Won't Hurt."
We didn't make a dime, but we'd get press because we'd open for Maria McKee and Lone Justice, and everybody came down to see her. They'd go, "Who the hell are these guys?"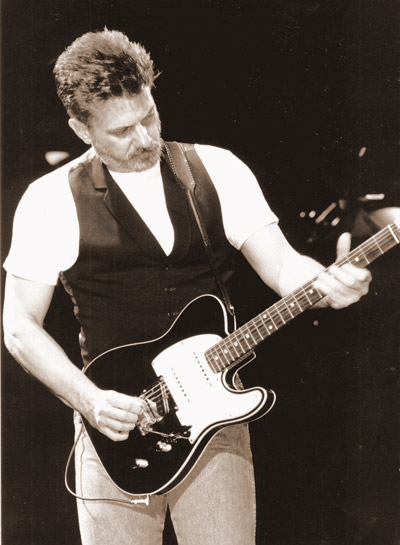 How aware were you that you were bucking everything that was country radio and Nashville?
We were so naive of Nashville and the radio and Billboard and how it worked, it didn't even cross our minds. Dwight was still thinking, "Maybe we can get a record deal." We were too stupid to know that people from Nashville didn't even come out to L.A. We did get an offer from IRS. Miles Copeland came and saw us at the Palomino, and told Dwight, "I think we can do something, and maybe my brother can help you produce the record." The drummer guy [Stewart Copeland of the Police], right? Dwight and I looked at each other and said, "We don't think so."
We had a young manager, Sherman Halsey, and I'd talked to some friends and told him, "Here's what you need to do: say $100,000, complete creative control, and 12 points." They'd just kind of rolled their eyes. I told Dwight, "This is a punk scene, and all these kids are cowpunk this and that, but when all the smoke clears, you're a country artist. You've got longevity. You're going to need to be on a country label." If we'd been on IRS, they might have made a record or two; we never would have gotten on country radio. We just got lucky because Warner was in Nashville, and they were artist-friendly.
Once you got signed, was the creative control ever a sticking point?
No. I was old enough to know that if those things I told Sherman didn't happen, we were not going to have success. I was looking out for the longevity of the career. Because when I met Dwight, he had 21 great songs. I specifically said, "Let's put seven songs on each record and do three covers. Now you've got three albums' worth of material. Let's not put 'I Sang Dixie' on the first record, because you're probably not going to have a #1 on the first record. Let's knock down some doors." So we saved "I Sang Dixie" for the third record, and it was our first legitimate #1 Billboard hit.
We had a meeting with Jim Halsey, Sherman's father, because the Blasters offered to have us open on their tour. We asked Jim if he could get us the money to fly to New York. He said, "Well, what about the record?" I said, "Listen, you should call everyone that you've pitched this record to and ask them to send it back, and then do not call anyone. If you allow us to do these gigs, the press alone – all you're going to have to do is pick up the phone." He thought for a moment and told Sherman, "Call and get the records back." He was cool, and would roll the dice.
We went to New York and The Village Voice was beating on our door right after our set.
After the first Dwight album or two, you must have started hearing records where the guitar players weren't playing like James Burton or Albert Lee, but were playing like you.
People pointed that out to me, and I didn't really notice it, to be honest. I remember going to Nashville, and who do I meet, but Bruce Bowden and Ray Flacke. They were going, "Do you know what you did?" What? "The guitar in Guitars, Cadillacs… Do you know what you did?" No. "You don't have any chorus on it. And you're not using a Stratocaster."
The only time I was aware of it was on Radney Foster's album, Del Rio, Texas. I remember listening to some song off there that was a video, and thinking, "Did I play on that?" For whatever reasons, the guitar player wasn't playing my licks, but he was playing what I would have played.
You play especially economically and hook-oriented on A Country West of Nashville.
On Dwight's records I'm expected to do a certain thing. I'm not saying that negatively; I've got a wide latitude. But I just play differently with different people and try to be sensitive to the situation. In the case of the compilation, I think the first rule of producing is that you shouldn't have any preconceived rules or ideas; you just want to wrap the present as best you can. I had all these different artists, and I just wanted to play exactly what was necessary to fit the song.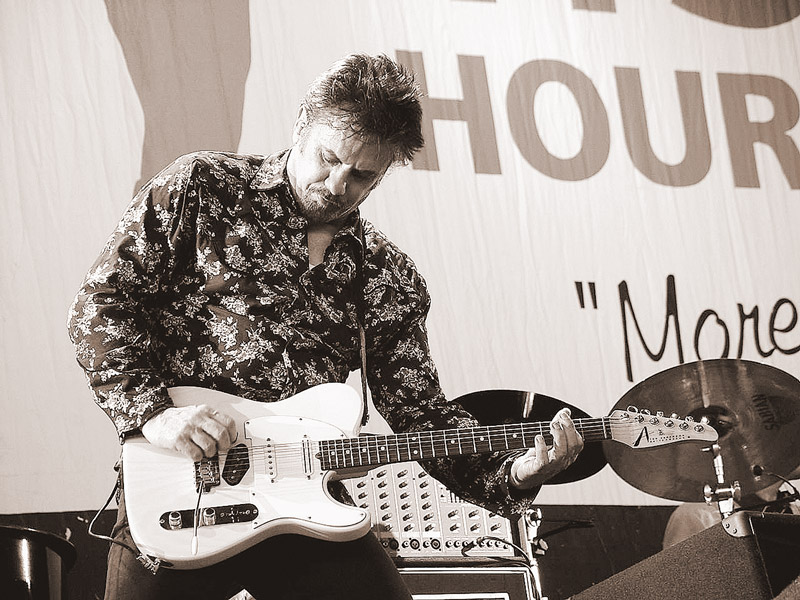 Will you make more records and tour with Dwight again, down the road?
I would think that it's probably over. From my perspective, I'm very proud of Population:Me, but after the box set would have been a good time to say, "We've had a hell of a run; look what we've done. God bless you." Once I looked back on it, I went, "Wow! I'm very proud of our legacy." Every record has one or two songs that I hate, but the ones I like… I mean, I was on tour in 2002, 54 years old, standing onstage playing "I Sang Dixie," and it does not embarrass me. It's like being in Muddy's band; I would never be embarrassed. It's still relevant; it's not like I've got to put makeup on.
But I don't know what more I can bring to the party. Obviously, there are things I can bring to the party, but everyone has to grow to do that.
What made you start your own label?
Little Dog started around '93, with Anthony Crawford. I thought, "This will be easy. I'm Pete Anderson, multi-platinum, Grammy Award-winning producer. I can talk to the head of every company in the world. I'll get this guy a deal in a minute."
Wrong. They played me bad music, and I was just like, "Screw these people. I know I'm on the wrong side of the desk." When I started doing this, I walked into the room like a guitar player. These guys had a desk and a nice car and expensive shoes, and they made money. I figured they knew more than me. Then, after they played me some godawful crap, I figured they couldn't write poetry, they didn't study literature, they didn't have a record collection, and they couldn't play an instrument to save their lives. Most of them knew less than people who didn't do that, because at least they were music fans; these guys were music snobs. I said, "I'm going to start my own label."
Since you started Little Dog, major labels have experienced a huge drop-off, and the Internet has changed everything.
Major corporations bought into the entertainment business in the '60s. If you think back, record companies were owned by musicians – producers, songwriters, whatever. There were basically no corporate guys running record companies in '59, '60 to '65, '66. Babyboomers came in with disposable funds, and when I was a teenager I could buy beer, go to a movie, or buy a record; there weren't a lot of other options. So my disposable money went to entertainment.
And that's when bottom-line people, corporations that buy "things" bought into entertainment. And it's taken 30 years for them to destroy it.
The first guy to blink was Seagram's buying MCA and then buying Polygram. One day, they looked at their ledger sheet and said, "Our stock has fallen; what are we doing here? Why are we in entertainment? Sell it." They sold Polygram for $10 billion.
That was Day One – and it's not going to stop. It will continue until every record company is probably music-person-owned. Epitath and Sugar Hill/Vanguard will be considered large record companies in the future, because they're privately owned.
So this is a good thing.
It's an excellent thing. I'm excited. It's better for me every day. My company is growing very slowly, but consistently. But with everything collapsing around it, it looks like I'm on a skyrocket here – because I'm dealing in reality and these other people aren't. And anybody who's like, "Oh, the business ebbs and flows… Dude, there's only ebb; it will never be flow, because you cracked the dike over the Internet. We communicate; we can hear music; we can talk. I get orders from all over the world. And you know how you use your computer… If I need the words to a song, I go online. I heard about this hot guitar player, Jimmy Herring. "Who is that guy?" Go on the computer. Most of my time and energy is spent creating my infrastructure on the web.
When I picked up the guitar and my romance and love affair with the instrument started, it didn't have a dollar sign attached to it. I have to play the guitar; I love to play the guitar; and I feel fortunate that I've made money by playing the guitar. I get to do all this and have fun every day? I win!
The stereotype is that artists don't have any business sense.
Well, if you have above-average intelligence, are not overly self-centered, not a drug addict or an alcoholic, you learn. I mean, how did you learn not to touch the stove? Your mom told you not to touch the stove, so you touched the ****ing stove! Some people keep touching the damn thing; I didn't.
But it wasn't cheap, and it wasn't easy. I was just wandering through life. But I just got on the guitar and have flown around the world with it. I've been fortunate and lucky, but I had to learn a lot of stuff.
---
Dog toys
Pete Anderson's (Signal) Chain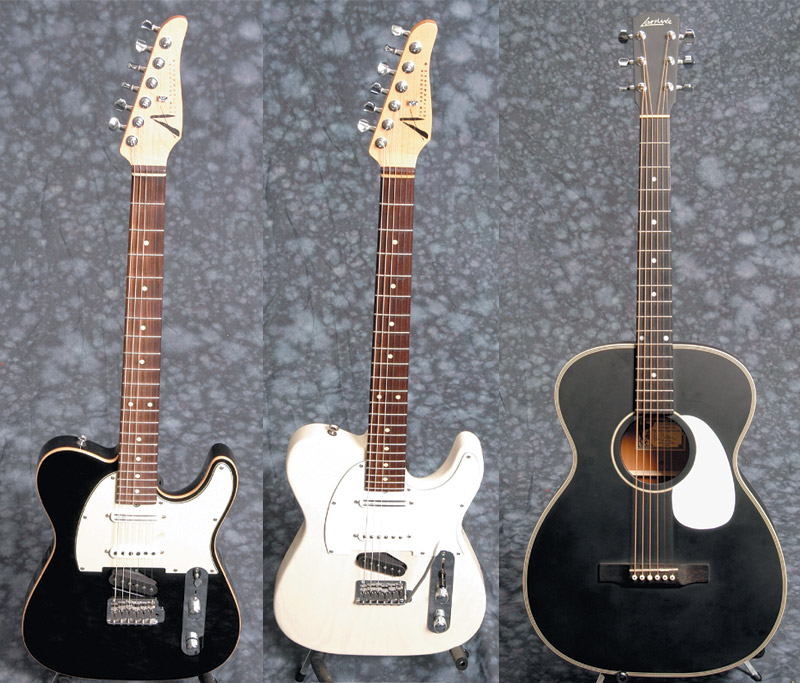 In the early days with Dwight Yoakam, Pete Anderson's trademark guitar was a sunburst '59 Telecaster Custom (with binding, rosewood board, and stock pickups). For the slide work on songs like "Takes a Lot To Rock You" and "A Thousand Miles From Nowhere," he played a '59 hard-tail Strat, using a Mighty Mite brass slide on the former and a slide made of titanium on the latter. "It's the hardest metal ever, so it's real fast," he says.
He later built a guitar specifically dedicated for slide, which he dubbed the "Muddycaster."
"I wanted the action high, heavy strings, big neck – using the lap steel idea of taking a powerful pickup and putting it as far back to the bridge, completely disregarding where the harmonics are on the strings. So I put a Seymour Duncan humbucker on it. It was right around that time the Muddy Waters postage stamp came out, so I got out my woodburning kit and burned a frame and put the stamp on there with the dates of his birth and death, and I put a little sun over Muddy – like, 'The sun's gonna shine in my back door someday.' Then I put a Hipshot tuner on, but reconfigured it so I could drop the high E instead of the low E, to switch to Muddy's tuning (open G) on the top four strings."
These days, Pete's main guitar is a Tom Anderson Hollow T Classic.
"His craftsmanship is incredible. I ended up getting one of his tremolo Teles with a middle pickup, so I could play all my country stuff on the Tele; switch to the middle pickup and get all my Strat sounds – when I use a Stratocaster, I only use the middle pickup – and then do all my whammy stuff. The last piece of the puzzle was when DiMarzio came out with their vintage Tele pickup with no hum."
Pete's main acoustics have been a Martin HD-28 or a Larrivee, but recently he's been working with Robbie Brown, of Legend, designing "…the ultimate Pete Anderson acoustic guitar," which is going to be called the Delta Bomber. "It's like an OM, with a bigger butt and a narrower waist. I'm very excited about it."
The story of Pete's succession of amps includes many tales of the mods he had done, and who did them.
"By the time I got to Dwight, my main amp was a blackface Deluxe with an Electro-Voice speaker, 6L6 Groove Tubes, and a solidstate rectifier. I was using a Goodrich volume pedal and an old tube Echoplex in the effects loop. When we began playing bigger places, I started making the Deluxes as powerful as possible, and I ended up with two of them. I had them maxed-out, power-wise, with an EV in each, and with two of them, I had a wet cab/dry cab setup with spring reverb in both cabinets and a link that would start the tremolo and make them identical when I used it. On the left side, I had the Echoplex and a Boss Chorus Ensemble, on the completely slowest mode, which I'd sometimes use for steel licks.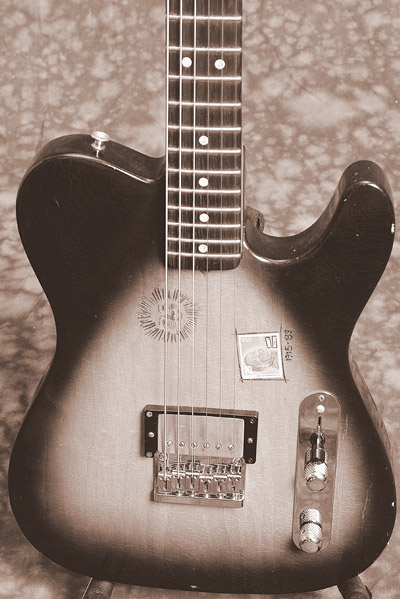 "Only one guy modified that amp, and his name is Jim Williams. He told me that Deluxes had a middle control, but it was a value that Fender shorted-out on the chasis where they didn't use a knob. It's like a preset middle control that helps shape the amp. He said, 'What I do is take this middle control value and put it on 10, because it's on 3 or 4.' I asked him to do that, because I think the guitars live in midrange. Once Jim gave me this middle control, I put the treble on 5, the bass on 21/2 or 3, reverb on 21/2, and the volume somewhere between 31/2 and 51/2. After 5 or 6, the Deluxe just flattens out and keeps compressing. That was the sweet spot on the amp.
"The next step was to increase the power. So I got the biggest transformer that would power a two-tube amp, and it scoped to maybe 60 watts.
"I have no idea what Cesar Diaz did to Stevie Ray's amps, but I know I figured out a long time ago that my personal sound came from preamp distortion. I didn't want power amp distortion or tube distortion or speaker distortion. Hence, 6L6s versus 6V6s, an EV versus a Jensen, and the biggest transformer I could get. That goes back to the days of me playing bars and trying to imitate a steel guitar. I figured out that steel guitar amps really don't distort; they're clean as all get-out, but the pickups are really powerful. The pickups hit the front end of the amp really hot, and if there's any distortion or grind, it comes from preamp distortion – the preamp getting hit hard. That's what I was going for.
"So I asked Jim why a Twin didn't sound like a big Deluxe. He explained that the bright switch values were wrong. Deluxes had bright switches, but they were shorted-out on the chasis; they didn't really have a switch, but there was a value in there creating whatever the sound was. So he changed the value of the bright switch on a blackface Twin, so that when you pushed it down it was the value of the shorted-out 'bright switch' that's in the Deluxe that you don't know about, and when I pushed it up it was the bright switch of a Super.
"I used the Twin for a while, but I lost my wet/dry cab gag. Then Bob Bradshaw created this reamplification thing, where you reamplify your effects. I talked to him about how I could get my wet/dry cab thing, and he built this switching system and a dummy load thing, so you could have various amp heads and switch between them, and have two cabinets onstage. So I'd reamplify the effects through a power amp and send them to the wet cab, which would mix the effects in with the sound of the amplifier, reamplified, and then the dry cab would have the original amp in it, and I would use various amp heads. I had a Matchless 80-watt head that I used on 'A Thousand Miles From Nowhere,' a Vox AC-30; I wasn't just using blackface Fenders on the Dwight records – it started to expand. I bought the Groove Tubes Solo 75, which was very much like a Deluxe, and then I got the new models from Fender like the Vibro King and the Dual Professional.
"The Dual Pro was like a big brown Twin head, and that was my main clean amp. I used the Solo 75 to simulate the early Dwight stuff on the Deluxes, and for kind of bluesy stuff like 'Long White Cadillac' I used the Matchless. I could switch them with the Bradshaw, and I had a small rack of effects, including a Korg digital delay I had modified so the return signal came back browner than it went in. With the Korg and the click track, I could dial in the BPMs for every song, and have my slap set exactly to the beat of the music. And, I had a [Fender] Tonemaster so that I could switch from channel A to channel B and get more drive, and it became my massive rock amp, with the Dual Professional as my clean, basic country amp, and I still had my Solo 75 for the Deluxe sound.
"That existed until I hooked up with Line 6. Remember when Amp Farm came out? I beta-tested the software. They brought over the very first Flextone and said, 'Check this out; it's like your Deluxes.' I played it and said, 'Well, yeah, it sounds real good, but I can't tell if it's like my Deluxes.' I A/B'ed it with my Deluxes, but they were hyped up, different amps. I think of it as cloning, so I asked them to get me the amp that was the mother of this amp, the one they cloned it from. They brought over this pre-CBS blackface, and I A/B'ed the mother, the organic clone, and the software clone. I recorded an instrumental on all three amps, and had the engineer switch between the three without me looking, to see if I could pick out which one was which. I could always tell which one was the organic amplifer; there was something missing. But between the mother amp and the software, I could not tell the difference. So I figured, I'm not stupid; I'll just start using the software. So I started recording in Amp Farm.
"Then the Vetta came out, and I've got every amplifier I've ever wanted in that digital box. With the Vetta, I can adjust the amps so in the course of 22 songs, at least 15 would be a blackface Twin, but maybe some would just be rhythm. So I could tune the amplifier to give me the ultimate sound to play rhythm, then tune it to get steel licks, then tune it for baritone. Instead of having to adjust my amplifer, I hit a button, and it changes the reverb, the delay, the tone, everything. And it has a post-EQ section, where I can notch frequencies instead of just relying on tone knobs. Once I did that, I could dial these things in unbelievably."
---
Photos courtesy Little Dog Records.
This article originally appeared in VG's Jan. '04 issue. All copyrights are by the author and Vintage Guitar magazine. Unauthorized replication or use is strictly prohibited.