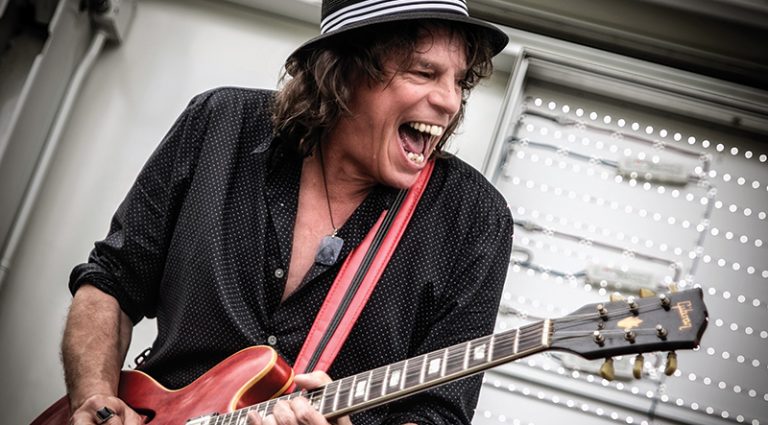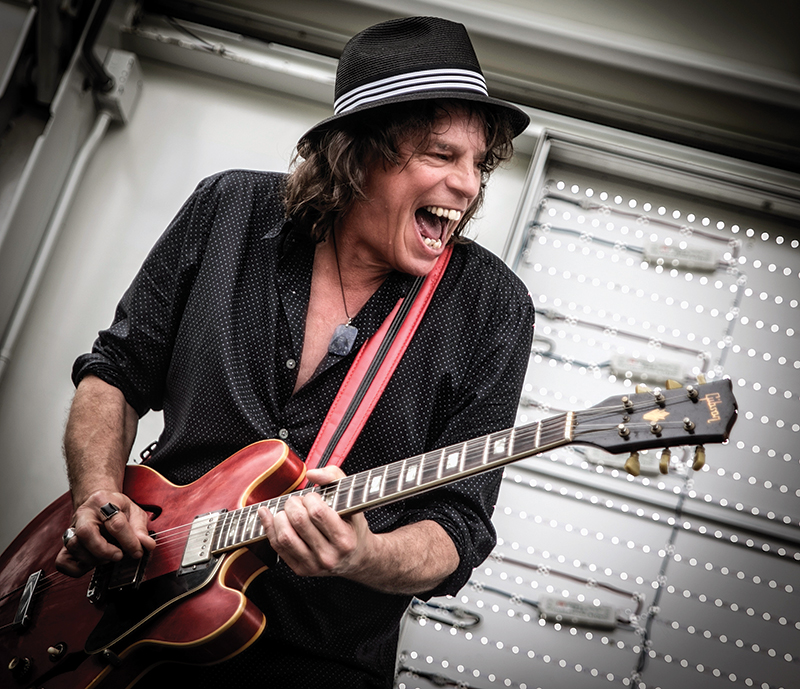 As the longtime lead guitarist for Garland Jeffreys and Ian Hunter, Mark Bosch's resumé reads like a who's who of the rock and roll world. Over the past four decades, he has made a name as a fiery yet tasty player supporting Louise Goffin, Benny Mardones, Elliot Easton, Carole King and a host of other top notch talent. He's also a huge fan of vintage guitars and amps. VG recently caught up with Bosch as he was wrapping up finishing touches on the new Ian Hunter album.
What drew you to music initially, and how old were you when you started playing guitar?
The earliest music I remember is Duane Eddy doing "Rebel Rouser." My dad loved that record and played it a lot. Then of course, The Beatles on Ed Sullivan. I didn't start playing until the early '70s though, as a young teenager. I was listening to so much music every day it seemed like an obvious thing to jump in the pool and get jamming (laughs). I bought a cheap electric guitar – a Teisco Tulio for $18 – and I worshipped it. I lemon-oiled the fingerboard, polished the parts, and learned how to play barre chords by watching "The Midnight Special" and "In Concert." I'd sit in front of the TV and play unamplified, and try to pick up riffs. I'm self-taught, though I studied theory and harmony in high school.
Who were your big influences back then?
Early on, it was a lot of the British guys – Keith Richards, Jeff Beck, Jimmy Page – followed by Pete Townshend, whose playing on Live at Leeds was mind-blowing. Later, Humble Pie, and I worshipped Paul Kossoff because of his vibrato. Nobody did it like him. Then I started getting into Americans like Freddie King and Roy Buchanan. I remember that PBS Special on Buchanan and I was, like, "What am I getting myself into?" After that, Danny Gatton blew my socks off, and changed my whole right hand. I went from being a plectrum player to a hybrid picker because of him. I got into all the genres – jazz, blues, redneck stuff, you name it.
Do you remember your first good guitar and amp setup?
After the cheap Tulio, I upgraded to an Ovation Breadwinner and I ran it through a number of amps including a Mike Matthews Freedom. Then, someone gave me a Silvertone head with a 6×8 bottom that sounded great until I blew the speakers running a Foxx overdrive through it. Then, I got an Ampeg V-4 and Sound City 4×12 cab, which I'd crank. God bless my parents (laughs)!
What are some of the favored guitars in your arsenal?
The ones I play most these days are my '81 Les Paul Standard that I play with Ian, and my early-'70s ES-335 given to me by Jules Shear. I was writing with his girlfriend, Pal Shazar, and this old guitar was in the corner with two strings and an eighth-inch of dust on it. So, I cleaned it up, re-strung it, and held on to it for a week or two, enjoying the hell out of it. When I went to give it back, he wanted me to keep it. I said, "I can't. You could make a lot of money selling it." Jules said, "Nah, I don't want it."
I have a couple other gems for the studio, including a '67 maple-capped Esquire and a '62 SG Junior. Those are all I used on the new Ian album. I also have a nice '68 Les Paul Black Beauty with real PAFs from a 1960 ES-335 – great guitar that I don't take out much now. Les Paul signed the back with my Buck knife (laughs)!
What is your go-to amp these days for stage work?
For about 25 years, a Rivera 1×12 was my main stage amp, but I've recently switched to Supro Royal Reverb with 2x10s. They have that whole Valco vibe.
It seems you prefer the Les Paul with Ian and the 335 with Garland. How do you go about picking a guitar for a tour or a gig with the different artists?
I like the Les Paul with Ian because we get heavy at times, and I think the 335 would go into banshee mode if turned up that loud. With Garland, the 335 fits. We do a lot of styles, so I need something versatile.
With the cost of travel, I take one guitar; with Ian it's the Les Paul, and a Strat copy with Garland because I don't wanna see the 335 get hurt. The Strat copy is a first-year Fernandes that Daryl Hall gave me, and sounds great.
What's next?
I've got shows with Garland, then the new Ian record and tour – that'll cover a lot of the calendar!
---
This article originally appeared in VG October 2016 issue. All copyrights are by the author and Vintage Guitar magazine. Unauthorized replication or use is strictly prohibited.
---