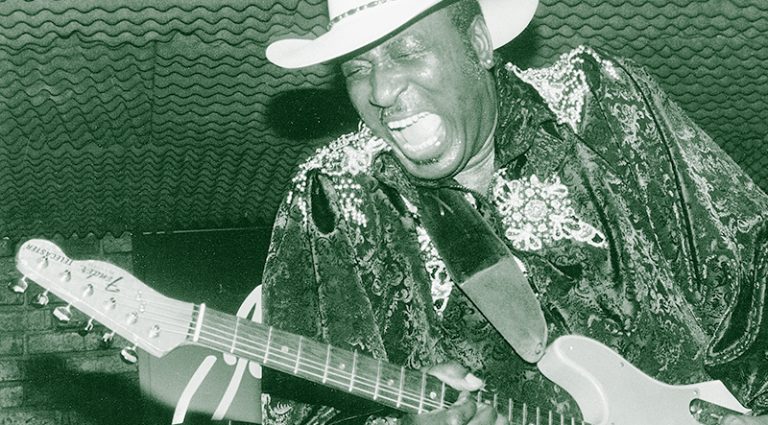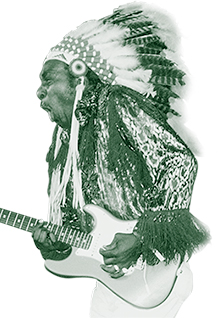 Guitarist Eddy "The Chief" Clearwater might be a classic example of the ancient axiom. A Windy City resident for over 50 years, he built a reputation working the interstate club circuit, playing mostly cover tunes, including blues for African-American audiences and Chuck-Berry-inspired rock and roll for suburban white kids.
Born Eddy Harrington in 1935, Clearwater has been exciting blues audiences worldwide for decades. His albums on Rooster Blues, Delmark, Evidence, Blind Pig, several European labels, and Bullseye Blues and Jazz have sold respectably. After building strong followings in the Chicago urban and suburban area and overseas (where many American blues musicians find greater acceptance and success), Clearwater established himself as a world-class blues guitarist in his own homeland.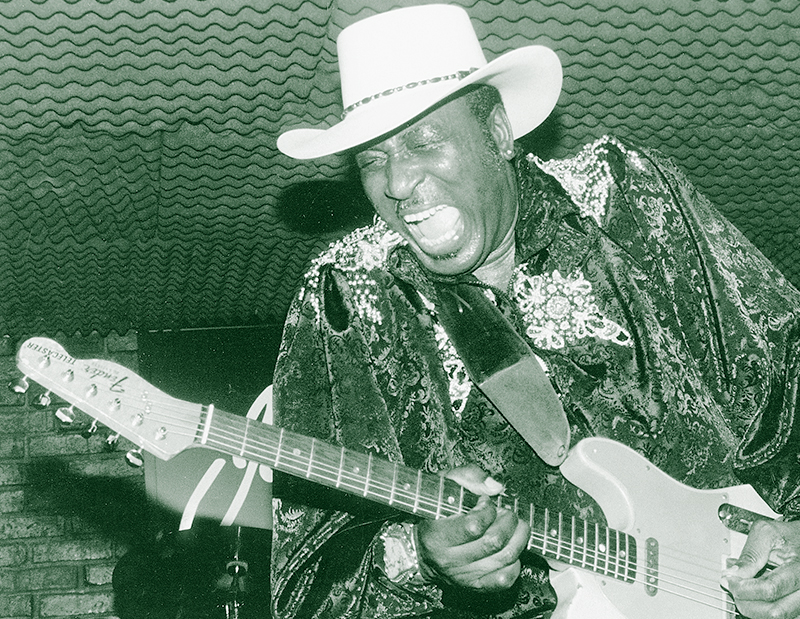 And Clearwater recently joined the ranks of B.B. King and Buddy Guy by opening a restaurant/club in Chicago called Eddy Clearwater's Reservation Blues.
With success finally and firmly in hand, we sat with Clearwater while he reminisced about his career, equipment, and his feelings and experiences on his influences, the music business, showmanship, and why "older is better."
Vintage Guitar: You listened to many kinds of music in your early years, including Delta blues, rockabilly, country, and R&B.
Eddy "The Chief" Clearwater: Oh yes, I sure did. I listened to it all, and I managed to find something in all of it that I liked.
For instance?
In rockabilly and country, I liked Chet Atkins a lot, and people like Red Foley and Johnny Cash. And I liked the Stray Cats, too. Brian Setzer is a great player. I also listened to Scotty Moore, with Elvis Presley and with the Bill Black Combo.
Who were some of the blues artists you listened to early on?
Lightnin' Hopkins, Elmore James, John Lee Hooker, and many others. They were all an influence on my playing before I got to Chicago.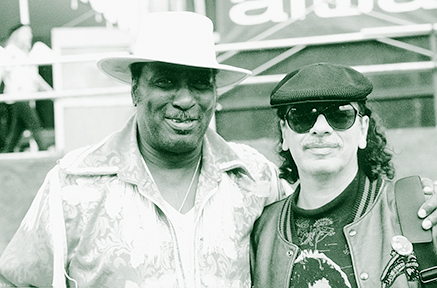 People might be surprised to learn that African-Americans have been listening to and reinterpreting country music for decades. When I listen to your recordings, it's obvious you've shaped all those influential music forms into your own sound.
It's very true that blacks have been listening to white country music for years. Some younger people are surprised that I play rock and roll, but that's a natural part of my style. I've had some young people ask me if I listen to Jimi Hendrix. Are they kidding? I love Jimi Hendrix!
Like many blues guitarists, you spent a lot of time playing gospel music after your family moved from Mississippi to Alabama…
Yes, I did. I played with the Five Blind Boys Of Alabama, the Memphis Soul Stirrers, the Norfleet Brothers, and others. I wasn't their full-time guitarist, but I did fill-in work with all of them. It was great experience, because so much of blues and R&B comes straight from gospel music. It was good training.
You came to Chicago from Alabama in 1950, at the age of 15, settled on the West Side of town, and made friends with Magic Sam Maghett. How did you meet Sam, and what was he like?
Meeting Magic Sam was one of the great experiences of my life. It turned my whole life around. I first heard him on the radio. There was a club right near my house called the Blue Flame Lounge and I heard the radio disc jockey announcing "Magic Sam at the Blue Flame Lounge." I said, "That's right near my house, I'm going." I got there early, got myself a ringside seat. He played the first show, and he was great.
Toward the end of the first set, he broke an E string, and asked over the microphone, "Does anyone have a guitar string?" He walked offstage and I went over to him and said, "Do you need a string?" He said, "Do you have one?" I told him I did, ran home, and brought him two E strings, because I had spares. He said, "Oh, thank you very much!"
We became friends, and jammed a lot together. He used to borrow my red Gibson ES-335 when he played the Aragon Ballroom in Chicago.
Did he influence your playing?
Definitely. He was just a great musician and a very down to earth person.
He had such a unique style. He played with that tremolo sound and used some echo on his amp, and played a lot of minor-key blues, like Otis Rush. I love minor-key stuff, and I'm also a big fan of Otis Rush. Otis played on one of my albums.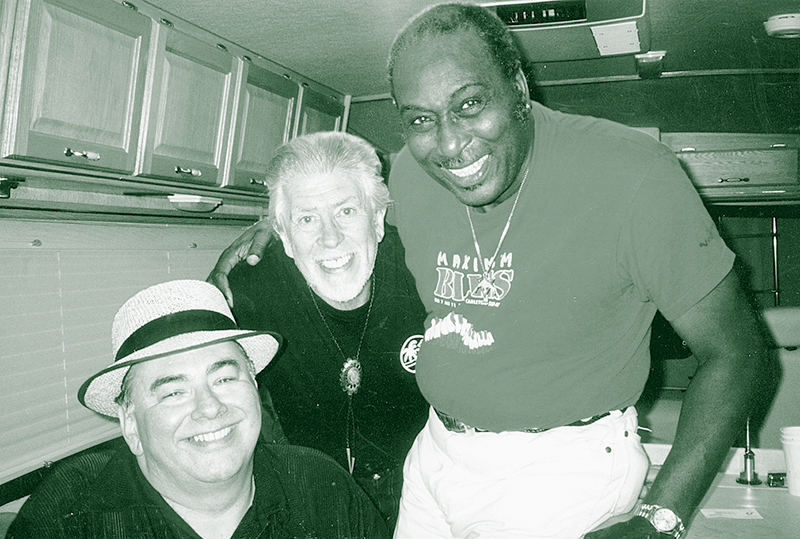 What was the Chicago blues scene of the '50s and '60s like? Was it competitive?
That was the great era for Chicago blues. It was very competitive, but in a real fun way. Every Sunday there'd be jam sessions in different areas of the city. And wherever the jams were, the musicians would show up and call it a "haircutting session." They'd show up to cut hair (laughs)! When everybody left after the session was over, we'd say to each other, "I'll see you next week, and I'm gonna' cut your hair!"
A Discography
Reservation Blues, Bullseye Blues & Jazz, 2000
Cool Blues Walk, Bullseye Blues & Jazz, 1998
Mean Case Of The Blues, Bullseye Blues & Jazz, 1997
Boogie My Blues Away, Delmark Records, 1996
The Chief (reissue of 1980 LP), Rooster Blues, 1994
Help Yourself, Blind Pig, 1992
Live At The Kingston Mines, (Reissue of vinyl 1978 LP), Fan Club, 1992
2 x 9, (reissue of 1979 LP on Charly Records), Fan Club, 1991
A Real Good Time – Live!, Rooster Blues, 1990
Blues Hangout, Evidence, 1989
Flimdoozie, Rooster Blues, 1986
Eddy Clearwater & Carey Bell, Wolf/Austria, 1980
I Don't Give A Damn If Whites Buy It, Red Lightnin'/UK, 1977
Black Night, MCM/France, 1976
Compilations:
New Blues Hits, Bullseye Blues & Jazz, 1997
Essential Chicago Blues, House Of Blues, 1997
Sweet Home Blues Chicago, Blue Chicago, 1996
Chicago Blues Session, Vol. 23, Wolf/Austria, 1990
What were some of the clubs?
Kirsky's Lounge, Lee's Lounge, the L&A Club, the 1815 Club – which used to be known as Mel's Hideaway. That's where Freddie King got the title "Hideaway." On the South Side, there was the 708 Club, which is the first place I saw Muddy Waters. That was a very popular place.
Howlin' Wolf used to play there… Junior Wells, Buddy Guy. There was the Four Aces Club. All those places are gone now. I once took a journalist on a tour of the West Side and South Side to show him where all the old clubs were.
You first heard a first Chuck Berry record in 1957, and Chuck has been a major influence on you. That's a different approach for a Chicago blues player. What was it about Chuck's music that turned you on?
I could hear country music, blues, and what we now call rock and roll in it. All these different elements were there, and I thought it was so neatly put together. Very simplified, but very effective in the way it sounded. I couldn't help but grab onto it, because it was like nothing I'd ever heard before. He was playing uptempo, but it had blues changes and a country flavor. And the way he wrote lyrics about teenage things like cars and school… it was a total package. Plus his diction, the way he pronounced his words, was like a white country artist.
Chuck's idea was to appeal to the white kids, but still make music he could play in the neighborhood. And that's exactly what he did. You played on the same bill as Chuck once, didn't you?
Oh, yeah (laughs)! That was in Oak Park, Illinois, in 1968. People were yelling "Play some Chuck Berry!" and I was shy about it, but they kept egging me on. I wouldn't think of singing one of his songs in front of him… I'm going, "No, no, no!" But the more I tried to get 'em to shut up, the more they kept yelling for it. So Chuck pointed to me and said, "Go ahead," so I did "Johnny B. Goode" and the crowd loved it.
When you were playing Chicago bars, did the rock and roll go over with the black audiences?
Yeah, it did. At that time, I was able to work the South Side in the black clubs and in the suburbs for white audiences. I was fortunate enough to be accepted on both sides, but I sometimes geared my sets to a particular crowd on any given night. In the suburbs, I played a lot of rock and roll…Little Richard, Dale Hawkins, Elvis Presley, Fats Domino, and of course, Chuck Berry. But when I worked the South Side, I'd lean toward B.B. King, Bobby "Blue" Bland, and people like that. I was doing all cover songs during that early period, and was one of the only black musicians accepted in the suburbs. I was the only one who could work the white suburbs on a permanent basis. In fact, at one time about 90 percent of my gigs were for white, suburban audiences.
Have you ever worked a day gig?
I'll tell you a story. At one point in the early '70s, I got very depressed and discouraged, and dropped out of music. I decided I had to get a job, so I got up one Monday morning and went out looking, and I ended up at the Harmony guitar factory. They had a sign that said, "Now Hiring." I filled out an application, and they hired me. I assembled guitar bodies.
I worked there for a few weeks. One day at lunch, a gentleman kept looking at me. He finally got up his nerve to ask me, "Don't I know you from someplace?" I said, "I don't think so." The next day, same thing. I was trying to be incognito as much as possible (laughs).
The next day, he said, "Aren't you Eddy Clearwater? I saw you on TV." So, I said, "Yeah, that was me." Then he said, "What are you doing here?" That was my last day of working at the Harmony Guitar Company! That was my time to go back to playing. I walked out, and that was it.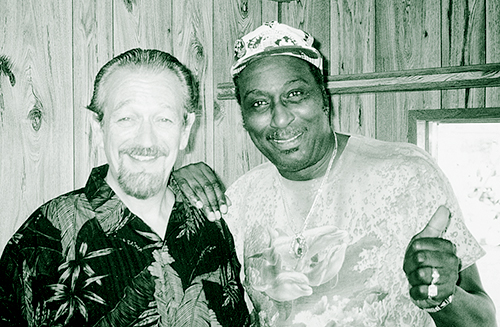 Over the years, you've developed a reputation as a showman. How did you develop your stage show?
By listening and watching and paying attention to other people – how they presented themselves. I watched Jackie Wilson in his early days. I got a lot from James Brown and how he presented himself. Even though they were R&B people, I was able to develop my stage act that way, picking up mannerisms, and more important, the way they worked a crowd.
Where did the Indian headdress come from?
It started at the Trieste Lounge in West Nile, Illinois, right down the street from where Muddy Waters lived. This lady who worked there – a bartender – invited us all to a party at her house one night after the lounge closed. In her den, she had an Indian headdress hanging on the wall. I admired it, and offered to buy it to wear onstage.
She said she couldn't sell it to me because it belonged to her deceased husband. I backed off, but kept expressing interest in it the next day at the lounge. She could see I was anxious to get it, so finally she gave it to me as a good luck charm, providing I never parted with it. I gave her my word.
That was 1975. I still have it, but it's retired to my basement. I'm going to put it on display in my club. I have since purchased several more that I wear onstage, so the headdress has become my trademark. Now, it's usually in my contract that I have to wear it onstage.
After touring Europe in the '70s, you began to finally get some recognition in the U.S. How did that domestic success finally come about?
George Wein, the famous promoter, was putting together a European blues tour, and he wanted someone out of Chicago who was fresh and unknown outside of the city. Buddy Guy and Junior Wells were the headliners. I was recommended, so George's people called me, told me about the tour and the pay and how long we'd be gone, and also told me it was a chance to get known outside of Chicago. So, I went on a 21-date tour of Europe; France, Switzerland, Sweden, England, Spain.
Word got back to the States that I was the hottest thing on the tour. I just worked as hard as I could, and did my best. It was after that tour that my name began to spread and I did my first album for Rooster Blues Records. Jim O'Neill formed Rooster Blues Records just for that album.
You've worked with Duke Robillard on your last two albums. Duke's a great guitar player. What is he like to work with?
Duke is a great platform, a great foundation. He has such a wide-ranging concept of so many styles of music. I can throw a rockabilly idea at him and he'll know exactly where I'm coming from. I can do an old, southern-type blues or an R&B thing, or maybe some swing, and he'll pick right up and understand it. He's very well-rounded.
We should talk about your equipment, but before we do that, let me get this straight: you play a right-handed guitar turned upside down without changing the strings around, right?
I'm left-handed, and when I started playing, there was no such thing as a left-handed guitar. I had to figure out how to play it upside-down. I've tried play a stock left-handed guitar, but it feels awkward as hell, and totally wrong.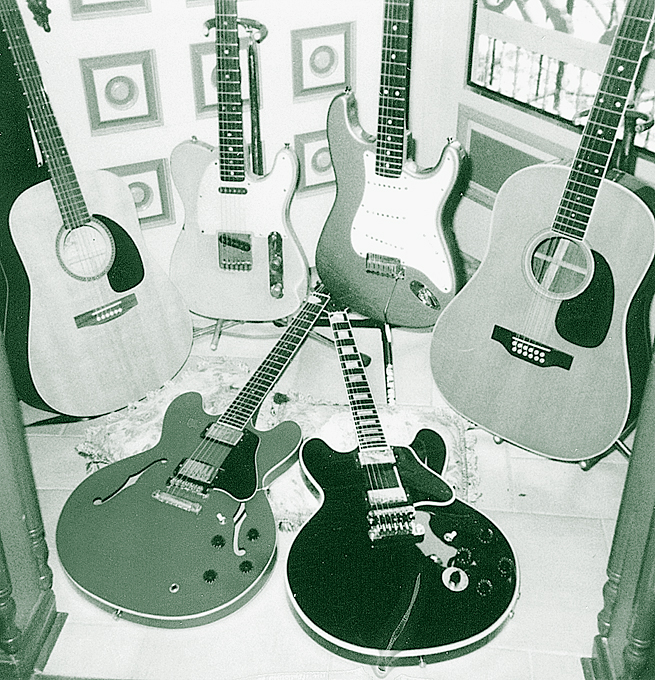 Tell me about your first guitar.
My first guitar was a Silvertone. I bought it at Sears Roebuck, with a Silvertone amp. I loved that thing, man. Wish I'd kept it. A gentleman who was playing bass with me in Atlanta recently had a new Danelectro bass, and it was really sounding nice.
What did you use after the Silvertone?
An Epiphone… I don't know the model name, but it was a big-body jazz-style guitar. After that, I got an early-'60s Telecaster. Magic Sam made me get that one because he used to sound so good on his. After the Silvertone amp, I got a Gibson amplifier, and that's why I don't like Gibson amps today (laughs)! I love Gibson guitars, but that amp didn't cut it for me. I got the Gibson amp in the late '60s. I don't remember the model number. My next amp was a piggyback tweed Fender Bassman. Freddie King had one for a long time.
Do you still have that Telecaster?
I sold it to a friend of mine named Billy Johnson, for $125 (laughs). I tried to buy it back from him and he went, "Oh no. No way." I have pictures of me with that guitar at the club. A friend of mine said it's now covered with fake leopardskin. Every time I see that picture, I want to cry because I really want that Telecaster back.
We all have stories like that! And it's worth several thousand dollars now…
I know!
What guitars are you using now?
I'm using a red Gibson ES-335, probably a 1975 or so. And Gibson gave me a black B.B. King Lucille model for an endorsement last year. I didn't go to the W.C. Handy awards last year, and the Gibson people showed up there with the Lucille hoping to give it to me. They called and asked how they could get the guitar to me, so I gave 'em my address. A month later, it arrived by UPS.
I also have an '80s Tele, an older black Strat, and a newer turquoise-colored Strat. I have an acoustic six-string Seagull guitar, a 12-string Martin, and a new Epiphone electric guitar.
Which do you use live?
The red 335 and the turquoise Strat, mostly. I haven't played my Telecaster in a while. It stays home, but I love the way it sounds.
What amps are you using live?
Fender Twins. I have five… no, six Twin Reverbs. I also a have a Fender Deluxe and a Music Man.
You're not using them all at once, are you?
(laughs) On, no! I just like Twins a lot. I usually use just one live, but occasionally two if the venue demands it. I'm thinking about getting a Super Reverb. I found one I like in a local music store here.
Do you use any effects?
Yes, I like a little echo and wah once in a while, but basically I prefer to plug and play. I used Duke's Scholz Rockman in the studio, and it worked well.
Having played guitars that are now considered collector's items, do you think guitars were generally better back in the '50s and '60s?
I think the sound of guitars then was much better, generally. There's something about the wood and the electronics that was better. And I think the craftsmanship was better. Most players I know prefer vintage guitars over new ones.
Prices for many old Fender or Gibson guitars have gone through the roof, out of reach of the average musician. 1959 Les Paul sunbursts are approaching six figures. How do you feel about that?
Six figures? I don't want to say the prices are overinflated, but that's a lot of money! That's like a having a Stradivarius violin. If somebody knew you had it, it would be gone.
I had one guitar stolen from me in Lee's Lounge – another Telecaster. I left it in the case in the club. The next night I went back to play, and the case was there, but the guitar was gone. They took the guitar and left the case. That case felt awfully light when I picked it up.
Which of your guitars do you have a real passion for?
It would have to be my red Gibson ES-335. Of all the guitars I've ever owned, that's the most special. It feels like a part of me.
Who are some of the younger blues guitarists you like to listen to?
I like Michael Coleman. A lot of his stuff is real good. And I like Charlie Love, another Chicago player. I like some of Melvin Taylor's stuff. He's more rock-oriented.
At the Pocono Blues Festival a few years ago you were yelling encouragement to Carl Weathersby from the audience (laughter)!
I forgot to mention him, but I love Carl's playing.
How did your new club come about?
My wife and I simply decided to open a club and restaurant. And so far, things are going very well. We serve Tex/Mex and Southwestern food, and we're trying to make it a nice, enjoyable venue. We want the quality to be as high as possible so people will say they really got value for their money.
And we present live music five nights a week. I'm not really involved with the day-to-day running of the club, but my wife is. We made a deal: I would do the music, and we hired a good manager from Michigan to handle the day-to-day operation.
I stick to my blues. If I have to get involved with the money-end and serving drinks and all that stuff, then my music is going to suffer. So I let them concentrate on the business.
And you're involved with the Blues Music Association?
Yes. I'd like to be as active as possible, because it's a very worthy thing to do. It exists for blues and blues musicians, to elevate the music to the next level. Country artists stick together and get much more respect than blues musicians because they promote themselves properly. That's what we have to do. The BMA should have been together a long time ago.
Most of our readers are guitarists. Any advice you'd care to pass along from your years of experience?
My best advice is to be as consistent as possible with your playing, and play every chance you get. Stay on the case, and do it.
It's very hard to sustain a career in the music business. Your best music will come out, if you're sincere about what you're doing. Every time you play in front of someone, you never know who might admire what you're doing and be influenced and moved by your music. And that's a very good thing.
---
This article originally appeared in VG June 2002 issue. All copyrights are by the author and Vintage Guitar magazine. Unauthorized replication or use is strictly prohibited.
---
Dig into VG's vast article archive!
Be notified when the next "Overdrive" and other great offers from VG become available! Simply submit this form.