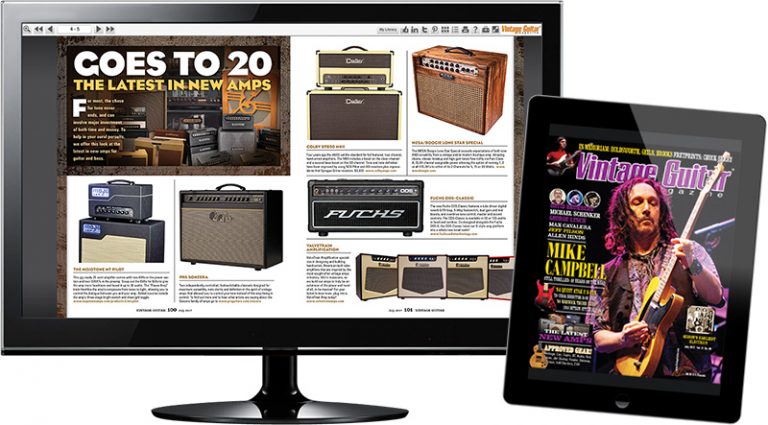 Find what's in this issue or learn the 3 ways to get your Vintage Guitar fix!
Table of Contents
After four decades on the road, Mike Campbell still loves being onstage, creating magic with Tom Petty and Heartbreakers. Plus, we speak with David Bromberg and highlight the instruments that have helped him make stunning music for 50 years. We also interview Michael Schenker, George Lynch, Jeff Pilson, Max Cavalera, and Allen Hinds, reveal the story behind Martin's dreadnought guitars, then profile Gibson's earliest electrics, the '59 Vega Director A-60 amp, the Quest Atak 2 A-2TX, and the Warwick Thumb Bass. All this, along with our "VG Approved Gear" reviews, "Hit List" music reviews, and much more!
FEATURES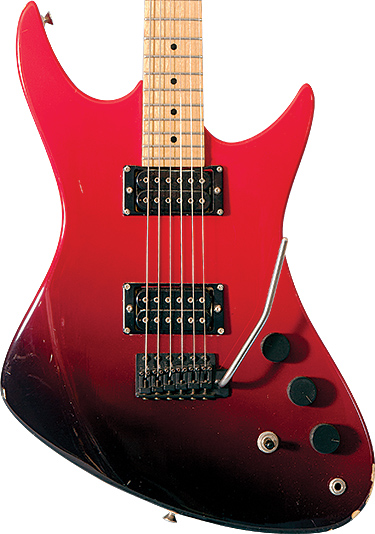 › Collectosphere Quandry
The Quest Atak 2 A-2TX
Most Japanese guitars present a dilemma for collectors because their brands rarely reflect the name of their builder. This is one good example, from the height of Japanese guitar making in the mid '80s. | By Michael Wright
› Enticing Extras
The Vega Director Model A-60
A worthy vintage combo in all regards, there's sad irony in this amp represents the downward trajectory of a company founded in 1881. | By Dave Hunter
› Martin's Big Step
Ditson's Style 11 and the Birth of the Dreadnought
Ditson's partnership with Martin and the Hawaiian-music craze led to the creation of this guitar, which paved the way for history-changing bigger (and better) things. | By George Gruhn and Staff
› Generational Innovation
The Warwick Thumb Bass
With an industry stalwart father and sculptor mother, its little wonder Hans-Peter Wilfer's basses stand apart as displays of beauty and innovation. | By Willie G. Moseley
› Mike Campbell
Still Thrilled
After auditioning for Tom Petty on a cheap import, he went on to help forge one of the most recognizable sounds in rock and roll, along the way creating solos that are prominent but perfect, laden with emotive note choices. We gather Campbell's thoughts on the Heartbreakers' 40 years on the road. | By Ward Meeker
› David Bromberg
Testifying for the Blues
Described by Jerry Jeff Walker as "the reason man created stringed instruments," the gifted multi-instrumentalist has released a score of stunning solo albums eclipsed only by his work as a sideman and producer – positions in which he has swayed the course of music. | By Michael Dregni
› Goes to 20
The Latest in New Amps
For most, the chase for tone never ends, and can involve major investment of both time and money. To help in your aural pursuits, we offer this look at the latest in new amps for guitar and bass.
FIRST FRET
Reader Mail
News and Notes
AFME Honors Burnett; Fogerty Reunited with Rick; In Memoriam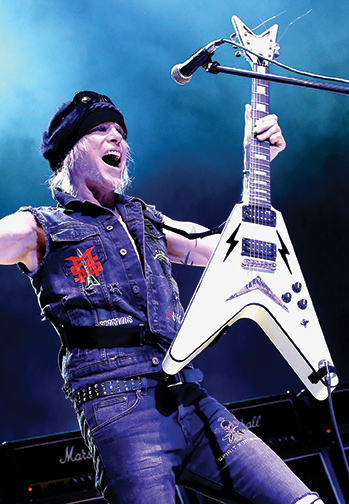 Allan Holdsworth, 1946-2017
Lion of Legato
Ask Zac
Allen Hinds
Finding His Spot
Max Cavalera
Roots Revisited
George Lynch
The Return of KXM
Michael Schenker
Rocking Reunion
Jeff Pilson
Definitive Diversity
Lonnie Brooks
1933-2017
DEPARTMENTS
Win big & help VG fight cancer! Limited time to enter the Team Josie Relay for Life Raffle.
› › Here's your chance at $6,106 in prizes! ONLY 600 chances are available. Entry deadline is 5/26/17. Raffle tickets are available for $25. Every penny we raise goes to the American Cancer Society!
Vintage Guitar Price Guide
Order the 2017 VG Price Guide AND get the bonus digital edition FREE! The digital edition access code will be delivered with your print edition.
Upcoming Events
Vintage Guitar Classified Ads
Builder Showcase
Dealer Showcase
Readers Gallery
COLUMNS
The (Way) Back Beat
Early Electric Tangents: Gibson's Amplified Curiosities | By Peter S. Kohman
Fretprints
Chuck Berry | By Wolf Marshall
Dan's Guitar Rx
Get Aboard: Radical Repair on a P-Bass Special | By Dan Erlewine
Shop of Hard Knocks
Pagey Scheme: Humbuckers Wired Just Like Jimmy's | By Will Kelly
REVIEWS

The VG Hit List
Roy Buchanan, Tommy Emmanuel, Gretchen Menn, Stephane Wrembel, The Move, Marty Stuart, Eric Gales, Elvin Bishop, more!
Check This Action
Bill Frisell: The Movie | By Dan Forte
VG Approved Gear
Carr Amps Mercury V, Elektron Analog Drive, Strymon Riverside Multistage, Volt Electrics #004 Reverse, Jim Dunlop BG95, EVH95 Signature Cry, Supro Comet 1610RT, BC Audio Grand Prix 100, Heritage H-157W, Rick Turner Model 1 Deluxe LB, Fender PM-2
Gearin' Up!
The latest cool new stuff! To be included in Gearing' Up, contact us at vguitar@vintageguitar.com.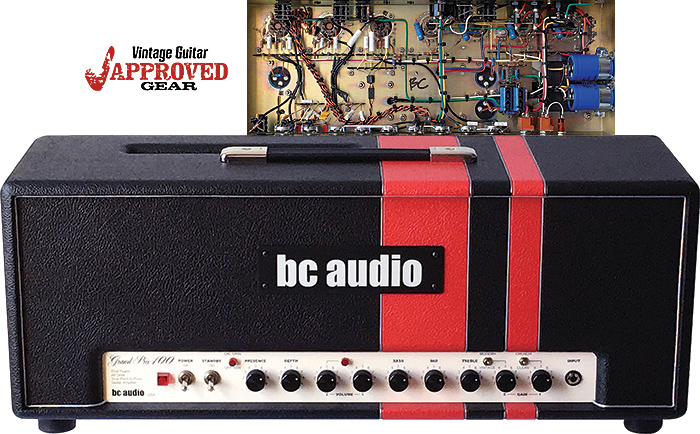 FROM READERS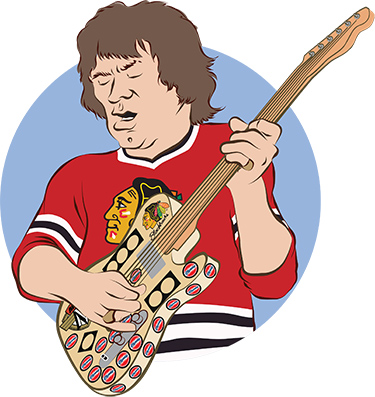 › Reader Mail
Send letters to vguitar@vintageguitar.com or mail to: Vintage Guitar, Inc. Attn: Reader Mail, PO Box 7301, Bismarck ND 58507.
› Readers Gallery
Check out the current issue Readers Gallery or VG's Online Readers Gallery
Send your photos to: doug@VintageGuitar.com or mail to: Vintage Guitar, Inc. Attn: Readers Gallery, P.O. Box 7301, Bismarck, ND 58507.
Readers submit photos with the understanding that they may be used in any VG, Inc. project. Due to the volume of photos we receive, we are unable to return them, please do not send us your only print.
3 WAYS TO GET YOUR VG FIX!
1. Print › › Receive the print edition by subscribing now. Order the current issue and back issues in the VG Shop.
2. App › › Download the FREE "Vintage Guitar magazine" app at the Apple app Store or Google play. Subscribe to Vintage Guitar through the app or Digital Subscription Service for access to a downloadable version of VG.
3. Browser › › Read for FREE in a web browser (Chrome, Firefox, Safari, etc.). The browser edition works on most computers or hand-held devices.