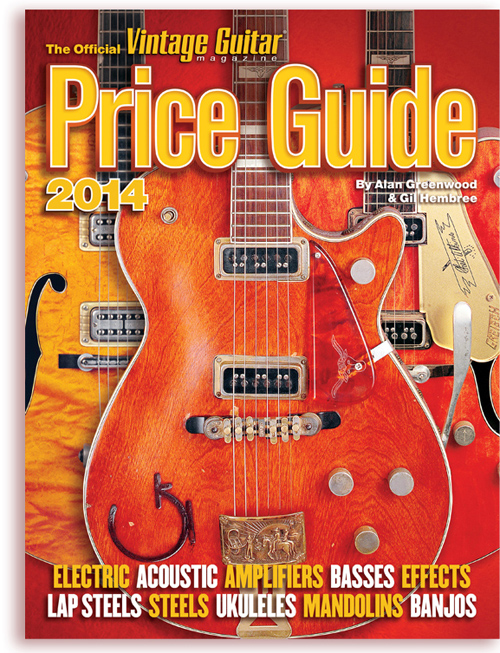 $29.95
With FREE shipping *in the U.S.
*$12.95 in Canada. $14.95 in all other countries.

Authors: Alan Greenwood and Gil Hembree
Format: 624 pp., soft cover, 8.125 x 10.75
ISBN: 978-1-884883-33-0

Vintage Guitar Price Guide Reports Rise in Values
According to the just-released Official Vintage Guitar Price Guide 2014, values of the world's most sought after collectible guitars are on the rise! For the first time since 2008, Vintage Guitar's renowned "42-Guitar Index"* – the industry standard "measuring stick" referenced by prominent media worldwide – shows values rising in the heart of the market. The Index closely monitors the values of 42 key guitars from Martin, Gibson, and Fender – important brands in the collectible-instrument market – and has tracked their rise (and fall!) since 1991. It excludes instruments most affected by market speculation, and instead focuses on those within the reach of the typical collector.
For more than two decades, Vintage Guitar magazine has tracked real-world sales figures to determine the values of vintage and recent-model guitars, amps, basses, and other instruments. It publishes the results each year in The Official Vintage Guitar Price Guide – the most timely, accurate, and detailed publication of its kind. Professional players and dealers/collectors know The Guide is the foremost source for vital market information.
"The Guide is an annual must-have for collectors and lovers of fine guitars," said renowned singer/songwriter and guitarist John Oates. "Whether you are in the market for something special or just want to stay up to speed with the value and appreciation of vintage instruments, you don't want to miss it. The information is accurate, up-to-date, and well-organized. Plus, page after page of beautiful old guitars is just plain cool! Check it out."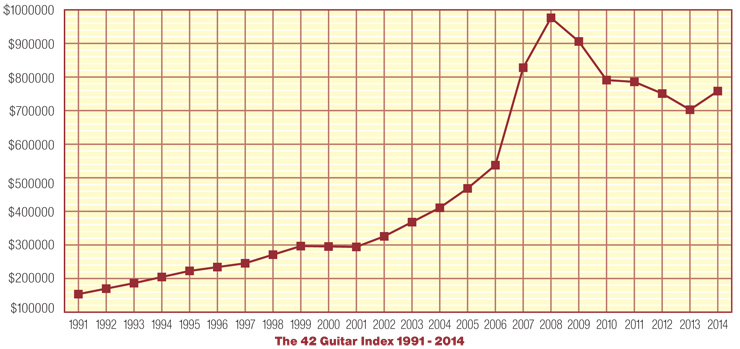 With information on more than 2,000 brands, 1,300 photos, and more than 180,000 copies sold, The Guide is the industry's hands-down leading source of pricing information.
The Official Vintage Guitar Price Guide is co-authored by Alan Greenwood, publisher of Vintage Guitar magazine, along with Gil Hembree.
*The 42-Guitar Index includes: Fender: 1952 Precision Bass (blond), 1952 Esquire (blond), 1953 Telecaster (blond), 1956 Stratocaster (sunburst), 1958 Jazzmaster (sunburst), 1958 Telecaster (blond), 1960 Stratocaster (sunburst), 1961 Jazz Bass (sunburst, "stack knob"), 1962 Jazz Bass (sunburst, three-knob), 1963 Telecaster Custom (sunburst), 1963 Esquire Custom (sunburst), 1964 Jaguar (Lake Placid Blue), 1964 Precision Bass (sunburst), 1966 Stratocaster (Candy Apple Red).
Gibson: 1952 ES-5 (sunburst), 1952 Les Paul Model, 1954 Les Paul Junior, 1958 EB-2 (sunburst), 1958 Les Paul Custom, 1958 ES-335 (natural), 1958 Super 400CES, 1959 Les Paul Junior, 1959 J-160E, 1961 ES-355, 1961 Les Paul SG, 1964 Thunderbird II (sunburst), 1965 EB-3, 1969 Citation (sunburst).
Martin: 1931 OM-28, 1936 00-28, 1935 D-18, 1944 000-28 (scalloped-brace), 1944 D-28, 1950 D-28, 1958 000-18, 1959 D-18. 1959 D-28E, 1962 D-28, 1967 GT-75, 1968 000-18, 1969 N-20, 1969 D-45

Click Here to view sample pages
---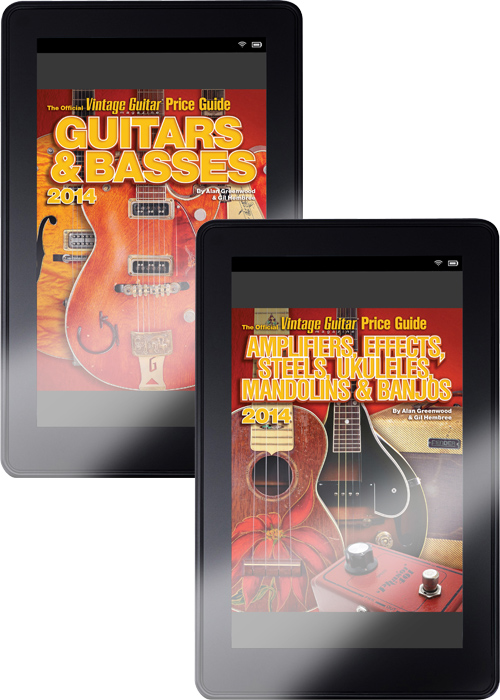 NOW AVAILABLE ON THE AMAZON KINDLE
The Official Vintage Guitar Price Guide is now available for the Kindle e-reader. To make this version easier to use (better searches, faster scrolling), we split the book into two parts – Guitars and Basses for $19.95, and Amplifiers, Effects, Steels, Ukuleles, Mandolins, and Banjos for $9.95.

$19.95

$9.95