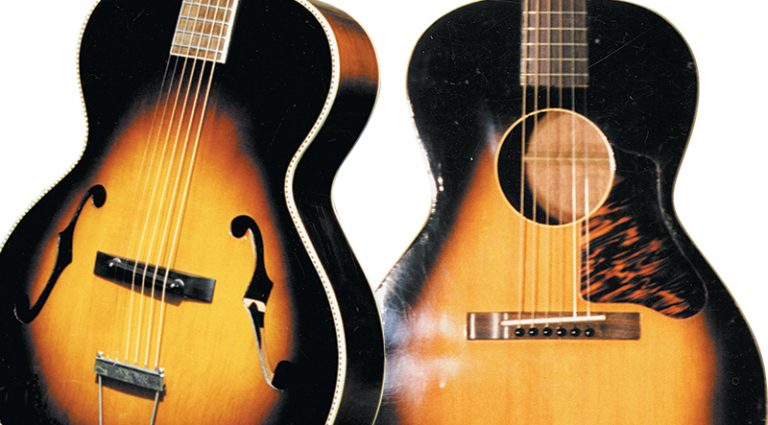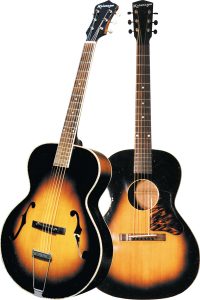 Many aren't aware that some of the archtop guitars Gibson produced during the Depression were marketed under different brand names, including Kalamazoo, Recording King, Cromwell, Fascinator, and Kel Kroyden, among others.
These shared similar features and construction techniques with the low-line Gibson-branded instruments such as the L-30 and L-50: a spruce top, mahogany body and neck, etc. The major difference is the absence of an adjustable truss rod in any of these "house brand" guitars. Generally speaking, Gibsons had adjustable truss rods beginning in 1922. But there were exceptions, particularly some World War II-era instruments.
The Kalamazoo KG-14 was similar in size, shape, and construction to Gibson's L-0 model, with a single bound spruce top, mahogany sides, back, and neck. The Kalamazoos, in addition to lacking the truss rod, all featured straight or "ladder" bracing under the tops, rather than the X-bracing on most Gibsons.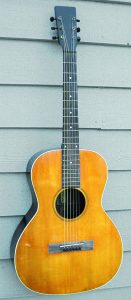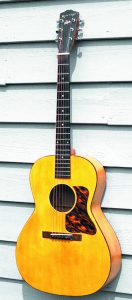 Kalamazoo flat-tops also featured an abbreviated pickguard, similar to the standard "firestripe" tortoise guard on an L-0 or L-00, but appearing to have the upper edge trimmed off. A younger brother, the Kalamazoo KG-11 was similar in all respects to the KG-14 except that the body was a bit shorter, measuring in at 17 1/2″ instead of the usual 19 1/4″, giving the instrument a decidedly "squat" body appearance.
Another interesting Kalamazoo was the Oriole, or KG-12, which was produced beginning in 1940. Most Orioles featured maple bodies and necks with spruce tops. They were striking in appearance, with tortoise binding, tortoise pickguard, and a colorful Oriole decal on the headstock.
Gibson also made instruments for foreign sale. Many that were exported to Canada have found their way back, including the early-'30s Gibson shown here, which is nearly identical to a '30s L-0 or L-00 with some interesting exceptions.
This instrument has a squared off headstock with no logo, and the non-trussed neck joins the body at the 12th fret. There is a stamped four-digit factory number on the neck block, and the back of the peghead is impressed with "Made In The U.S.A." in small letters, indicating it was produced for the foreign market. This feature should not be confused with the "Made in USA" stamped on the early/mid -'70s Gibsons. Unlike the budget instruments which have no mention of their Gibson ancestry, this export instrument bears a small white paper label on the back reinforcement strip, visible through the soundhole. The label is approximately 5/8″ by 2″ and proudly proclaims "Made in the USA by Gibson, Inc., Kalamazoo, Mich."

In other respects, this is a very Gibson-like instrument, with a mahogany neck, sides and back, spruce top, single white binding on the top, a black/white/black rosette and an X-braced top.
Whatever you want to call them, Gibson house brand instruments provide an interesting insight to the Depression era, providing an affordable outlet for the average person in need of entertainment.
---
This article originally appeared in VG June 2003 issue. All copyrights are by the author and Vintage Guitar magazine. Unauthorized replication or use is strictly prohibited.
---
›››

Be notified via email when the next Overdrive is released! Complete the form below to subscribe to VG's Overdrive and receive other great offers from Vintage Guitar magazine!