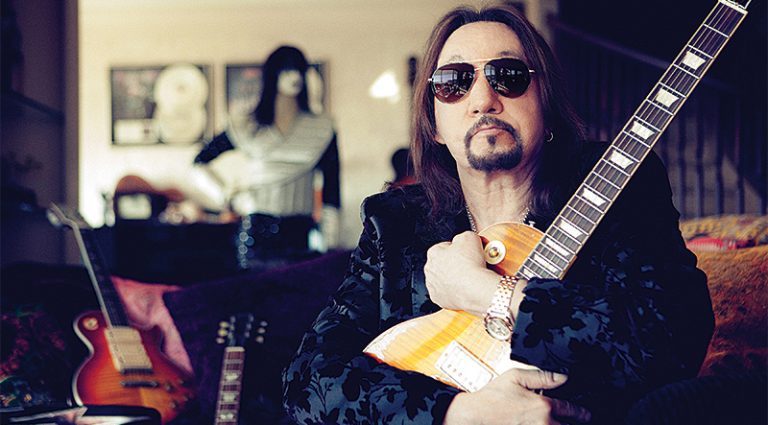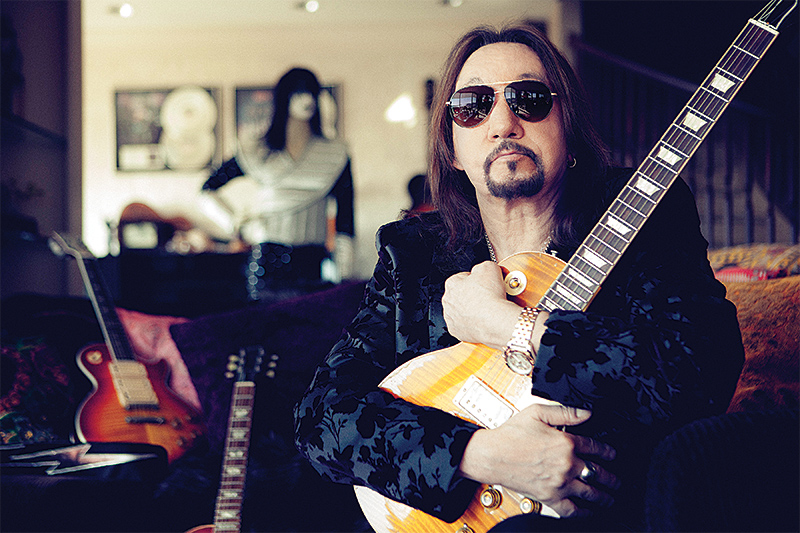 Few guitarists in hard rock have proven as influential as Ace Frehley; just about any guitarist interviewed after the mid '80s listed the Space Man as an inspiration. Frehley is now showing off some of the artists who inspired him as a guitarist, with a new album of covers titled Origins Vol. 1, and featuring readings of classics by Zeppelin, Stones, and Hendrix, as well as re-works of several Kiss tracks and guest artist appearances inclduing Paul Stanley, Slash, Mike McCready, and others.
How did the idea come up to do an all-covers album at this point?
It was the record company's idea – eOne Music. I thought it'd be fun, and once the tracks started coming together, it evoked memories of when I used to see a lot of these bands in concert. Then, getting the guest stars kicked everything into high gear.
What sticks out about playing with the guests?
The first was Slash, and I tried an already-tracked song – a cover of Thin Lizzy's "Emerald." I did the majority of the guitar, and was going to have Slash just plug-in every other solo. That wasn't really spontaneous, and he looked at me, and said, "Why don't we just do it live?" (laughs) So we plugged into Marshall stacks and let it rip. That's what you hear on the record.
"Rock and Roll Hell" was an interesting selection – a Kiss song you didn't play on when it was first recorded.
That was Ken Gulic, vice president of marketing at eOne. He's a big Kiss fan, and we have a great relationship. He came to L.A.when I was working with Slash, and played "Rock and Roll Hell." I hadn't listened to that song in a long time, and yeah, I didn't play on it because when Creatures of the Night was recorded in 1982, I was in exit mode. So, I thought it'd be a treat for Kiss fans to hear what it would have sounded like if I sang and played it. I'm really happy with the end result.
Which guitars, effects, and amps did you use?
I used my favorite Les Pauls – Customs, Standards. A bunch of acoustics. I have six Strats and six Telecasters. I like blending things on record because a Fender has a different harmonic range than a Les Paul, and when you blend the two, you get a much thicker sound. I tried to use tube preamps and vintage amplifiers and microphones because I'm always striving to get that sound.
Were the Les Pauls your signature models?
Some were, but others were guitars I collected over the years used in Kiss. Old Vox amps, old Fender amps, old Marshall amps, tube preamps, old pedals I had kicking around since the '70s. A combination of stuff, you end up with an album that sounds purer than some of the original songs.
Which effects did you use?
Obviously, for "White Room" I used a wah; that was one of the first songs I heard a wah on. I had two wahs kicking around, both really noisy, so me and my engineer took a ride to Guitar Center and bought a new Vox, and that's what I used on "White Room." It worked well.
---
This article originally appeared in VG September 2016 issue. All copyrights are by the author and Vintage Guitar magazine. Unauthorized replication or use is strictly prohibited.
---