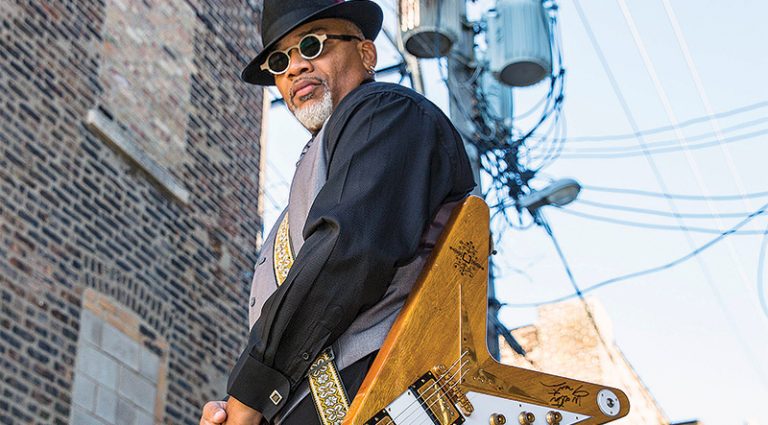 "I'm not trying to be a starving artist at 48 years old," says blues man Toronzo Cannon when asked if he'd consider playing blues full-time.
A bus driver for the Chicago Transit Authority by day, as a guitarist he headlines local blues clubs, plays festivals, and goes on frequent tours to Europe. He recently signed with Alligator Records, and his latest album, The Chicago Way, is the real deal. It tops the list as one of the best blues albums of the year, and it's because Cannon is a bona fide Chicago blues man with songs imbued in reality.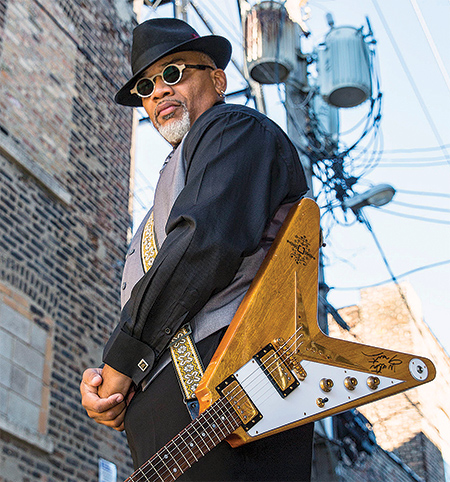 What did you want to say on The Chicago Way?
I'm like a blues griot. I like to tell stories in my blues. If I had an audience of five people, at least seven of my songs will touch one of them, if not all of them. "Fine Seasoned Woman" is about a woman over the age of 50 that don't get a lot of love in most blues songs. In "Midlife Crisis," all I see is older cats sitting in the audience for the most part. They love that song. On "Bad Contract," chances are three of those five people have probably gotten a divorce (laughs).
My co-producer, Bruce Iglauer, told me, "People go away from your show singing the songs, not the guitar solo." I took that as a challenge. I come from a city of great guitar players. I had to come wit' it guitar-wise, but I didn't want that to overshadow the story. I'm glad I'm not the best guitar player. It gives me something else to do as far as getting the story out. I have less to say on guitar, and more to say on vocals.
How has signing with Alligator affected your songwriting?
Delmark Records is known as a blues and jazz label, so writing a six-minute song was no big deal. At Alligator, we're thinking about radio play. I never thought about radio, so it challenged me to make the songs tighter and get the most conversation out of the least amount of words. I think it really helped me as a writer.
There's something about The Chicago Way that's connecting with me, and the cats in Chicago. I just want cats to know that Chicago blues is still here. I'm waving the flag for Chicago blues – today's Chicago blues! We're not stuck in the '50s!
You've obviously run into a few "blues nazis."
Muddy Waters didn't sound like Son House, but Muddy loved Son House. Buddy Guy didn't sound like Muddy, but Buddy loved Muddy, and so on. You can't stop the progression. I'm not going to get stuck in one time period just because that sounds good to you. This is today's blues. This is my blues and I'm not gonna let nobody tell me the way I should be playing my blues.
My friend Mike Wheeler said, "We can do what they do, but they can't do what we do." I would love to hear traditional players try to play my stuff. Coming from Chicago, you better know your blues, but we don't throw stones at traditional players. You can't do it no better than Muddy, Junior Wells, or Buddy. Why keep making the same songs over and over? Why would someone go out of their way to sound exactly like Magic Sam? Where's the forward progress?
Talk about amps we hear on the album.
I used my Victoria signature amp. It's a mixture between a Victoria, a Bandmaster, and a Bassman. It has three 10″ speakers, 50 watts, and a Fat Switch. It has a '58 Bassman circuit in a Bandmaster cab, so it's smaller.
You use stompboxes?
I have a signature pedal by Function FX called The Cannon. It's basically an octave tweaked on one side and a straight up fuzz on the other side. I also use an old Analog Man SD-1.
How about guitars?
A couple of luthiers made me a guitar – PL Guitars out of Canada, and Kurt Wilson Guitars here in Chicago. I used Kurt's Flying V on the record, and the PL Guitar is similar to a Gretsch hollowbody with P-90s. I also used my Gibson '57 Gold Top for the main solos.
What's next for you?
Bruce said, "I don't know how you're going to top this." I look at myself as a bus driver. I got a million songs in my head. I got a million scenarios, and I got a way with words. I use to talk trash on the basketball court. I think that helped me in my songwriting (laughs).
---
This article originally appeared in VG September 2016 issue. All copyrights are by the author and Vintage Guitar magazine. Unauthorized replication or use is strictly prohibited.
---