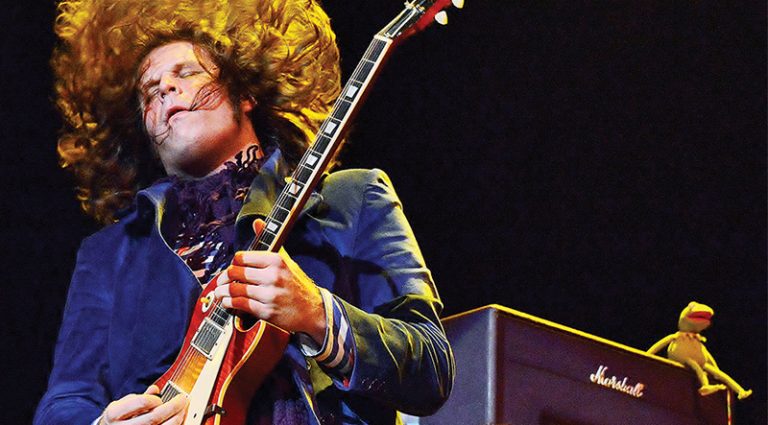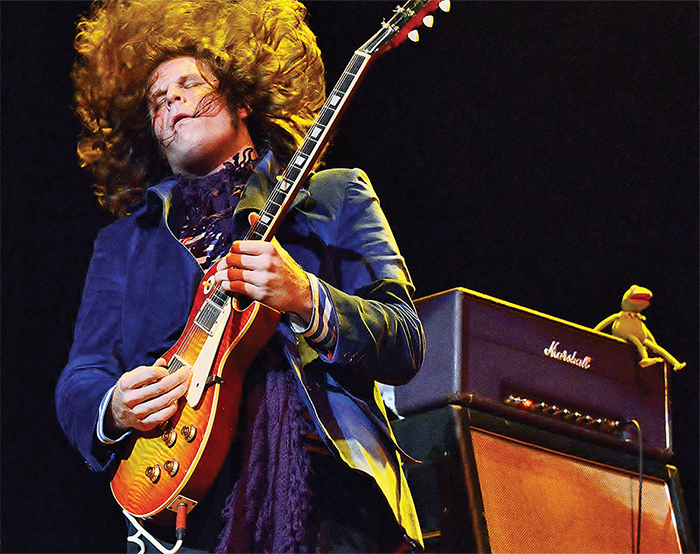 Chicagoan J.D. Simo began playing professionally at age 10 and just five years later was on the road full-time, eventually ending up in Nashville. He faced tough times while making a name for himself, but today he's barnstorming the globe fusing his visceral musicality with influences from the greatest blues and roots artists in America. His latest album, Let Love Show The Way, is an intoxicating blues-rock manifesto employing the classic recipe of '60s Marshalls and Les Pauls.
You swapped albums on your record company.
Yeah, we had a whole other record finished that we were going to release, and then they asked us to do a couple of bonus tracks. I'm not a fan of recording studios; I spent years as a session musician. I prefer to work on location, go into places that aren't studios, necessarily. I reached out to friends in the Allman Brothers circle about doing a session at the brother's old house in Macon, Georgia. Luckily, everything worked out. We were only there for two days and were supposed to record three bonus tracks. Within the first hour or so we'd done what I needed, and we had all this extra time, which I utilized to get a ton of work done. I was so happy with the performances that I made a frantic call to the label to scrap the majority of what had already been laid out, and include all the stuff we recorded in Georgia. We went in to do bonus tracks, and ended up basically cutting a whole other record.
It was a very productive couple of days, and they don't happen all the time. For me, it's just trying to get good performances. I'm a fan of records that are captured rather than assembled. There's not a single edit on it. All the vocals are live. There's a lot of bleed between instruments, which was on purpose, and if there's an overdub, it's very blatant.
How did moving from Chicago to Nashville affect your playing?
It gave me a hell of a lot of discipline. I starved for a little while and landed in a country/bluegrass/Western-swing group where I had to work really hard to find my footing. It was a style of music I always liked, but never had any exposure playing. Through that experience, I ended up becoming a session musician. For all of my early 20s, I did three sessions a day, then played in a club band. I played nearly 1,300 gigs with that band. The time involved in all of that gives you incredible discipline.
That's what the city of Nashville did for me – gave me a concentrated amount of time to perform at a very high level. My livelihood depended on it, and I'm forever grateful for the opportunity.
Where you primarily a blues guitarist when you left Chicago?
Yeah. I loved rock and roll, Stax, and American roots music – also Elvis Presley, Scotty Moore, and rockabilly. I'd been exposed to it before but just hadn't immersed myself in it, let alone had to play it on essentially no notice. But, I had an opportunity to get a gig and use it to pay my rent. It's good for you when you're thrown into something that you're not prepared for and you just have to do it.
Who are some of your slide heroes?
Duane Allman is a huge one, without question, as a musician and as a man. He was a pistol, very driven, and a great bandleader and musical director. He had great impact on lots of other records – Aretha Franklin, Wilson Pickett, Johnny Jenkins… I also love Elmore James, Ry Cooder, and George Harrison. Then there's Robert Nighthawk and Earl Hooker. But, Duane sounds like a harmonica player when he plays slide, and it just knocks me out.
You got to play his '57 goldtop.
I met the owner of that guitar about 10 years ago. I didn't know he owned it when I met him at a gig, but I eventually found out that he owned it and he was gracious enough to let me use it five or six years ago. When we went to do the sessions at the Big House, he was like, "You're there? Use it!" It was incredible. It's something I never dreamed I'd get to do. It was as close as I'll ever get to meeting the man.
---
This article originally appeared in VG June 2016 issue. All copyrights are by the author and Vintage Guitar magazine. Unauthorized replication or use is strictly prohibited.
---