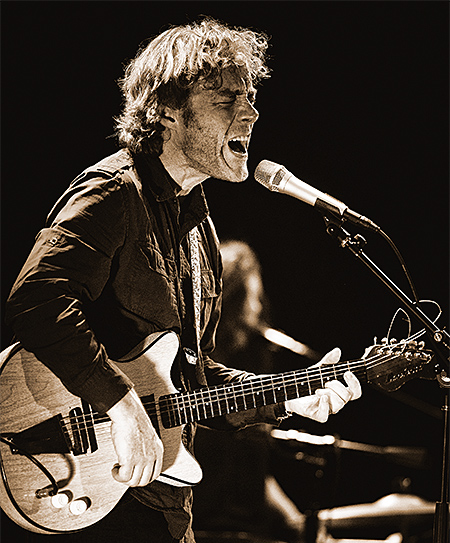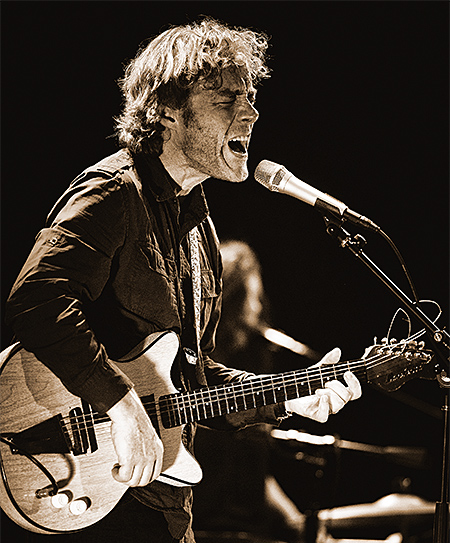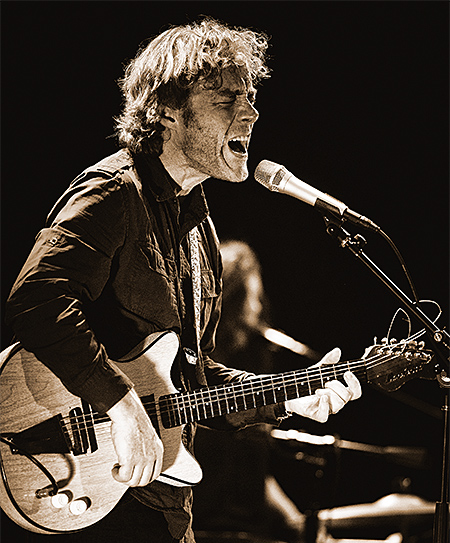 Blame it on a guitar. For Low's Alan Sparhawk, the inspiration behind the band's latest album, Ones and Sixes, came in part thanks to a new six-string. He had been playing a series of Les Pauls, but recently found a '60s Danelectro Convertible with one of the famed lipstick-tube pickups mounted in the sound hole.
"With a Les Paul, you're riding this horse that's out of control, and there's a way to make that really beautiful," Sparhawk says. "With the Dano, you hold it different and hit it different, and there's something nice and interesting and engaging in switching to something that was very different.
"Each guitar forces you to find where it is," he continues. "I can ramble about this for a long time."
No apologies necessary. Sparhawk's playing and songwriting have led the Duluth, Minnesota, trio in making a name for itself internationally as the quintessential minimalist slowcore band.
On 2013's The Invisible Way, produced by Wilco's Jeff Tweedy, the ensemble's sound escalated slowly through songs until bursting out with powerhouse Les Paul chords. Now, for their 11th album, that Danelectro helped Low step back to a simpler, earthier sound, but one that's still full of dynamics and melancholy atmosphere.
"For sure, on this new album, I made an effort to twist things around," Sparhawk says. "I was mixing things up with pedals a little bit – even using pedals after we tracked things, running drum tracks through different things, stuff like that. A lot of the best things are unexpected. You try to engineer to capture those spontaneous things."
Low features Sparhawk with his wife, Mimi Parker, on drums and ethereal vocals. Bassist and keyboardist Steve Garrington rounds out the trio. Being based in Duluth lends an indefinable edge to the band's music.
"We're out on the edge of civilization, so to speak; human occupation drops off right about here," Sparhawk says. "It's a unique place – long winters and Lake Superior disappearing to the horizon. Isolation. Being away from everything else in the world creates its own vibe. And the long winters are good for sitting in the basement and playing guitar."
Along with Low, Sparhawk also plays guitar in the more traditional-rock band Retribution Gospel Choir, blues-rock group Black Eyed Snakes, blues-dub ensemble Los Besos, and the tough-to-describe Murder of Crows. In addition, he often jams with local bluesman Charlie Parr, as on their duet recording, 2014's Hollandale. Being prolific seems to come with the isolation.
Sparhawk's never sworn himself to only play Les Pauls – but he also hadn't necessarily wanted to set his aside.
"For a long time, I played a Les Paul with P-90s and a Bigsby and I really liked it," he says. "But I began to suffer the cliché of the Les Paul. Certain things about it were almost too easy; my hands and mind would go on auto pilot. Also, I started having back problems and wondering why I was so sore by the end of the tour. So I had to start playing a lighter guitar.
"You'd think something similar to a Les Paul [would be the best substitute], but for some reason, the direct opposite – this kind of plinky Danelectro – forced me to pay more attention to what I'm doing."
Sparhawk's Dano has a rare neck and headstock with six-on-a-side tuners instead of the usual Coke-bottle style. He believes it may have come from a Kay guitar and used at a time when the factory ran out of the standard neck.
"It feels like you're playing rubber bands on a Kleenex box," he says. "But for some reason, it does something really dynamic and great. It's a little problematic live because you really have to control feedback with it."
He used the Dano on three-quarters of the new album, along with a trusty blond '65 Telecaster. His main amp was a 1×12 Magnatone 432 combo "…with a really crazy tremolo." He often split his signal into a tweed Tremolux set dry.
Sparhawk's a great experimenter when it comes to pedals. For the album, he relied on a DwarfCraft Devices Great Destroyer, Red Panda Particle delay, and especially a ZVex Instant Lo-Fi Junky.
"It's a weird chorus compressor – very non-digital, that for some reason sounds very organic, earthy, more human, and musical."
---
This article originally appeared in VG June 2016 issue. All copyrights are by the author and Vintage Guitar magazine. Unauthorized replication or use is strictly prohibited.
---