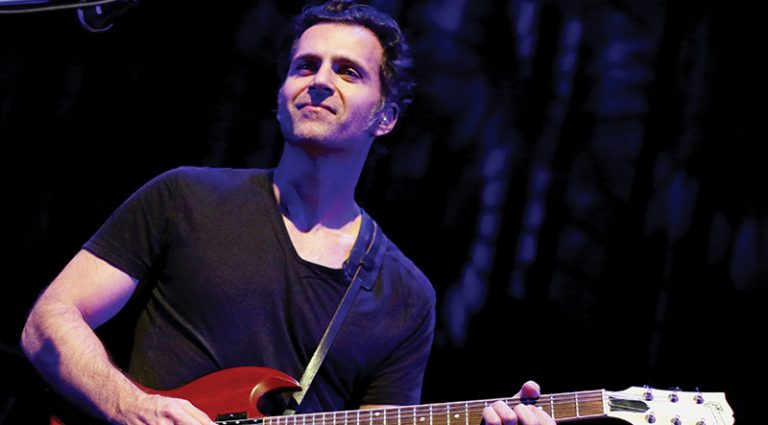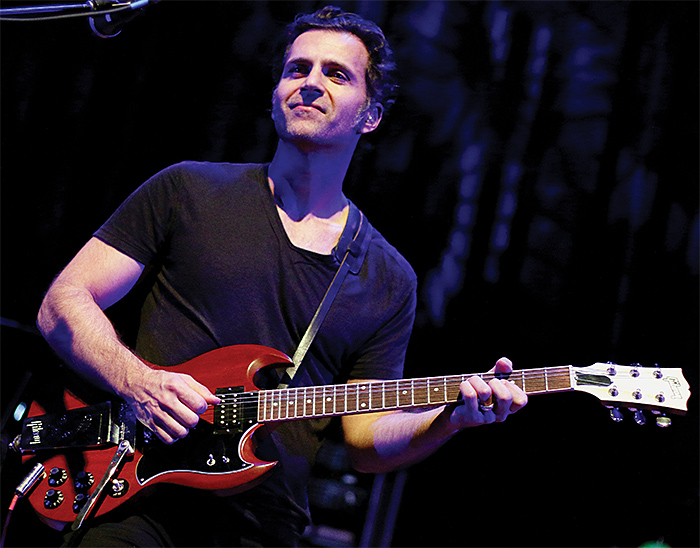 To properly perform the music composed by his father, Frank, Dweezil Zappa had to revamp his playing style. The fruits of his labors can be heard on his new solo record, Via Zammata, where Zappa steps from the shadow of his father with compelling melodies, interesting juxtapositions, and a compositional style all his own.
Via Zammata is an ambitious effort. What did you set out to accomplish with it?
I set out to make the record in a very simplistic way. I had a block of time of about seven months. When I got two weeks from starting, I still didn't have any idea what was going to be on the record and didn't have any material. I was busy with so many things.
I had a bunch of songs that I hadn't done anything with for a long time; I looked at them and started putting elements together that I felt were connected, even though they didn't sound anything alike.
As we started the record, I got this idea that I wanted to make a record that would be a collection of things that showed the progression of where I started with my most basic musical interests, and then show what I'm doing currently.
I'd been doing Zappa Plays Zappa for 10 years and hadn't done any of my own music. A lot of people were asking, "What would your own music sound like?" I didn't have an answer. I hadn't been thinking about my own music for so long. The short answer is that I wanted to make a record that reflected where I am, but also the journey that I had taken for the past 10 years in learning my dad's music.
Some of the songs are pretty old.
There are three or four songs that are 20 years old – "Just The Way She Is," "Billionaire's Son," "Nothing," "Hummin'," "Rat Race," and "What If." I changed the arrangements and added little bits and pieces. The newest piece was "Funky 15." "Dragon Master" is the one my dad wrote the lyrics to in 1988, but I wrote this riff and the music for it when I was making the record. I had different music for it before, in the mid '90s. We played a version of it live in the band I had called Z, but there's no resemblance to this version.
The album has an interesting blend of pop and advanced guitar playing.
It almost has a singer/songwriter feel, but with different instrumentation. I didn't go into it thinking I was a singer/songwriter type of guy. I'd like to make some good songs happen. I had the singer in Zappa Plays Zappa come in and gave him a shot at some of the songs. The point of view wasn't coming off the same, so I decided to sing it myself. The other thing was the album title. It's reflective of this trip I made to Sicily where I got to trace our family roots. It was an interesting thing to be able to stand in front of the building where your relatives decided, "Hey, we're going to leave this place."
Do you feel the need to distinguish yourself from your father?
It's not a burden on me in any way. It's more that I have musical interests other than what I've done already. I wanted that stuff to be visible in this music. The challenge was, "Let's make a song that's interesting in under three minutes." For a typical guitar player, that's hard to do.
You're famous for working hard on your sound.
I definitely do. It's so related to whatever the material is. When I go about learning something, like when I was a kid learning how to play "Eruption," I'd spend a lot of time learning how to play it just as I heard it on the record. I was trying to match Edward [Van Halen's] phrasing, and then try to get as close to the sound as I could.
With Fractal Audio equipment, it's possible to sound exactly like the record. It makes it much easier for me to dial in the playing as I heard it. That's one of the things I find important; if you're going to play something, play it exactly like it is on the record. That's a goal I've always gone for when I listen to other people's music. To me, that's the song, not what I can do to a song. It's "Can I play it as they played it."
---
This article originally appeared in VG June 2016 issue. All copyrights are by the author and Vintage Guitar magazine. Unauthorized replication or use is strictly prohibited.
---