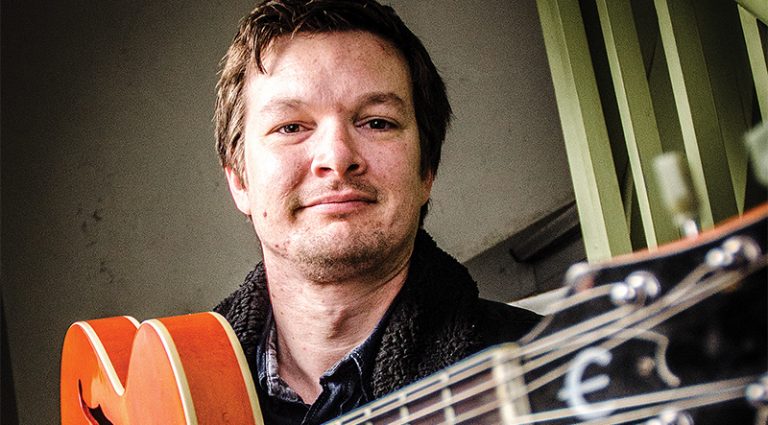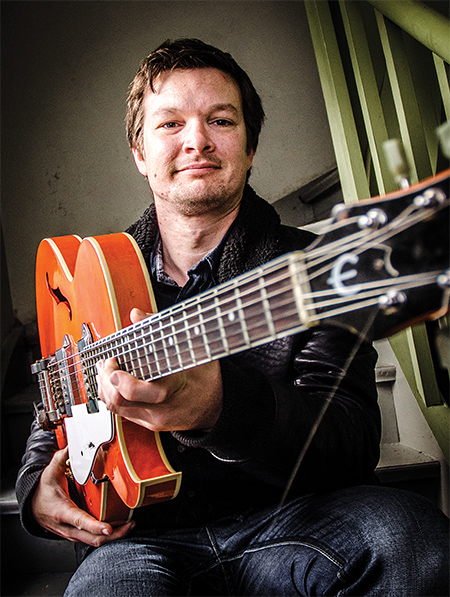 Scandinavia is no stranger to good "instro" music. The past 60 years have produced guitar-fueled legends like the Spotnicks (Sweden), Jørgen Ingmann (Denmark), and Laika & the Cosmonauts (Finland). Hailing from Norway is Steinar Karlsen, a fine player who instinctively understands the guitar music of the early '60s. On his new album, Tur, Karlsen covers the gamut of spy-tinged melodies, film noir, and surf, never overplaying while capturing fat tremolo tones. Add spooky vibrato organ and Steinar's slick licks, and you have one of the best instrumental releases of the year.
Which vintage surf/instro records and players influenced you?
There are a lot of great instro records, but for me, Mickey Baker's The Wildest Guitar, from 1959, tops them all. It has good songs and exciting arrangements with a lot of different grooves and moods. I love Mickey's use of echo with the repeat set real loud. I also must mention The Ventures Live in Japan'65. That record sums up their brilliant songwriting with a really good live performance. I play in different blues bands and many blues guitarists played good instrumental stuff, too, like Junior Watson, Jimmie Vaughan, and Freddie King. And I enjoy the music from all the James Bond films, and Stanley Kubrick is one of my favorite directors.
Is there any crossover between your style of surf/instro and Nordic folk music? There seems to be a common, brooding quality.
Perhaps, but I am a big fan of the way original surf music used folk music, especially Spanish and Middle Eastern styles. I also listen to Arabic folk music – a favorite musician of mine is an oud player from New York, John Berberian.
Did you use your Epiphone Sorrento on the record?
The Sorrento is my main guitar both live and in the studio, but I also used a Gretsch Jet baritone, both equipped with Bigsby-type vibrato systems. I also picked up a Tele copy for "Naken," and my mid-'60s Holiday Bobkat for "Dromedar." On "Skurk," there's a Jerry Jones Danelectro-style baritone.
You get a nice, raw guitar tone throughout Tur. Describe your amp rig and pedals.
The main amp setup for Tur was splitting my guitar signal to a blackface Fender Deluxe Reverb and a Top Hat Club Royale. For some songs, I used an old Tandberg reel-to-reel recorder as amp instead of the Top Hat. You can hear the distorted sound of the Tandberg on "Kråkeslåtten" and "Midnatt."
Do you have a preferred combination of reverb, overdrive, and trem to get an authentic '60s tone?
Except reverb and tremolo, I hardly use any effects. Some Roland Space Echo was added during mix. If the amp is equipped with spring reverb, I prefer to use that. If the amp does not have it, I use my VanAmps spring-reverb pedal, which has real springs. For tremolo, I prefer the Voodoo Lab pedal – the old one with only two knobs. In the studio, it's important to record the ambience of the room, too.
Are you a full-time musician, or do you have a regular day job?
I am a part-time musician and work two days a week teaching music and animation for kids. As a musician, I play instrumental music, and I also play with a blues and soul band called Good Time Charlie.
What is the surf/instro scene like in Norway, and are there opportunities to play live?
It is possible to do concerts and there are several bands playing surf, but the larger scene is dominated by vocal-based music, as I guess it is everywhere. So for me, it works good to play both in a vocal band and perform my own instro music.
What keeps surf/instro music relevant in the 21st century?
We need organic music with good melodies. There is good vocal music out there, but I feel there is also a lot of really bad music that's produced specifically to sell. I think instrumental twang and surf would give the radio stations more variation, and it suits also many types of movies, like Pulp Fiction. And, if you walked into a disco and the DJ put on surf music, I guarantee all the people would dance and get crazy.
---
This article originally appeared in VG April 2016 issue. All copyrights are by the author and Vintage Guitar magazine. Unauthorized replication or use is strictly prohibited.
---