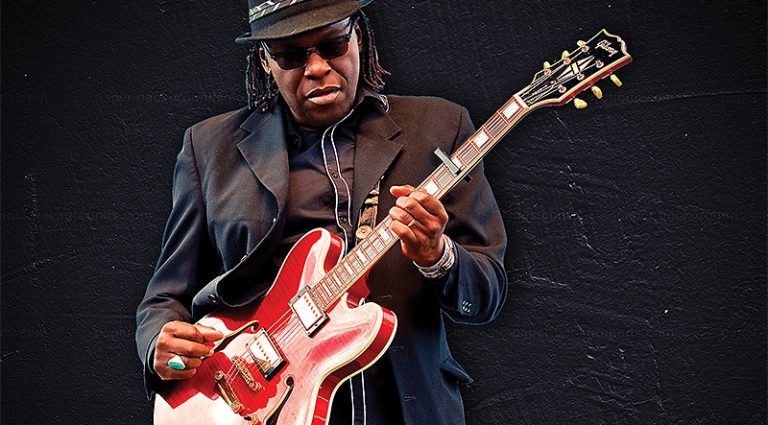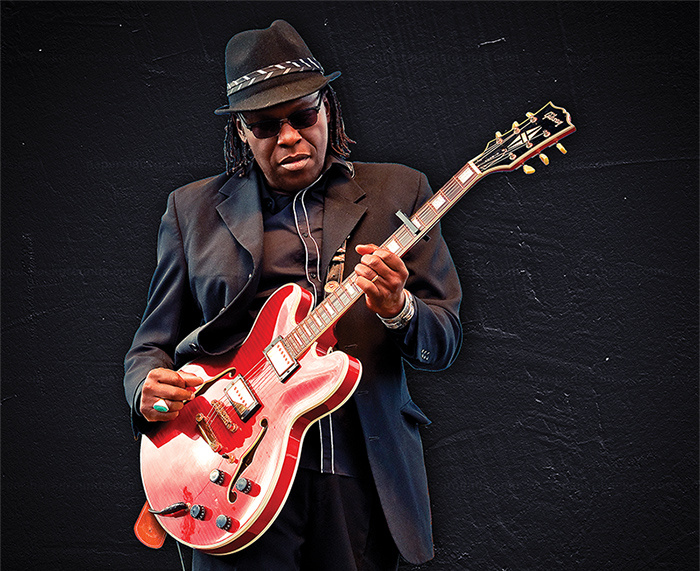 Joe Louis Walker has enjoyed a long and enviable career making artistically satisfying music while entertaining audiences all over the world. He's a genre-busting artist who knows how to please an audience while keeping his eye on the prize. His latest album, Everybody Wants A Piece, continues the saga of the forward-thinking bluesman. Walker once again delivers an album of thought-provoking songwriting, soul-drenched vocals, and scorching guitar work.
Do you get resistance from labels because of the stylistic ground you cover?
From day one (laughs). It comes from my background. I come from The Fillmore District in San Francisco, where we played soul, blues, and all kinds of music before the hippies got there. When the hippies came, a lot of people from different societies were friends of mine. It was the African-American society and the hippie society.
My musical case is open. I could go to The Fillmore and hear James Brown or The Temptations do the same show they did at The Apollo. Later, I heard a mixture of the blues cats, the hippies, and all the jazz cats in the same show. I got to see it all morph. That's what I am – a product of my musical upbringing, and I prefer it like that.
I met a little resistance when I came back to the blues in the '80s, but I wasn't the only one expanding what I was doing. You had rock-blues guys like Stevie Ray Vaughan and soul-blues guys like Robert Cray. I was in that class, but it looked like I was a newcomer because I quit playing blues for 10 years. Nobody knew anything about me except for people in the Bay Area, and some in Chicago when I lived there in '69.
Musicians knew about me, but as far as having a career, most people thought I was new and of the same generation as Stevie and Robert. I was older than them, but musically speaking, it was fresh. Record labels aside, musicians and the audience get what I'm doing. A lot of people say, "I like to eat chicken, but I don't like to eat it seven days a week." (laughs)
As an artist, you have to push yourself. It's all fine and good to have success and play the same thing over and over again, but any artist worth their salt that I grew up enjoying pushed themselves, from Muddy Waters to The Yardbirds.
When you returned to blues was it frustrating, playing catch-up?
It was frustrating because they were comparing me to people who had been playing for seven or eight years, and I had already been playing for quite a while. The most frustrating thing was having promoters say, "We've got this newcomer, Joe Louis Walker…" In 1970, I was opening for Muddy Waters. They didn't know that. I had to rebuild myself, so I backed people like Johnny Adams and Earl King. Katie Webster was instrumental in helping me get going again.
Promoters didn't know I'd already backed Mississippi Fred McDowell, Earl Hooker, John Lee Hooker, Lowell Fulson, and people like that, because they hadn't been in the blues that long. It was frustrating being compared to people who were 12 years younger than me.
Your vibrato is so powerful. How did that develop?
I can play a lot of notes and I can play fast, but I like the West-Side Chicago sound, which has a lot of vibrato – Eddie Clearwater and Otis Rush. A lot of English guys co-opted that sound. Not a lot of notes, a Marshall amp, and a wicked vibrato. That's tantamount to the West Side sound.
When you play a lot of notes, nobody talks like that all the time. Soloing has to be like a conversation, so I try to work on vibrato. I love Albert King's style quite a bit. His conversation was basically nine notes in 900 different ways (laughs).
What's your number one guitar?
I really like the D'Angelico solidbody EX-SD. It's got a wicked feel for my vibrato. I also have a '67 Gibson ES-335 with a Bigsby. It's got a sweet sound. My vibrato is much cleaner when I don't use pedals, and the D'Angelico lends itself to getting a sweet warm tone, and it doesn't sound processed. I use a Quilter MicroPro amp head because you can get all the different sounds out of it. I can plug that head into any speaker and it sounds great.
What's next?
I'm playing a jazz festival, then the Thelonius Monk Institute, going to Holland, producing a blues band in Israel, promoting the record, and staying busy.
---
This article originally appeared in VG March 2016 issue. All copyrights are by the author and Vintage Guitar magazine. Unauthorized replication or use is strictly prohibited.
---