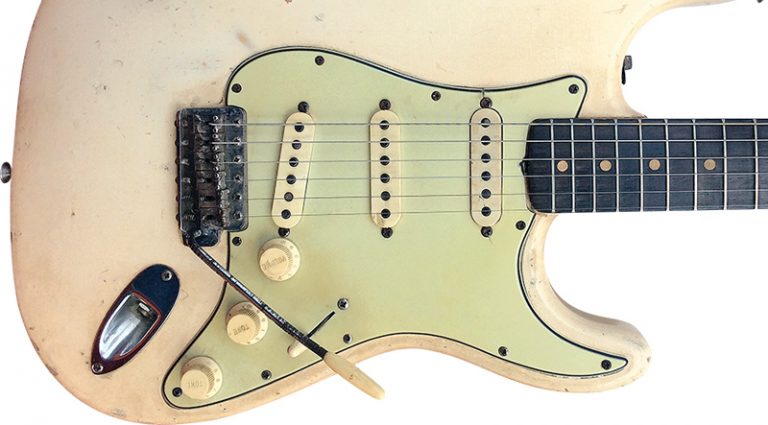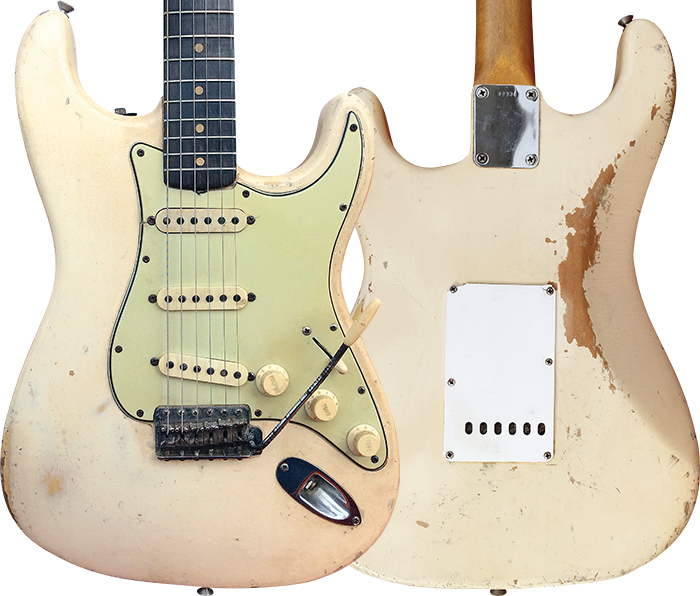 WHO IS LIL' BILL? That was the question swirling through the mind of guitarist/collector Tom Guerra after he acquired a 1963 Fender Stratocaster from a player who lived outside of Chicago.
"The guy had bought the guitar at a garage sale 30 years prior," Guerra recalled of the instrument, which he bought in early 2000. "When I got it, it was pretty beat up and reeked of tobacco and liquor – basically, it smelled like a saloon."
When he later turned a closer eye to it, Guerra (a longtime VG contributor) noticed a peculiar mark on the pickguard where the words "Lil' Bill" had at one time been written on it, and whatever substance was used had etched it. "When I'd show it to people, they guessed it was some kind of paint or maybe fingernail polish," he said.
A mystery was born, and Guerra set about to solve it.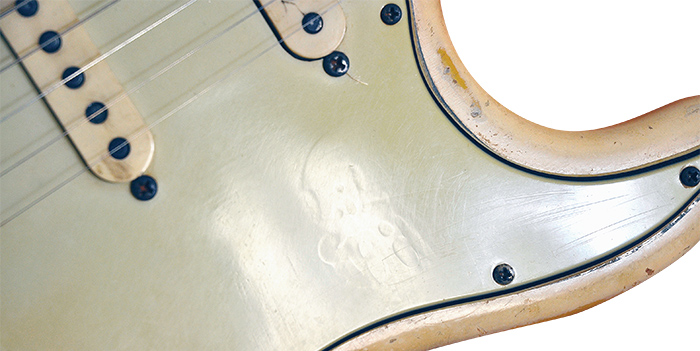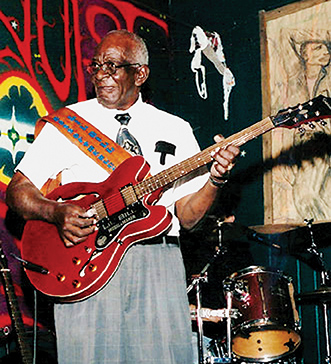 "I found something online that made my heart jump – a picture of an old blues guy playing a newer electric guitar with the words 'Lil' Bill' in the same position on the pickguard," he said. "Turned out, the gentleman had quite a history."
Born in Opelousas, Louisiana, in 1924, Alex 'Lil' Bill' Wallace relocated to Leland, Mississippi, in 1946 with a friend named David "Honeyboy" Edwards. The two found plenty of work playing their guitars, and Lil' Bill soon met fellow blueser T-Bone Walker, who taught him to solo in a more horn-like, single-note style. Later, Wallace would pass this approach on to Riley B. King and others including Little Milton and Smokey Wilson (Wallace is credited with convincing King to switch musical direction from gospel to blues).
In the early 1950s, Wallace was one of the first African-Americans to host a weekly radio show where he'd hawk products and promote his upcoming shows at area juke joints. He became so popular that two record companies expressed interest, and Wallace reputedly signed contracts with both, which got him blackballed from the record business. Still, he stayed active as a player and booking agent. To supplement his income, he drove a beer truck and, later, drove for Freeman Steel.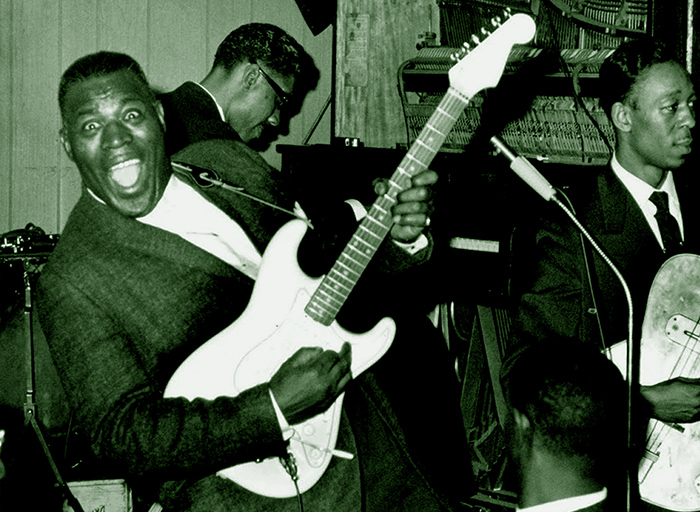 In 2005, Guerra set out to locate Lil' Bill, which he said proved surprisingly easy. Through various blues websites, he found Wallace living in a nursing home in Greenville, Mississippi. He sent a letter and included a picture of the guitar, asking if the guitar had belonged to Wallace. A week later, he followed up with a phone call. Wallace seemed happy to talk, and confirmed that not only was this once his Strat, but it was originally owned by Howlin' Wolf – one of the most important artists in the history of the blues. Guerra was floored – a Howlin' Wolf guitar would be collector's dream.
Wallace told Guerra that he and Howlin' Wolf were close friends, and that Wolf sold the Strat to him circa 1965. Wallace played it for the rest of the decade, then sold it while playing in Chicago. Guerra also spoke with Wallace's stepson, internationally recognized jazz musician Wadada Leo Smith, who confirmed that Howlin' Wolf was indeed a frequent guest at Wallace's home. In addition, Smith said King, Milton, and other notable musicians (including Bobby "Blue" Bland) would hang out with Lil' Bill when they were in Leland. Smith also remembered the white Fender.

Still skeptical of the connection because he had never seen pictures of Howlin' Wolf with a Strat, the owner enlisted the help of Wolf biographer Mark Hoffman, who found several early-'60s pictures of the blues giant, including a series by noted photographer Raeburn Flerlage, shot at a Chicago club called Silvio's. The images show Wolf playing a white Strat with a distinguishing chip in the upper treble bout that is still visible today. Wolf's huge personality is obvious in the images, even in the small club.
Shortly after his conversations with Hoffman, Guerra showed the guitar to blues legend Hubert Sumlin, who recognized it from his days with Wolf. Through Richard Ramsey at the Howlin' Wolf Museum, Guerra got in touch with photographer Euphus Ruth, a friend of Wallace in the latter part of his life. Ruth seemed happy that someone had Lil' Bill's guitar, recalling that whenever Bill discussed guitars, he would reminisce fondly about the Strat and how he got it. Wallace died in August of 2008.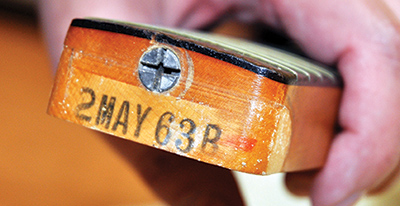 What is Lil' Bill's Stratocaster like today? Still dressed with its original frets (with large divots), its rosewood fingerboard speaks to years of hard gigging. Its neck pickup is notably powerful. "It has more of a barking, woody sounding Stratocaster tone," said Guerra. "Its neck has a C shape, and the fretboard is almost black now. The headstock logo is almost gone, but its tuners are original, and stay in tune surprisingly well. The pickup selector and posts are original, too; I cleaned them, and they work great."
Guerra gigs the guitar regularly and has used it to record several times. He reports that it remains a solid, great-sounding instrument.
Somewhere, Wolf and Lil' Bill are smiling, as their Strat is still singin' the blues and working for its supper.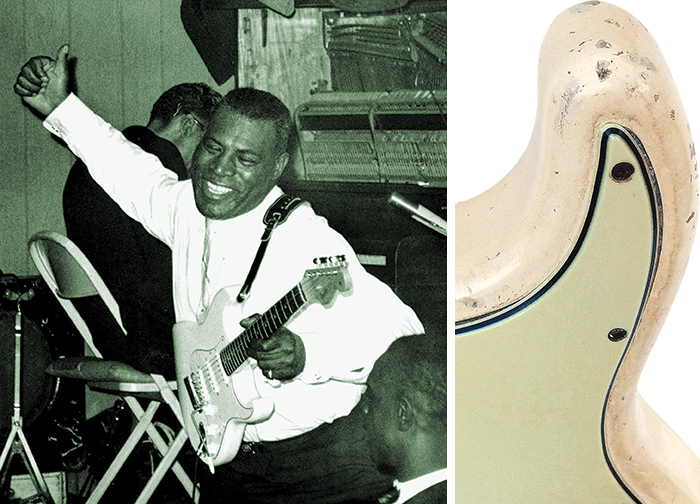 ---
This article originally appeared in VG January 2016 issue. All copyrights are by the author and Vintage Guitar magazine. Unauthorized replication or use is strictly prohibited.
---
Dig into VG's vast article archive!
Be notified when the next "Overdrive" and other great offers from VG become available! Simply submit this form.