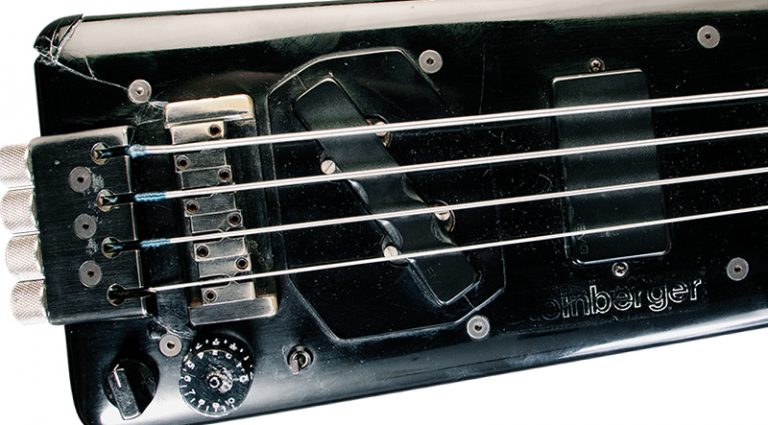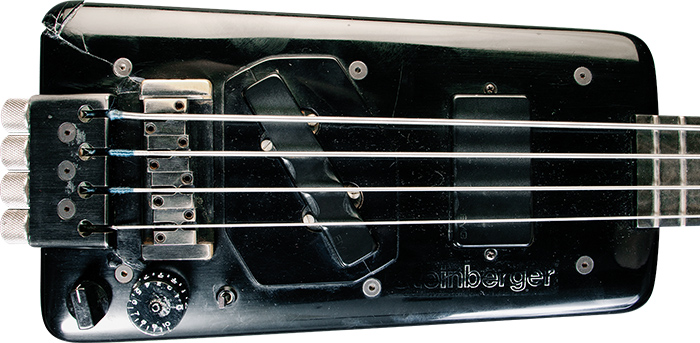 When introduced commercially in 1979, the Steinberger bass was a truly revolutionary instrument employing graphite construction and a minimalist artistic concept in its design.
Much like Leo Fender and John D'Angelico, builder Ned Steinberger wasn't a musician. His interest in instruments began in the mid '70s, when he joined a woodworking co-op in Brooklyn. There, he began working with Stuart Spector, a luthier whose earliest basses were for his own use, while later versions went into production as the Spector NS-Bass, co-designed with Steinberger and still popular today. Steinberger's background in furniture design and sculpture spurred his fascination with ergonomics, which first inspired an interest in pursuing instrument designs of his own, as he saw room for improvement in the way instruments fit on the human body. He approached design by determining the essential features required by musicians and the materials available to produce a simple, well-constructed, comfortable bass.

After making a living as a cabinet maker and designing commercial seating for hospitals and offices, musical-instrument design was a revelation for Steinberger.
"You can sit in a chair, but a musical instrument's intrinsic value goes far beyond that," he said. "You're making something special that people truly care about."
Though he eventually became more interested in the sonic aspects of musical instruments, ergonomics and functionality remained his primary interests, and drove his approach; his earliest prototypes, including this bass, were built using materials common in other industries, but innovative for instrument construction.
His previous work, creating shells used for car seats and boats, led Steinberger to consider carbon fiber for his basses, since much like the spruce top on an acoustic guitar, carbon fiber has a high stiffness-to-weight ratio.
While attempting to source materials in an industrial area of New York City, he visited Lane Marine, a lifeboat builder, where he met with Bob Young, an engineer with deep knowledge of carbon fiber. Though Young was more than twice Steinberger's age and had no experience with musical instruments, he joined forces with Steinberger after getting great feedback from his son, a recording engineer, who took to the instrument and understood the appeal of its construction. Later, a failed attempt to sell his prototype designs to a manufacturer at the '78 NAMM show (followed by a visit to Mandolin Brothers to sell his short-lived idea for a 15-string table-top steel guitar with bass-length strings) led to two serendipitous meetings with Hap Kuffner, who founded Mandolin Brothers with Stan Jay and wound up becoming the driving promotional and commercial force behind Steinberger Sound. Though Steinberger is quick to say his original intent was to sell (or license) designs to a manufacturer rather than entering the competitive musical instrument market, Kuffner was a proponent of going into business and, as Steinberger says, "convinced me… twice."
In addition to attracting the interest of an engineer and instrument dealer, the earliest prototypes appealed to musicians interested in something different. With a wooden bass, frequency response coincides closely with the resonant frequency of the body and neck, resulting in "wolf notes" (overpowering in one position) and "dead spots" where certain notes are reproduced at much lower volume. Steinberger's composite-construction instruments were noted as a solution for this problem. A flip lever on the body also makes them playable while seated.
The opportunity to work directly with musicians to fully understand their needs and make improvements to his designs was of great appeal to Steinberger, who has immense respect for those who make music.
"It takes an entirely different skill set to design and build an instrument than it does to play one," he said. "Building an instrument is about being of service to musicians who I admire greatly for being able to do what I can't. Music is magic and defies description."
Steinberger worked closely with a prominent New York bassist to customize this particular instrument to suit his needs, adding several features including the strap-fastening system and the bridge-position pickup. It's one of the earliest instruments made by Steinberger, with his unique body design and is one of only three built with an experimental acrylic core.
The concept of a headless design goes back to at least the 1930s, when Rickenbacker introduced an electric violin with standard violin tuners on the body and no peghead. It was an interesting design, constructed of black Bakelite (an early form of plastic utilized on the company's style B lap steels). Steinberger took the concept further, using his innovative tuners and graphite-fiber construction.
At the height of their popularity, Steinberger basses were played on stages worldwide and featured in music videos by artists like Sting, the Rolling Stones, Dixie Dregs, Rush, and many others. In addition to being well-received by many musicians and instrument dealers, Steinberger also received praise from many in the design community. The Industrial Designers Society of America (ISDA) presented Steinberger with two top awards for consumer products – the 1981 Industrial Designers Excellence Award, and later, their design of the decade award. The Steinberger L2 was featured in Time magazine as one of the Five Best Designs of 1981.
After running, promoting, and expanding his business for nearly 10 years, in 1987, Ned Steinberger sold the company to Gibson, where instruments based on his designs are still in production. Steinberger transitioned into designing and building bowed instruments including an avant-garde electric violin, and upright basses.
Today, he continues to "enjoy working with low strings to get their full timbre, ring out the harmonics, and hear the full sound."
---
This article originally appeared in VG December 2015 issue. All copyrights are by the author and Vintage Guitar magazine. Unauthorized replication or use is strictly prohibited.
---