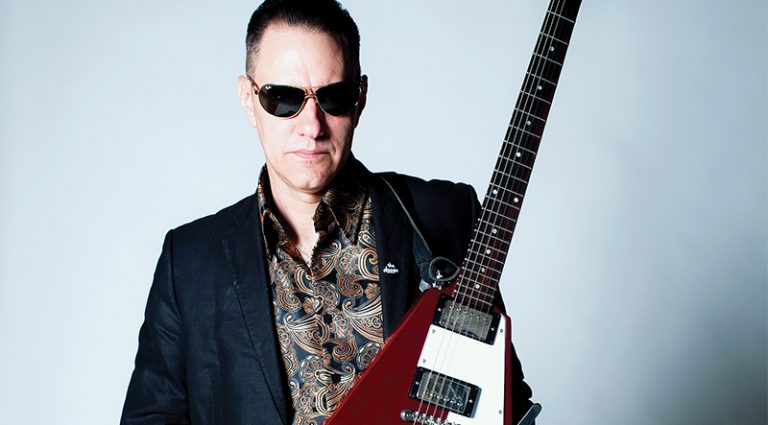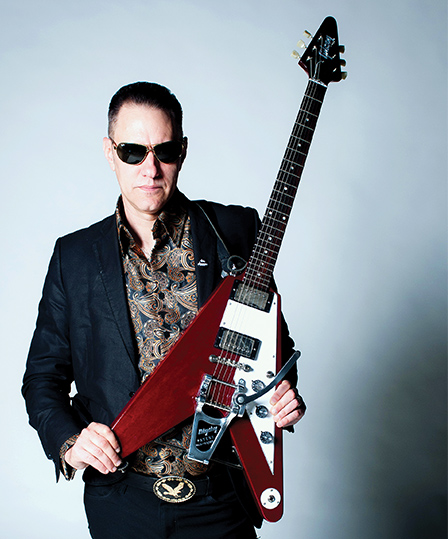 The term "vintage" isn't always literal when it comes to gear, but it certainly can be used to describe attitude. Michael Johnny Walker has spent his career chasing tone and delivering vintage attitude in spades. The riff-laden, self-titled debut of his newest endeavor, Motobunny, as well as the latest Love Me Nots release, Sucker, both lend evidence of such. Recorded primarily analog, they bring warmth and tonal depth that can only come from tubes and tape.
"My number one influence has always been Jimmy Page, so as a kid, I wanted a sunburst Les Paul," said Walker. "I'd get really into bands and try to figure out how their guitar players were getting their tone. There was also a period where I was really into Eddie Van Halen, so I'd get guitars I could monkey with, like a cheap Ibanez that I carved out and put a humbucker in."
Throughout the years, Walker has had several Les Pauls, including a natural-finish '76 Custom and a '73 Deluxe refinished in blue ("I'm still trying to get that guitar back."). His current lineup consists of a 2006 '68 reissue, a '95 TV Junior double-cut, and a '59 reissue from 2003. "The '59 reissue has had probably 20 sets of pickups," he said. "It's a great guitar to try things on. As of yesterday (laughs), it has a late-'60s T-top in the bridge and a Duncan Seth Lover with a Wizz Pickups A4 magnet in place of the stock A2."
Walker's newest acquisition is a Lonnie Mack signature Flying V. "The first time I saw one, I thought, 'Man, that's the coolest guitar I've ever seen.' Not only is it a V, but it's got the biggest Bigsby ever. Gibson made only 200 of them in '93/'94 and mine has the stock pickups and protective plastic film on the pickguard. I took it home, plugged it into all my rigs and thought, 'Why don't my other Humbucker guitars sound like this?'"
Walker's bands are a labor of love he shares with wife, Nicole Laurenne, who commands the voice and aura of a '60s mini-skirt/mob-era chanteuse. Each group requires a different set of tools.
"Motobunny is definitely a Gibson/humbucker/Marshall band whereas the Love Me Nots calls for a single-coil/Fender sound. I have an '09 Danocaster Esquire with a Ron Ellis Broadcaster in it that really brings the heat, an '04 Fender Custom Shop '63 reissue Telecaster, and a '98 '62 reissue Tele Custom for the Love Me Nots."
He also employs myriad pedals that differ for the respective projects. "I used a vintage Colorsound Supa Tonebender on all of the Love Me Nots records, which I was reluctant to take on the road. So I had Marc, at Skreddy Pedals, build one that sounds identical to the original. I also use a Tri Muff by Stomp Under Foot, which, after owning a handful of vintage and boutique muffs, the Tri Muff best replicated the tone from a '73 Big Muff owned by our bass player, Christina."
The remaining space on his Love Me Nots board is occupied by a Skreddy Screw Driver, a Fulltone OCD, EHX POG, a Clinch FX EP-3, a Lovepedal Echophonic, a TC Electronics Hall of Fame Reverb, and a Tonebender MKII from Lumpy's.
The setup for Motobunny varies slightly: "For Motobunny, I'm using my Screw Driver, POG and TC Reverb still, and then a Basic Audio Scarab and Square Wave, a Dunlop Echoplex Preamp, and a Boss Waza Craft Blues Driver and DM2W Delay."
The one consistent element to Walker's tone is his Marshall/Fender rig. "I use a '59 Super Lead that was built by Carl Esparza; killer amp. It was built with 90 percent NOS parts, including a great set of mustard caps from Jim at Scumback Speakers, who also sourced transformers from Mercury. I blend the Super Lead with a stock Fender Hot Rod DeVille 2×12 every night."
When it comes to writing, Michael says, "I don't write on acoustic, like a lot of guys do. I have to have a Tele plugged into a fuzz before things start making sense."
From the '60s garage, Farfisa-driven sounds of the Love Me Nots to the song-oriented Les Paul/Marshall rock of Motobunny, Walker exudes vintage swagger, style, and tone.
---
This article originally appeared in VG November 2015 issue. All copyrights are by the author and Vintage Guitar magazine. Unauthorized replication or use is strictly prohibited.
---