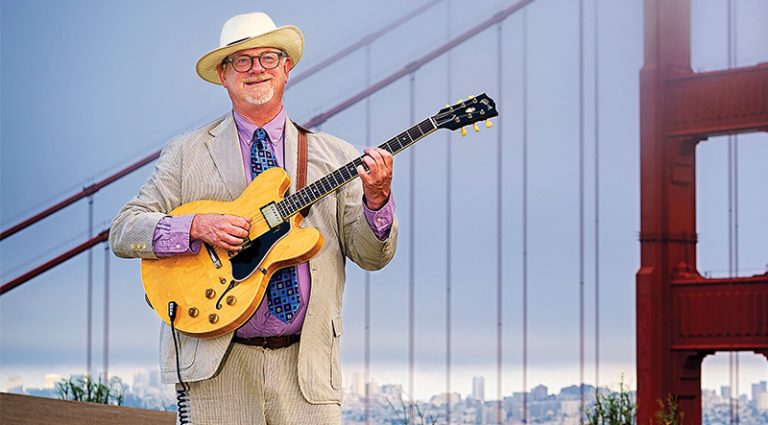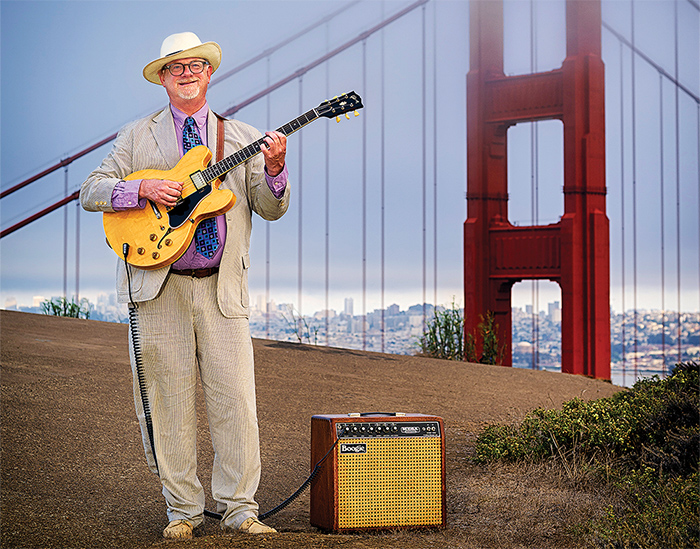 Released in April, guitarist Thom Douvan's third album, All Over Again, is a mix of self-penned instrumentals (with one notable exception) that utilizes a plethora of classic guitars to embellish the compositions.
Douvan came of age in the '60s and counted many area influences as part of his formative years in Ann Arbor, Michigan.
"There were many concerts to attend, both free and low-cost," he remembered. "Mitch Ryder and the Detroit Wheels often played Ann Arbor, and of course, Bob Seger and Iggy Pop who were both from Ann Arbor. One of my guitar teachers was 'Dangerous' Dan Erlewine, better known as the Dean of American guitar repairmen, and a Vintage Guitar columnist. Dan exposed me to American roots music including Hank Williams, Sr. and Jimmy Rodgers, and a lot of blues."
However, as a freshman in high school, Douvan was introduced to jazz by two University of Michigan graduate students.
"Through this experience, I also discovered George Benson, Phil Upchurch, and Wes Montgomery, some of my lifelong influences," he said. "Then, I joined my first soul band in my junior year."
An obvious Motown fan, the genre has permeated Douvan's playing style and songwriting.
All Over Again starts with fusion-like songs, then segues to smooth jazz and funk. An exception to the "flow" of the album is "Rhonda," in which Douvan does note-for-note duet passages with violinist Mads Tolling. Douvan said that the song was influenced by the Beatles in their "George Martin period," as well as Dave Brubeck and Paul Desmond's "Blue Rondo A La Turk."
"It's in 6/8 time for most of the song, but with some odd meter bars of 10/8 and 3/8 thrown in for good measure," he detailed. "I did not set out to write a song with odd meters; the song more or less came to me in my sleep."
The only non-original number is Kenny Burrell's "Then I Met You," which is presented in three versions on the album – a radio-ready track with vocalist Lynne Fiddemont, a longer version of the same mix, and an instrumental.
"I used to go see Kenny Burrell when he would play at Bakers' Keyboard Lounge in Detroit," Douvan remembered. "Many years later, in 2002 or '03, I went to see Kenny at Yoshi's Jazz Club in Oakland, California. He performed a vocal tune that I had never heard before. Many people don't realize that Kenny has an amazing baritone voice, very much like Johnny Hartmann's. Anyway, I heard this song and wondered if it was a standard by Cole Porter or Rogers & Hart that I had never heard before. I came to learn that it's a song Kenny wrote and dedicated to his wife. From that time on, I knew I wanted to record it."
Guitar lovers will appreciate the CD booklet that shows many of the guitars Douvan utilized on the new album, including Gibsons, a Heritage, and an '87 Fender Strat signed by Robben Ford.
"All of the instruments featured in the booklet were used on the record," he said. "However, I do not necessarily still own all of them. I have a severe case of G.A.S. – guitar acquisition syndrome, so I wanted to showcase some of the instruments I've been fortunate enough to own and play even for a while in my ever-changing collection. I frequently travel between Northern California, Southern California, and southeast Michigan, and I cannot justify keeping a large guitar collection at any one time. So I have resolved to limit my ownership of guitars to no more than one each in a category at any given time – solidbody, semi-solidbody, OM-style acoustic, dreadnought acoustic, nylon-string acoustic, etc. That way, I do not find myself overwhelmed with an excess of beautiful instruments that I do not play. If I'm not playing an instrument for a long period, I sell it in order to finance a different instrument I might actually play."
One unique visual presentation is on the disc itself, which shows the body and (worn) pickups of Douvan's 1960 Gibson ES-345TDSV.
"It has the Holy Grail 'Patent Applied For' humbucking pickups," he detailed. "Tommy McGillam, the art director at Rainbo Records, came up with a clever way to make the corroded pickup covers shine while leaving the rest of the CD label opaque."
Douvan is gratified by the reception to All Over Again, and said his next project would be a live album that interpolates a tribute to the Funk Brothers.
---
This article originally appeared in VG November 2015 issue. All copyrights are by the author and Vintage Guitar magazine. Unauthorized replication or use is strictly prohibited.
---