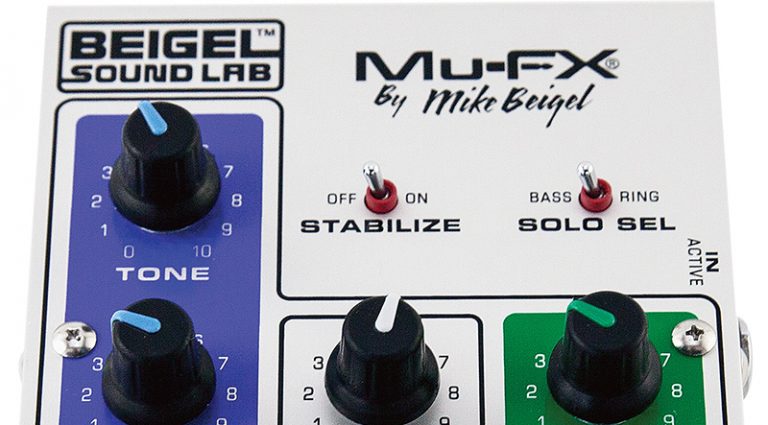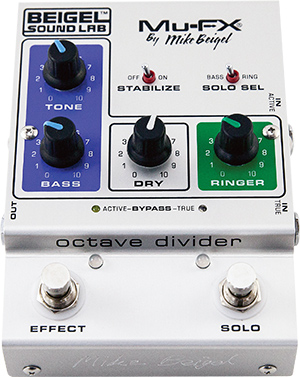 This is rocket science. Or at least as close as a stompbox gets.
Sure, building a pedal that tweaks a guitar's signal around and about isn't exactly putting a man on the moon. But then, when an effects mastermind like Mike Beigel launches a new box, it's almost guaranteed to propel your sound into the stratosphere.
For those not paying attention, Beigel was the brains behind the original Musitronics Corporation, the NASA of '70s stompbox makers. You might've heard of his Mu-Tron III, which introduced the galaxy to the envelope-controlled filter, a.k.a. "auto wah," and played a starring part in making funk happen. In 1978, Musitronics famously went under after betting everything on the infamous Gizmotron.
Now, Beigel is back. Helming his new Mu-FX concern, he recently began offering a state-of-the-art Mu-Tron III in the form of his Tru-Tron 3X. He's following that with this updated version of the glorious Musitronics Octave Divider, which debuted in '76. If you need a reference on that pedal, think Jerry Garcia, Frank Zappa, Larry Graham, and Chris Squire.
Attention, mission control; the Mu-FX Octave Divider is not a reissue. This effect does everything the original did and more. Beigel tapped into the original Mu-Tron circuitry mojo and says he remade it, only better. The new unit includes the same Octave Down and Green Ringer distortion effect. And, contrary to the Sputnik-like size of the original, it's now in a "mini-mu" housing that's pedalboard friendly.
As usual with Beigel's creations, the Octave Divider has as many options, controls, and variables as an Apollo cockpit, allowing you to shape your sound for a near-endless array of possibilities. To boldly explore the effect, we plugged a '56 Strat into the Mu-FX, then into a Fender VibroKing.
The heart of the pedal is that Octave Down feature, which creates a lower-octave doubling of the signal.
The Green Ringer circuit allows dialing in distortion to the octave sound, creating a sort of echo that can range from a chimey accent to a fuzzed-out growl around the original line. The Tone control can add twang or grunt to the output, while the Bass, Dry, and Ringer controls all boost the output signal. You can also dial back that boost-out to match clean signal for switching. And of course you can control the balance among all these effects – Beigel is all about options.
And this is where things get interesting.
Playing through an Octave Divider is not rocket science, but it is an art. And it's an art you'll have hours of fun perfecting.
You quickly learn that strumming a full power chord isn't the secret here; the duplicated notes crash into each other. But, pick double-stop riffs or single-note lines and the universe opens up in a choral array of notes.
Jerry Garcia's fave arpeggios sing with the Octave Down circuit – it's like having a full choir to fill out your picking. Go to the extreme, and Jimi-style space jams can take you far, far away from the third stone. You can even craft trebly sitar-like voicings that glisten and resonate with micro-tones.
The Octave Divider plays well with other effects, especially in front of an overdrive. Add fuzz, and you can create stellar Black-Sabbath-like rhythm figures that bristle with thick, gnarly texture (the Octave Divider is powered by a 12-volt power-supply, which Beigel says aids tone quality and so won't hook into your typical 9-volt chain).
Also, the pedal is not a guitar-only device. Run a bass through it and you can create a massive bottom-end sound alive with harmonics. Any other instrument with suitable connections can also be run into the effect.
Tone is at the heart of Beigel's stompbox. He acknowledges that there are cheaper octave and chorus pedals available, but his goals are the best tone possible, along with his trademark array of controls and build quality that made the originals legends. Mission accomplished.
---
This article originally appeared in VG September 2015 issue. All copyrights are by the author and Vintage Guitar magazine. Unauthorized replication or use is strictly prohibited.
---