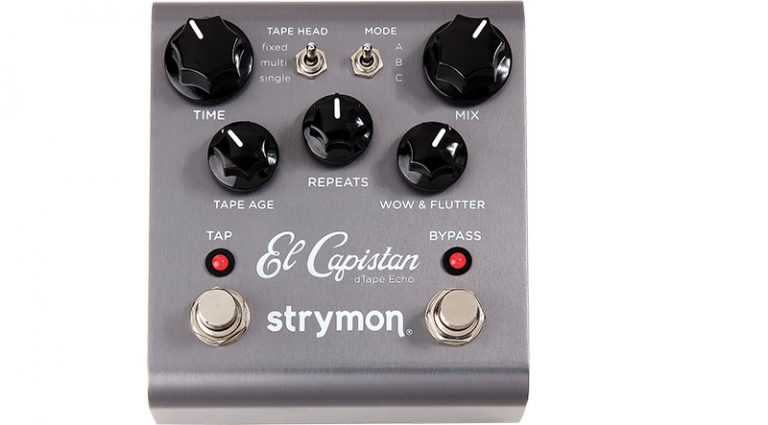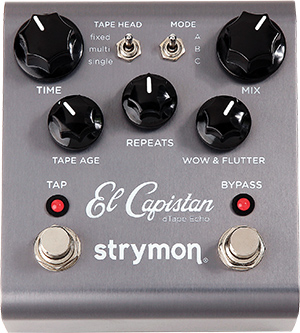 Like politics, religion, and overdrive pedals, echo boxes are sure to incite staunch views, heartfelt arguments, and perhaps even fisticuffs. But Strymon's El Capistan is one worth fighting for.
To get the squabble started, this pedal creates analog-inspired echo via DSP (digital signal processing) technology. If you're an enemy of all things unnatural and digital, don't stop reading: El Capistan offers some of smartest, most impressive use of DSP we've had the privilege of stomping on. And the best sounding.
Thanks to those digital smarts, this is not your grandfather's echo unit. And yet, in some ways, it is.
The El Capistan is not just a delay. It's designed specifically to mimic the tape echo masterminded by folk like Les Paul and Sam Phillips back in your grandpa's day. To get that vintage sound, Strymon includes an array of options far beyond your typical analog or digital delay pedal, or even an Echoplex. In fact, El Capistan is three tape machines in one, each with three unique modes.
To begin, you can select simulations of fixed, single, or multiple tape heads with set tap tempos ranging from a 1/16th-note delay, dotted 1/8th, or 1/4 note. And you can run the tape motor at normal or double speed. These variables create echo effects from a simple Sun Studios slapback to Les Paul's rich choral voicings to never-ending modulations that would make Jimi grin.
Borrowing from later Echoplexes, there's also a Sound on Sound mode that allows you to record simple echo loops. Digital technology offers you the ability to edit portions of the loop as well.
And that's only the beginning. In the spirit of tape echo, El Capistan gives the user control over the sound of the tape age. You can adjust simulated wow and flutter, tape bias, and even crinkle and other sonic artifacts. Blending these controls, you can craft a sound that's pristine and clean like the latest, greatest digital studio, or you can create a sound with all sorts of skunky funk.
There's still more, as El Capistan includes several hidden secondary functions, including a spring-reverb simulation, low-end contouring, and 3dB plus or minus boost or cut. Finally, you can hold down the Tap footswitch for infinite repeats.
In the end, whether you're a steadfast proponent of analog or remain true to tape echo, El Capistan will challenge your beliefs. The sonic quality is exceptional, the variables and controls phenomenal. And you avoid the hassle and headache of keeping a tape machine alive.
---
This article originally appeared in VG September 2015 issue. All copyrights are by the author and Vintage Guitar magazine. Unauthorized replication or use is strictly prohibited.
---