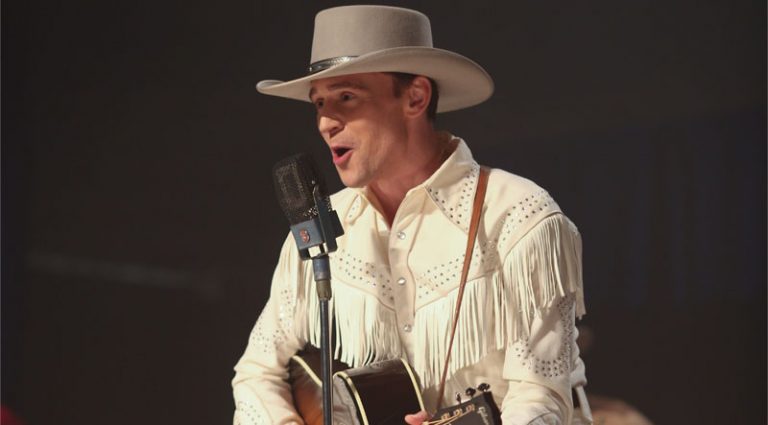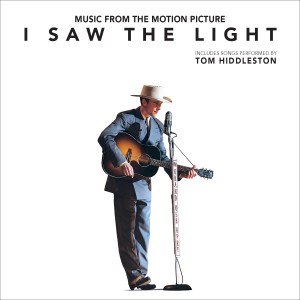 I Saw The Light, the recently released Hank Williams Sr. biopic, stars Tom Hiddleston as the iconic, troubled country singer and songwriter who left an indelible impact on American music before dying in 1953 at age 29, awash in alcohol and drugs. Presented documentary-style, it covers the last nine years of Williams' life. This digital-only soundtrack album spans old and new, as the producers' determination to create a narrative infused with authenticity and accuracy extended to the soundtrack.
Nashville singer-songwriter Rodney Crowell, the film's music director, faithfully re-created the sound of Hank's famed backup band, the Drifting Cowboys, and assisted Hiddleston in capturing his own take on Hank's raw, twangy style.
Crowell and a group of Nashville players dubbed the Saddle Spring Boys proved up to the task. The guitar work is in the capable hands of Crowell, veteran Nashville producer and session guitarist Richard Bennett, and Wes Langlois, who portrays Drifting Cowboy steel guitarist Don Helms in the film. Chris Scruggs ably re-created Helms' distinctive non-pedal steel sound. Using vintage equipment helped achieve a period sound.
Hiddleston's vocals on "Honky Tonkin'," "Jambalaya," "Hey Good Lookin'," "My Bucket's Got A Hole In It," and "Move It On Over" have become a topic of debate (some, including Hank Williams III, have been critical). Instrumentally, however, the musicians conjure up the authentic Drifting Cowboys sound heard on Hank's MGM recordings, transcribed radio shows, and live airchecks. Their relaxed feel avoids the clinical sterility that often undermines attempts to resurrect a classic musical sound. Stuart Duncan and Larry Franklin handle fiddle parts.
That alone would be impressive, but the soundtrack includes vintage hits, most from Hank's era, with some impressive guitarists. The 1949 Eddy Arnold #1 single "Anytime" features the non-pedal steel of longtime sideman Little Roy Wiggins. George Morgan's "Please Don't Let Me Love You" includes steel guitarist Billy Robinson and guitarists Grady Martin and Zeb Turner.
The Delmore Brothers' hypnotic "Field Hand Man" features powerful rhythm guitar licks by Turner's brother Zeke, who also played on some of Hank's records. Emmett Miller's 1928 recording of Hank's signature tune "Lovesick Blues" (a record Hank owned) includes Eddie Lang. Jump blues singer-guitarist Jimmy Liggins accompanies himself on "That's What's Knockin' Me Out."
In all, an impressive merger of old and retro – accompanied by glorious guitar and pedal steel throughout.
This article originally appeared in VG's July '16 issue. All copyrights are by the author and Vintage Guitar magazine. Unauthorized replication or use is strictly prohibited.