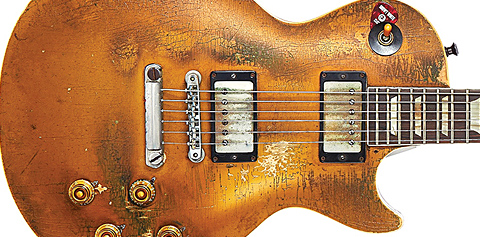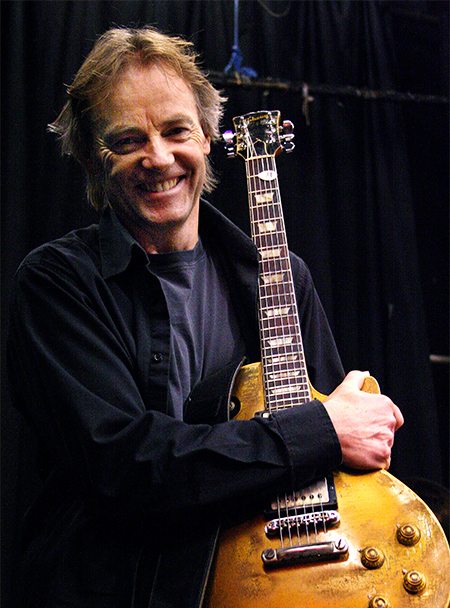 Snowy White, one of the finest blues and rock musicians to come out of the U.K., built a career on near-anonymity. Deliberately.
"It is my nature," he explains. "If the spotlight hits me, my inclination is to step out of it. I'm actually quite a private person."
In or out of the spotlight, White is nonetheless driven to succeed, and has quietly but confidently steered through a rewarding career with highlights that range from living, jamming, and recording with Fleetwood Mac's Peter Green to hitting #3 on the U.K. charts with "Bird of Paradise." Plus, he has played alongside the likes of Al Stewart, Chris Rae, and Mick Taylor. He also co-wrote the title tracks for Thin Lizzy's Chinatown and Renegade albums with Phil Lynott, all the while sticking to his first love – the blues – and recording 12 albums with some fine blues bands of his own.
Where does this quiet drive to make remarkable music come from?
"My father was a drummer, and did quite well," White recounts from his childhood memories of growing up on The Isle of Wight. "Until the war broke out and he was posted on the Channel Islands. Out of the army, he didn't pursue the drums, but he still played for dances and holiday camps and things like that."
"I used to go and listen," he said. "They had a guitar player in the band that was good – really good, actually. At nine or 10, I got into the guitar-playing thing."
And get into it, he did. Through his early teens, White did little else except stay home and learn the guitar. When he was 15, he plucked up the courage to play at the local youth club. It was there the proud recluse discovered that in fact he really enjoyed the attention. Thinking back, he says, "It was nice being up in front."
As the youngster's playing continued to reach new heights, he also began to realize that mastering the instrument could be his ticket off the ever-boring Isle of Wight. And to top that, he might be able to earn a living and build a career playing the blues.
"So, I stuck at it," he beams. "Learned my trade, and enjoyed playing."
Coinciding with that development was his hunger for the new music of the 1950s and '60s, and record collecting. To satisfy the need, he had no choice but to go against being a recluse, again, and get to the record shops of London.
"Otis Rush, Robert Johnson, Elvis, Big Bill Broonzy – all that stuff," he remembers. "What a great time it was, discovering all that music. Eric Clapton was just getting well-known with John Mayall's Bluesbreakers. And then there was this guy called B.B. King.
"In those days, you couldn't just click on it to get it," he said. "I had to take the steam train up to London. You had to search for everything, which made it a bit more special and a bit more exciting, I think. I'd spend hours in the record shops, collecting 50 albums. Even if I could only afford two."
Talent on the rise, and his search for knowledge revving up, White still needed a final push to get him off the Isle for good. And that came in the form of a teenage crush, and his first driver's license.
"When I passed my driving test, I drove to Sweden. I actually did," he laughed. "'Cause I'd met this Swedish girl and I ended up staying for a couple of years. I got into a band."
At the time, White was playing a Strat, but really wanted a Les Paul. The drummer in his Stockholm-based trio, The Train, knew someone who had a '57 Les Paul under his bed, never played.
"He brought it along," White says of the magical moment. "I picked it up and thought, this feels really good. So we did a swap, my Strat and £100 for the Les Paul.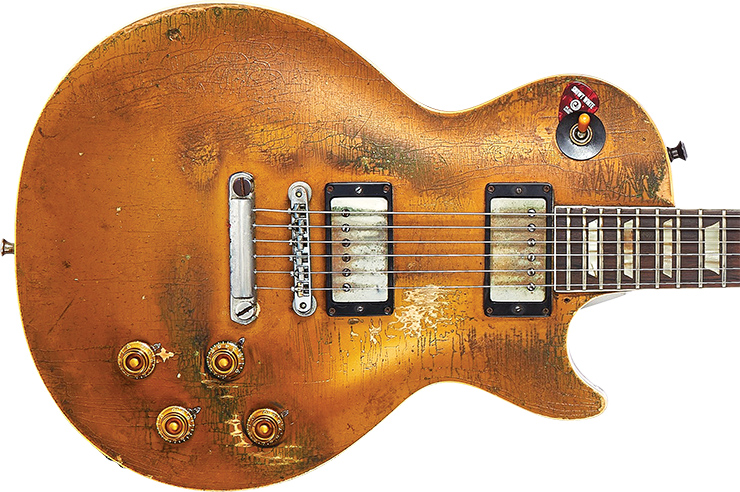 "That was 1968, so it's actually a matter of luck that it turned out to be such a fine-sounding instrument," he adds unwaveringly. "Not knowing much about guitars, I just fell into having it. I think I borrowed the £100 from my dad. And I don't think he ever got that back!"
Now at 66 and closing in on 50 years as a blues man, White likes to admit he still doesn't know anything about guitars – because he doesn't need to. He's never really strayed from his beloved main squeeze – that very same goldtop.
"I just pick it up, you know, and everything is right there as soon as I put my hands on it," he says of the career-long symbiotic relationship between him and the Paul. "It's all right there where it should be.
"I thought everybody felt like that about their guitars. When I look back, I realize how strong the feeling was. I didn't need anything else. Once or twice, people have said, 'You wouldn't look right with any other guitar. You look like one instrument.' Well, it looks like that to other people, because that's how it feels."
Speaking of the years gone by, what of the guitar's body and neck? Has he consciously noticed it getting better – sweeter – with age? "Yeah, actually. Either that or I got better with age. Both of us, maybe."
Nonetheless, it's a working guitar. "I wasn't precious with it, you know? If it needed to be fixed, I fixed it. At some point, the wiring got brittle and it wasn't sounding right. So we just re-wired it."
The guitar's aged wiring was on his mind in the days leading up to February 28, when he sold it at auction for $93,750.
"It's got history… a lot of history," he said.
That "lot of history" began to unfold after White returned home from Sweden and started to make a name for himself on the London music scene, where he picked up session work.
In the context of vintage guitars, White's history began to get really colorful in the mid '70s, when he crossed paths with another great blues/rock guitarist, the legendary Peter Green (and his legendary '59 Les Paul Standard nicknamed "Greeny," which brought more than $2 million at auction in 2006).
"I know Pete very well," White offers with characteristic humility. "When he left Fleetwood Mac and was going through a lot of changes, he used to sleep on my sofa quite a bit. One day, he said, 'Can you look after my gear? I'm going…' I don't remember where he said, but he brought his Les Paul, his bass, amplifier, his record collection, and loads of reel-to-reel tapes of him with John Mayall. It was all in my flat, for months."
Shortly after Green's return, White missed his $2 million opportunity. "He said to me, 'Do you want to buy the Les Paul?' I told him, 'No, don't sell it. You'll probably want it again one day. I'll keep it for you up in the loft. I won't touch it.'
"It sounds funny, now, but I didn't have the hundred quid anyway, and I would've had to sell mine, and that didn't feel right. Anyway, he sold it to Gary Moore for £150 I think. So, yeah, if you could see into the future…"
Sticking with his Les Paul, a different kind of future began to take shape for White – one rich in musical experiences. In 1977, he was asked to play on the Pink Floyd Animals tour, his goldtop backing David Gilmour's Fender Strat.
"Over the period of a few years, I got well-known, quite respected amongst the musicians of London. I started getting calls, one from the Pink Floyd manager."
The lasting result of that gig was two-fold. One, White can be heard ripping an amazing solo on "Pigs on the Wing," on the post-tour release of the 8-track version of Animals. And two, the collaboration would lead him to a permanent job in perhaps the most famous twin-Les-Paul band, Thin Lizzy.
During the Animals tour, Lizzy's Phil Lynott and Scott Gorham – in search of a second guitarist to replace the (twice) departed Moore – saw White play with Pink Floyd at Madison Square Garden. Feeling they'd struck gold, the two rushed to meet White backstage, then pursued him relentlessly until he agreed to become a full-fledged member in their glamorous, hard driving band.
"It was quite difficult for me," White confesses. "As you can imagine, I'm not the sort of guy to go and jump about onstage. Not naturally, anyway. So I had to think a lot up there while doing all that and still try to be me.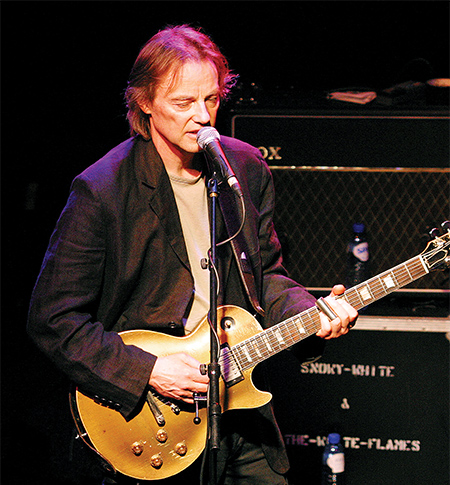 "To be quite honest, when I joined Thin Lizzy, they were on top, really. But, because of Phil's lifestyle, and Scott's – bless them both – they were missing a lot of opportunities, and I think the songwriting was getting a bit repetitive, a bit on the downward slide. That's how I read it.
"So, I tried to bring some melody back to it, tried to do my own thing, really. Instead of just jumping in and being a Thin Lizzy guitarist, I tried to be Snowy White in Thin Lizzy.
"A lot of people thought we were getting a bit away from the Lizzy sound," White said in response to historically harsh criticism aimed at his time with the band. "Some die-hard fans don't like change, do they? Which is fair enough. But, other people have said to me, 'Renegade is my favorite album' or ' I love your riff at the beginning of "Chinatown."' I think I added more than I took away."
Looking back at 1981 and '82, it's natural to wonder if White misses the spotlight attracted by an act like Thin Lizzy in its prime? The photos, the fashion, the 24/7 circus…
"I look at some photos of me and I think, 'Yeah, I looked alright, actually,'" he admits. "But all those things were peripheral to me. My heart was in just playing the guitar. Phil wanted to have a single image, and as long as I didn't feel stupid, I would go along with it. On top of everything else, I'm very easy-going."
Easy-going is right. Because after escaping the glare of life in Thin Lizzy, he was abruptly walloped by, of all things, an easy-going hit record. In 1984, his ballad, "Bird of Paradise," hit to #3 on the U.K. charts… and the shy White had yet another problem.
"That was another sort of hiccup, really," he recalls fondly. "It really messed me up, because I got a reputation as a ballad singer who happened to play guitar. The problem is I'm not really a singer. I felt very uncomfortable with the whole situation. So I backed off after a year or two."
Determined to be seen as a blues guitarist, and only a guitarist, in 1986 he formed Snowy White's Blues Agency, with which he could finally record and tour in his own style. He has since released 12 albums, adding Snowy White & The White Flames and The Snowy White Blues Project to his shortlist of blues-band startups. All with the trusty goldtop at his side.
Still a working musician with a wonderfully aging working guitar, after four years on his own, along came another job related to the Pink Floyd gig. In 1990, Roger Waters called, asking if he'd join him in performing The Wall live, in celebration of the fall of The Berlin Wall.Today, after some 220 performances around the globe (the last in late 2013), White looks back fondly at having dedicated so much time, even if it was to someone else's music.
"Considering my humble beginnings, then playing with Pink Floyd and touring with Roger. Flying private jets all over the world and playing big stadiums… The big qualifier is that I'm a hired hand; no matter how well-respected, it's not the same thing. Still, I've done quite well."
White can be seen in the documentary Roger Waters: The Wall. His blonde hair is easily recognizable, as is his gold Les Paul.
"It's quite interesting, because they must have filmed thousands of hours backstage, every show – for months, years. It was a well-oiled machine, and never difficult at all. Even if it wasn't mine, it was a pleasure playing that really great music."
What from his own catalog would he recommend to someone seeking samples of his quieter, bluesier side?
"There are a lot of things I think sound pretty good," he said. "But, one that seems very popular, with a lot of downloads on YouTube and comments, is 'Midnight Blues.' When I did my first album as The White Flames, I said, 'To hell with the record companies, to hell with radio play. Forget all that, we're just going to play for ourselves.' And I'm really pleased with that song and the album No Faith Required."
What might be his most memorable guitar moment?
"One of the nicest gigs I ever did was about eight years ago, and just five songs. With a Norwegian singer in the oldest cathedral in Norway – a big, wooden place. You could hear every little squeak on the strings, every nuance, every single changing sound."
Forever one to shirk the spotlight, even when he looks back, he remembers, "It was me, the guy playing the organ, the guy singing, and another guy doing a bit of trumpet. Just the four of us."
Five, if you count Snowy's ever-present 1957 Les Paul goldtop.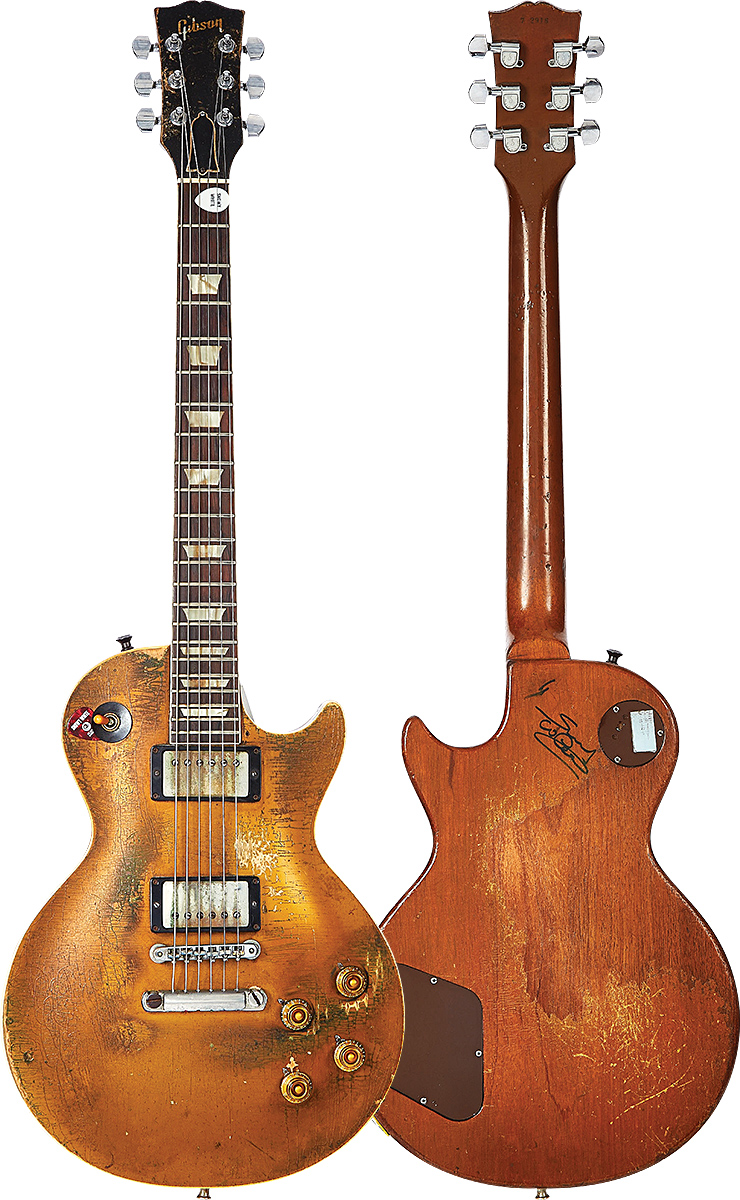 ---
This article originally appeared in VG June 2015 issue. All copyrights are by the author and Vintage Guitar magazine. Unauthorized replication or use is strictly prohibited.
---