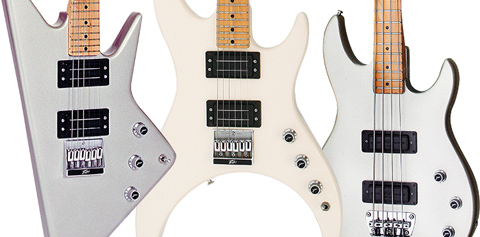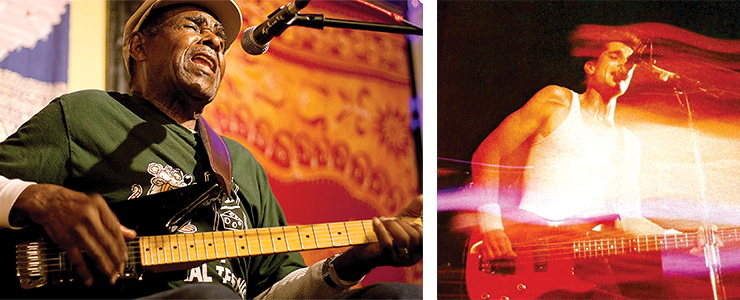 Just a handful of years after Peavey turned the world of electric guitar upside-down with its T-60 guitar and T-40 bass, the company was feeling its oats. While the T series caught attention because their bodies were carved by computer numerical control (CNC) machinery that produced very consistent, durable, instruments, they also weren't overly appealing, given prevailing tastes of the era.
Looking to enliven the lineup, Peavey used its August '83 price list to launch two new models – the Mystic and Razer – described as "special rock 'n roll shaped guitars." Conjoined on the price list ("Mystic/Razer") because they shared most specs, their body shapes were radically different.
"I wasn't at high-level meetings, but I imagine Peavey retailers were asking for something to appeal to the MTV crowd – flashy instruments were a growing segment of the market," Stolte said. "Peavey was trying to broaden its appeal beyond the country-and-western base they'd been identified with."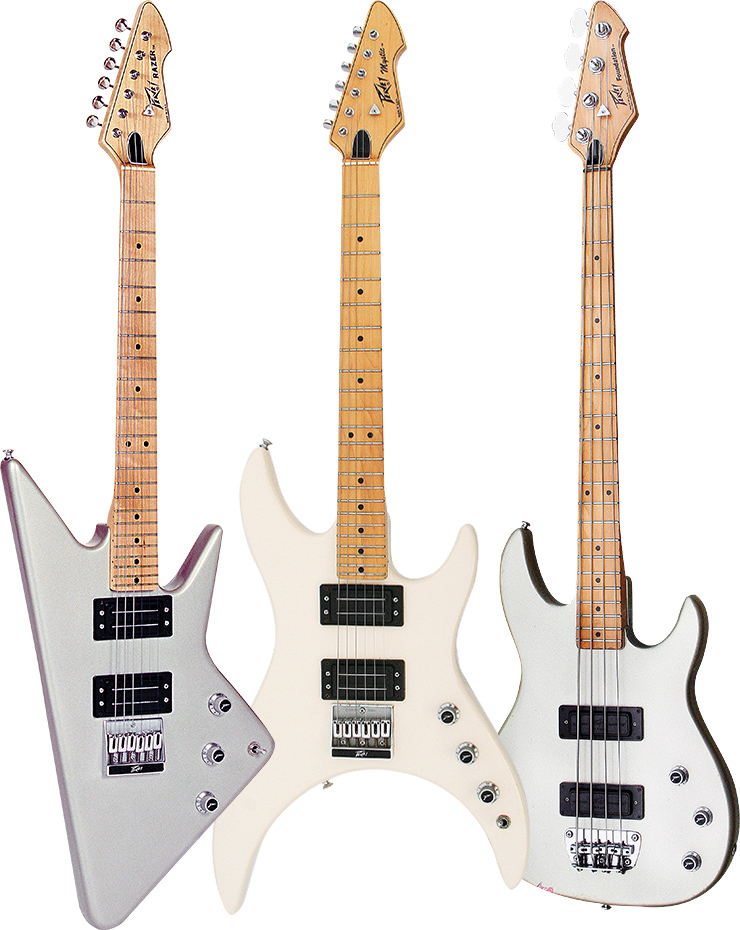 Brandon Stolte worked in Peavey's drafting department from the fall of 1982 to the spring of '86, and was involved in the development of the Mystic and Razer.
Peavey veteran Mike Powers (1950-2013) was head of guitar development at the time; he and founder Hartley Peavey monitored the evolution of new designs.
"Mike gave me a lot of leeway," said Stolte. "With the Razer, I wanted to develop a unique profile that could not be mistaken for anything else, even in silhouette. The Mystic was developed as a curvaceous counterpoint to the straight-edged Razer."
In a December '11 feature in VG, Powers said the Razer was an attempt to design a body in the shape of the company's "lightning bolt P" logo (as found on its instruments' control knobs).
Interestingly, the Mystic had aesthetic roots dating back to 1958, when a teenaged Hartley Peavey sketched an idea (on butcher paper) inspired by a "rocket-shaped guitar" he had seen on a Bo Diddley album cover. He kept the drawing, and the Mystic wound up looking a lot like that outline.
"Hartley was always making suggestions about 'massaging' the shapes of guitar bodies, so maybe he was thinking of that old sketch when he guided me with the shaping of the Mystic," said Stolte.
The Mystic/Razer had a maple body, a 243/4″ scale, and a maple neck, which had 23 frets and a 12″ radius. Controls included a master Volume with two Tone knobs that operated Peavey's innovative single-coil/dual-coil circuitry for each pickup.
While the Mystic had a scorpion-like look, the Razer looked like nothing else – and neither guitar set the woods afire, sales-wise.
Among the few notable users of early modernistic Peaveys were Mark Farner (then of Grand Funk Railroad), who played a custom-made three-pickup Mystic, and Mississippi blues man James "T-Model" Ford, who performed with a Razer. Ford died in 2013.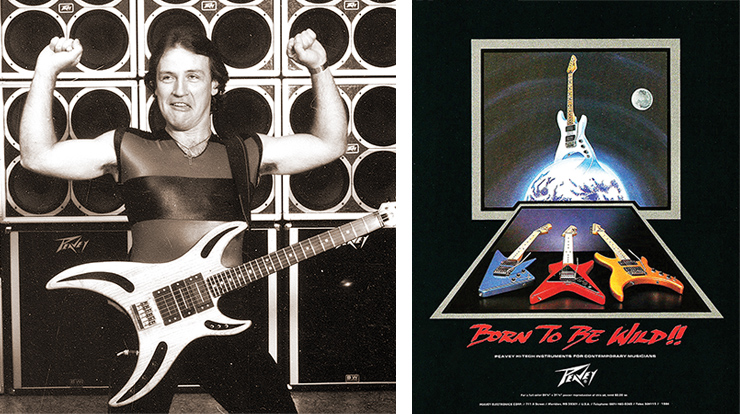 The Mystic and Razer were the first Peaveys to list vibratos as an option, and in '84 were joined by a third modern guitar – the single-pickup Mantis. All three survived for a few years before disappearing from price lists after 1987.
That '83 list also introduced the Foundation Bass. It had a 21-fret maple neck (11/2″ wide at the "polycarbonate" nut) with an 8″ radius, and two single-coil Super Ferrite pickups operated by two Volume controls and a master Tone. The bridge had large, barrel-shaped saddles, helping to evoke a sound that was bright and beefy.
In its nearly two decades of existence, the Foundation was offered in numerous incarnations, including versions called Custom (matching headstock, pearl or metallic finish), LH (left-handed), and S (two split-coil humbucking pickups), as well as fretless, five-string, and active variants. Noted endorsers included Roger Glover (Deep Purple), Kyle Henderson (Producers), and Mario Cippolina (Huey Lewis & the News).
In spite of varied histories, the Mystic/Razer and Foundation are, like many other Peaveys, revered utility instruments in the vintage market. Curiously, the Razer fetches about twice what the Mystic does, while all variants of the Foundation sell for similar prices.
Hartley Peavey's credo to offer dependable gear at reasonable prices carried over to the used/vintage guitar market, even if some of his company's creations looked rather peculiar.
---
This article originally appeared in VG July 2015 issue. All copyrights are by the author and Vintage Guitar magazine. Unauthorized replication or use is strictly prohibited.
---