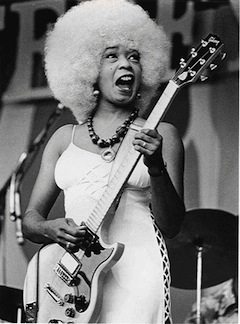 Peggy Malone, who used the stage name Lady Bo while accompanying Bo Diddley beginning in the late 1950s, died September 16. She was 75 and had recently been diagnosed with cancer.
Born Peggy Jones, she grew up in Harlem and by age six was working as a professional tap dancer. At 12, she began studying opera and learning to play ukulele. She graduated from the New York High School of Performing Arts, studying dance, drama, music theory, and several musical instruments. She began recording sessions with Diddley in early 1957, then in '58 began to gig with him. In '61, she stepped away from the band to care for her ailing mother and younger sisters. Her spot was filled by Norma-Jean Wofford. Malone then formed The Jewels – later Lady Bo & The Family Jewel – which had a hit in '66 with "We Got Togetherness." She also worked as a session musician and club singer, including as vocalist with big bands and as a session percussionist; she played percussion on Eric Burdon & The Animals' 1967 hit "San Franciscan Nights."
In '68, she married Wally Malone, bassist in her band, which accompanied Bo Diddley when he played the West Coast in the '70s and '80s.
In 1993, she received a Lifetime Achievement Award at the South Bay Blues Awards. In 2003, she received a Congressional Lifetime Achievement Award, and in 2012 she and Wally were inducted to the Louisiana Hall of Fame.
Malone is survived by Wally, two sisters, and extended family.