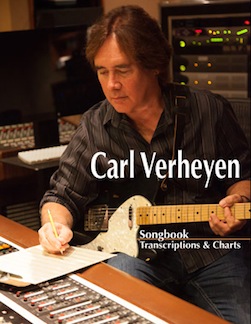 Los Angeles session ace and Supertramp lead guitarist Carl Verheyen has just released his first tablature book. At 285 pages, the book covers full transcriptions of 19 songs from his more than 40-year career, with charts for 27 more. Verheyen has been the lead guitarist in Supertramp for more than 30 years, and his solo music is characterized by intricate solos, often by way of a Strat through a Marshall.
Verheyen has released 13 CDs, two DVDs of live concerts, two instructional DVDs, three Truefire online guitar courses and two books: Studio City: Professional Session Recording for Guitarists, and Improvising Without Scales. He has also scored and played on dozens of commercials and movies, including the Disney film Ratatouille,
Learn more at carlverheyen.com.