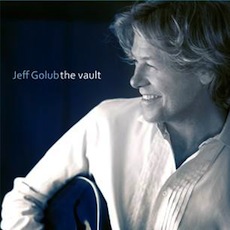 Friends and collaborators who worked with guitarist Jeff Golub have teamed up to complete the album he was recording prior to his passing on January 1.
Steven Miller, Rick Braun, Jeff Lorber, Philippe Saisse, and Bud Harner put the finishing touches on The Vault, a collection of previously unreleased songs and reimagined early gems, with the assistance of some of the artist's musician friends. Everyone involved – musicians, producers, songwriters, engineers, mixers, mastering, graphic artists, etc. – donated their time so all money generated by sales can go to Golub's family.
Golub began his career as a guitarist for Rod Stewart, Billy Squier, Peter Wolf, and Tina Turner before launching his own band, Avenue Blue. The Ohio native succumbed to complications from Progressive Supranuclear Palsy (PSP), a rare and incurable brain disease.