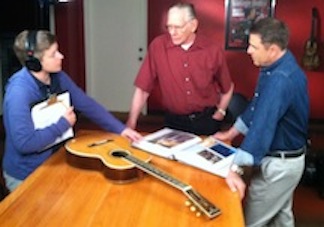 Vintage Guitar magazine recently played host to producers from the Public Broadcasting System (PBS) program "Antiques Roadshow" for a segment featuring Larson Brothers guitars. The episode, labeled "Bismarck, Hour 2" on program guides, will air at 8 p.m EST on Monday, February 23.
Larson Brothers guitars are highly collectible acoustics made in the 1920s and '30s. Those featured on the show belong to a local collector.
During the broadcast, producers will conduct a live discussion on Twitter (@roadshowpbs) that will include executive producer Marsha Bemko (@MarshaBemkoEP), appraisers Lark Mason and Arlie Sulka, and Vintage Guitar mag (@VintageGuitar). To follow the conversation, use #antiquesroadshow and #vintageguitar.
Both organizations will also post to Facebook and Instagram.