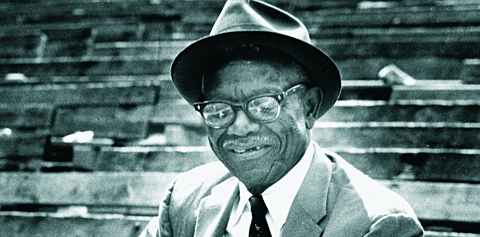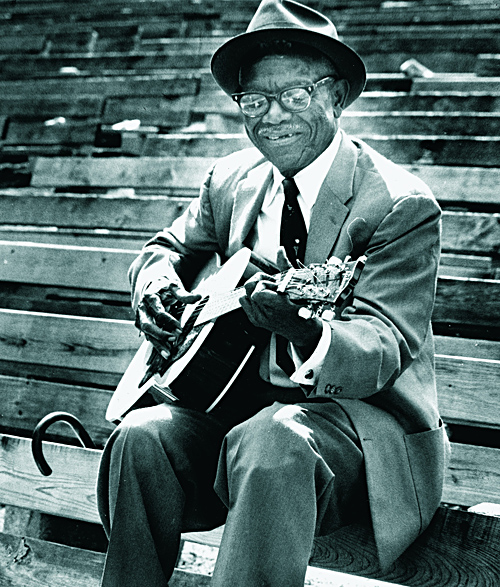 Born in the heart of Mississippi's fabled Delta region – from where Robert Johnson emerged and a blues-music form was born, Walter "Furry" Lewis was seven years old when his family moved to Memphis in 1907.
Geographically poised as a gathering point for sharecroppers emigrating from the deep south to various points north, Memphis played host to musicians who sustained themselves by playing the music they'd known since birth – folk tunes from the Appalachians, spiritual/"work" songs, and early forms of ragtime.
The result was a mix of cultures and music that permeated the saloons and theaters along the city's Beale Street, and it was there that young "Furry" (so dubbed by childhood friends) was exposed to a mélange of musical styles and instruments.
Lewis' earliest lessons on the guitar came courtesy of a local man known as Blind Joe, whose teachings were focused on 19th-century work songs like "Casey Jones" and "John Henry" (both of which became key parts of Lewis' repertoire). His first gigs were low-profile – house parties, dances, various gatherings – but not low-energy; influenced by the acts that played Memphis' theaters and street corners, by age 15, Lewis had adopted an emotive, freewheeling style that helped him gain a sizeable audience.
While traveling the countryside in 1917, Lewis lost his footing while trying to jump aboard a train. Slipping beneath the moving behemoth, he lost a leg to its wheels. Though the injury forced him back to Memphis to recuperate (and wear a prosthetic the remainder of his life), it wasn't long before he returned to performing in the joints along Beale.
In the early 1920s, Lewis took a gig with the Dr. Willie Lewis Medicine Show, where he shared the bill with performers including Memphis Minnie, Bessie Smith, and Blind Lemon Jefferson, as well as acts with a Vaudevillian bent: the influence of the latter manifested itself in showy elements of Lewis' performances, like holding the guitar behind his head while he played, holding it upright by its neck and strumming a chord as it swung in and out of reach like a pendulum, and the hucksterism of demanding $20 cash prior to a solo gig, purportedly so he could get the guitar out of hock!
Though Lewis' playing and singing weren't at first parsed as "country blues," when blues music began to trickle south from the urban centers of Chicago and New York, the suitably counter moniker was given to the less-structured form created by Lewis and others who offered a more-improvisational delivery. In fact, Lewis' style was much less about structure and lyrical "consistency" than it was about "adapting" verses to suit a song or a mood, accompanied by his unique application of the bottle neck (or pocket knife) slide.
Lewis' first turn at recording came in May, 1927, via the Chicago-based label Vocalion, which had him track five songs accompanied by guitarist Landers Walton. Six months later, they brought him back to do six more, solo, and the following year, he recorded at the Memphis Auditorium. The final recordings of his early career were made in 1929, and while he enjoyed a strong following for his live renditions of "Kassie Jones," "Billy Lyons & Stack-O-Lee," and "Judge Harsh Blues," that popularity didn't equate to more food on his table, thanks mostly to the onset of the Depression, which began to hit in the Southern rural areas in 1928 and affected blues performers more than those in other genres.
Finding it increasingly difficult to sustain himself via performing, circa 1930, Lewis hired on as a laborer for the city of Memphis and took to playing only the occasional party, or join the guitar players who'd busk on corners along Beale Street each Saturday afternoon.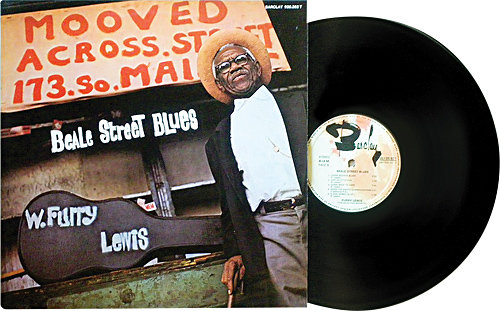 So it went for nearly 30 years before the arrival of music historian/academician Samuel Charters, who in the mid '50s began traveling the countryside, gathering field recordings. Charters first visited Memphis in 1956 to record jug-band songs and solo numbers by Will Shade, Gus Cannon, and Charlie Burse. Folkways Records released the fruit of those efforts in '57 as American Skiffle Bands. The following year, Charters published the book Jazz: New Orleans.
With those two projects on his resumé, Charters returned to Memphis in '59, hoping to track down Furry Lewis. Revisiting the Shades, Will's wife, Jennie Mae, told Charters how to contact Lewis, who had sold his guitar and stopped performing more than 20 years prior. A few hours later, Charters and his Ampex tape recorder were sitting in Lewis' rented room along with an ElectroVoice 636 microphone and an Epiphone – likely an FT-150 – rented from a local pawn shop.
"Initially, he was careful and guarded – his only contact with the white world at the time had been through his recordings, and I was that familiar figure – the 'record man.' But, he was quick and responsive to anything I asked," Charters said. "When he sat down with the guitar I rented, he asked what I wanted to hear. I said, 'John Henry,' which I'd listened to often on Harry Smith's set.
The Folkways album that resulted, Furry Lewis, was released in 1959. Charters then went to work on a book/record project for Folkways called The Country Blues, made up of reissued songs by Blind Willie McTell, the Memphis Jug Band, Gus Cannon's Jug Stompers, Lonnie Johnson, Robert Johnson, and others. But he wasn't done with Furry…
"In 1961, I returned from a year in Europe and was contacted by Ken Goldstein, who was financing his doctoral studies in Folkore at the University of Pennsylvania by producing folk and blues recordings for several independent labels," Charters said. "He sent me to Memphis, still as a freelancer, to do two more albums with Furry."
Charters took Lewis to the "not yet really famous" Sun Studios.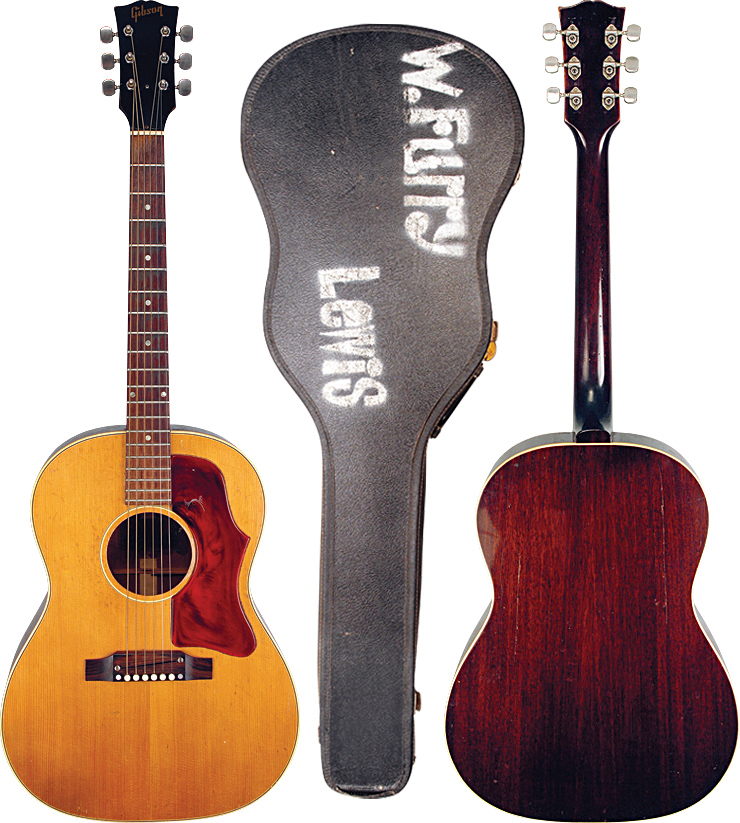 "It was the first time I'd ever done a studio recording; the engineer was Scotty Moore, Elvis Presley's guitar player. Scotty asked if I'd noticed that Furry was playing with the strings tuned four whole tones. It seemed like every piece was in a different tuning, and Scotty would ask over the intercom, 'What are you doing there?' then he'd go into the studio and, guitarist-to-guitarist, they'd check out the tuning. Having never before paid for a studio, I was dismayed at all the time they were spending just talking about tunings! But, Scotty made up for it by helping edit the tapes."
The albums, Back on My Feet Again and Done Changed My Mind, were released that same year by Prestige Records' subsidiary label, Bluesville, and they led Lewis back to the spotlight as the Folk Boom blossomed in the U.S.
In the years that followed, Lewis enjoyed his most fruitful days as a musician, playing high-profile gigs like the annual Memphis Country Blues Festival. From '61 to '65, Folkways hosted a series of concerts that introduced Southern folk and blues performers to audiences in New York City. Dubbed Friends of Old Time Music, they included performances by Doc Watson, Maybelle Carter, Mississippi John Hurt, Roscoe Holcomb, and others. Lewis appeared on the bill in '64 to perform in a jug band with Memphis Willie B. and Gus Cannon.
While many other performers on the bill had been around for 60-odd years and were obviously slowed by age, Charters said Lewis was downright spry.
"To our surprise, Furry turned out to be a busy showman, slipping behind the others to pat Willie B.'s head, then scurrying around the stage, laughing," he said.
Lewis stayed busy in the years that followed, and in the early '70s toured with Don Nix's Alabama State Troupers, an ensemble that backed Nix with a mix of rock with other musical styles, then later with Leon Russell, who took him around the world. When the Rolling Stones played Memphis, Lewis twice was included on the bill.
Lewis died in Memphis on September 14, 1981. At least one local account recalls that he contracted pneumonia after being displaced by a fire in the building where he rented a room.
Today, when Charters listens to Lewis' music, the attraction remains apparent.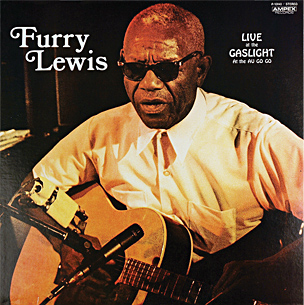 "I think there's a warmth and sincerity in his playing," he said. "His musicality, skill, and professionalism come through in all of his recordings. For those of us who had been involved in the folk movement, performers like Furry were a vital link between the old folk styles and the blues style that were emerging at the time."
One player markedly influenced by Lewis is Frank Hoier, who was featured in the February '13 issue of VG.
"When I was a teenager growing a bit bored by punk rock and hip hop, I found myself digging through my dad's dusty vinyl records," Hoier said. "Bob Dylan led me to Woody Guthrie and Harry Smith's Anthology of American Folk Music. These people sounded like they were from another world, and the first recording to jump out at me was 'Kassie Jones,' which was spooky, endlessly mysterious, and rolled along like a creek in the shade. The flow to the verses is almost like proto-rap – the emotion, power, and coolness of his voice.
"The song struck something in me that I'd not yet felt. The way his acoustic guitar was the rhythm, and his singing this beautiful melody… I'd pick up the guitar to learn the song by ear and come nowhere close. Revisiting his recordings now, I hear lines that I myself have put into songs unknowingly! 'If you don't love me, baby, why don't you tell me so' could have been written by a lonesome heart in any era.
"All these years later, as a practicing blues guitarist, Furry's is my favorite blues-guitar style – acoustic played with alternating thumb, forefinger, and middle finger. This simple technique can yield unimaginable expression, and you can easily apply it to slide guitar, which I am shocked more guitarists don't do. Furry made it sound like running water."
For a period in the late '60s/early '70s, Lewis played a '68 Gibson B-25N, which can be seen on a video that is viewable online and was shot as he performed "When I Lay My Burden Down."
"At one point in that video, the camera pulls in tight and you see the swirl patterns in the pickguard; those pickguards were each different because they were poured (into a mold), and no two are alike," said Bob Tekippe, a player/collector who acquired the guitar in 2012. "It's also shown in a video from 1968, where the logo on the pickguard was still very visible – he later wore it almost completely off."
The instrument appeared with Lewis on several album covers, and its case is shown on the European pressing of Beale Street Blues.
There is no known documentation to prove when or where Lewis obtained the guitar, or why he chose it. Charters doesn't recall hearing about the origin of his ownership, but said Lewis became very popular with the folk crowd in Memphis, so it's possible he received "help" from someone on the scene. In other old footage, Lewis is seen playing a variety of Epiphone flat-tops. The B-25, though, is interesting for a few reasons, including its ties to early blues.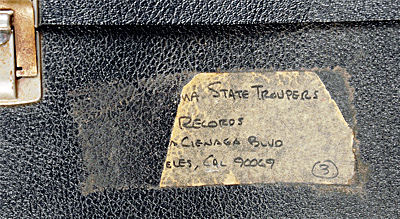 "Furry's B-25N was the end of an evolutionary line of small-bodied Gibson flat-tops that began with the L-1 in 1926, which was most famously pictured in the hands of blues legend Robert Johnson," said Walter Carter, former Gibson historian and author of Epiphone: The Complete History. "It's likely Furry sought a B-25 for one reason – the height-adjustable bridge saddle. He played with a slide on his left hand, but confined it to the high-E string. He typically played the rest of the strings open, except when he went to a IV chord, for which he clamped his hand over the strings from the top of the fingerboard. He wouldn't have been bothered by high action. In fact, he probably liked it high, because it allowed him to play louder."
One element of Gibson acoustics of the era that draws more questions than most is the pickguard logo.
"That's a feature of late-'60s Gibsons, symbolizing the Doppler effect," he said. "What the Doppler effect had to do with guitar quality is anyone's guess. It's likely that Gibson used it as a stylized illustration of sound waves rather than as a literal representation of a pitch-changing phenomenon."
Lewis' B-25 was once part of an exhibit at the Memphis Music Hall of Fame Museum. When the facility closed in 2003, some of its instruments were sold.
"Through the years, I've played the guitar when I covered 'When I Lay My Burden Down' in my solo act," Tekippe said. "But, I use it sparingly because there is some of Furry's finger crud on the fretboard, and I don't want to wear it off!" he laughed.
Tekippe keeps it tuned to open G, as Lewis did. "I am so honored and privileged to own it. It is truly cherished."
Furry's Favorite Frets
Replacing Gibson's sunburst LG-2 and natural-finish LG-3 after a 20-year run, the B-25 was introduced in 1962 with mahogany back and sides, triple-bound solid-spruce top, and rosewood fingerboard. Cherry Sunburst was the standard finish; Natural finish was designated B-25N.The LG-2's predecessor, the L-1, was initially a small guitar – 131/2″ wide – but Gibson increased its body width to 143/4″ around 1930. Through the '30s and early '40s, the three small-bodied models – L-1, L-0 and L-00 – easily outsold the larger, more-famous flat-tops in the Gibson line.During World War II, Gibson reduced the body size slightly to 141/8″ and renamed the line "LG," which Gibson general manager Ted McCarty said stood for "little guitar." Like the pre-war models, the LG outsold the larger, more-expensive flat-tops in the Gibson line.In 1962, Gibson rolled the LG-2 and LG-3 into a single model – the B-25 – which was listed at an eighth of an inch wider at 141/4″. The LG models had been given a height-adjustable bridge in '61, and it continued on the B-25. In '66, Gibson gave it a rosewood bridge with adjustable saddle.The version played by Furry was last sold in '69, after which Gibson abandoned the height-adjustable saddle as well as the headstock veneer. Gibson kept the B-25 in the line into the '70s, with some stragglers showing up on shipping totals as late as '77 – Walter Carter
---
This article originally appeared in VG August 2014 issue. All copyrights are by the author and Vintage Guitar magazine. Unauthorized replication or use is strictly prohibited.