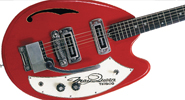 While many Japanese guitars from the 1960s took their inspiration from American and European models, to the observant eye, there's a strong undercurrent of Japanese design evident in many of these instruments. However, it doesn't take much subtlety of vision to see the essential Japanese character of the guitars that burst on the scene in 1968, including this perennial classic, the Teisco May Queen.
Teisco guitars were born in Tokyo in 1946 when the company was founded by the famous Hawaiian and Spanish guitarist Atswo Kaneko and electrical engineer Doryu Matsuda. Through the 1950s, most Teisco guitars were based on Gibson-style themes, though the '60s saw a decided Fender influence emerge. In January of 1967, Teisco was purchased by the Kawai company, although, except for some convergences in style, Teisco production seems to have remained independent.
Teisco guitars began to fuel the American "guitar boom" beginning in 1959 or '60, when the Westheimer Sales Company in Chicago started importing them. It was Jack Westheimer who added the "del Rey" portion to the brand name found on many guitars. In around 1964, another Chicago company, Weiss Musical Instruments (W.M.I.), founded by Sil Weindling, Barry Hornstein, and a former Westheimer employee Sid Weiss, took over importing Teiscos.
According to contemporary records, the '60s guitar boom actually peaked in 1966. By '68, the guitar industry was in trouble, both here (Valco/Kay went bust) and in Japan. Whether the whimsical guitars that appeared in '68 were a desperate response to the drop in demand or a cavalier instance of Japanese guitarmakers flexing their muscles is unknown, but all of a sudden, exotic instruments had arrived. Guyatone, Yamaha, Teisco and Kawai all introduced guitars ranging from highly distorted monsters such as the Sharp 5, the SG-3C "earlobe" and the exaggerated Vegas, to the more conservative (yet original) "artist palette" shape of this May Queen. These guitars rank among the most aesthetically interesting creations of the '60s… maybe of any time.
The Teisco May Queen was a hollowbody guitar with a single catseye soundhole and a bolt-on neck with the "check-mark" headstock typical of the time. Like most '60s Japanese pickups, these large single-coil units are somewhat microphonic, but otherwise have a nice beefy output. Most May Queens were produced in black, but occasionally unusual finishes such as this red one show up. Most carried metal Teisco del Rey logo plates, though, despite appearances, it's not certain if this example was ever branded.
How many of these exotic guitars were made is unknown, but we do know production was down dramatically by '68 and models such as the May Queen seem to be pretty rare. In any case, these guitars represent a brief window of time that yielded some of the most fascinating and desirable guitars in a unique Japanese style.
---
This article originally appeared in
VG
's July '03 issue. All copyrights are by the author and
Vintage Guitar
magazine. Unauthorized replication or use is strictly prohibited.
---