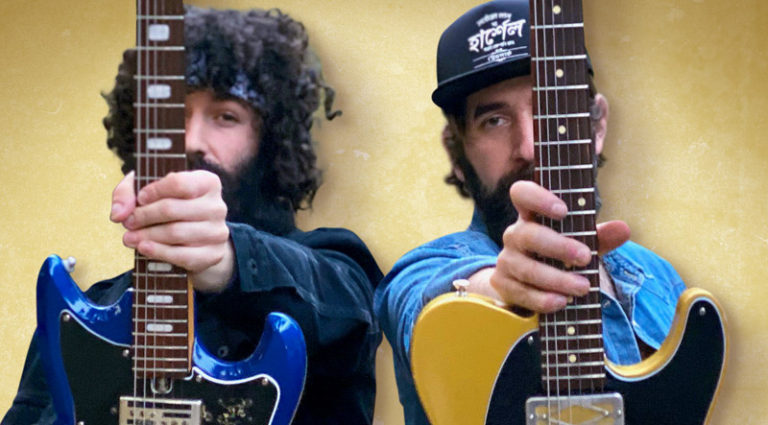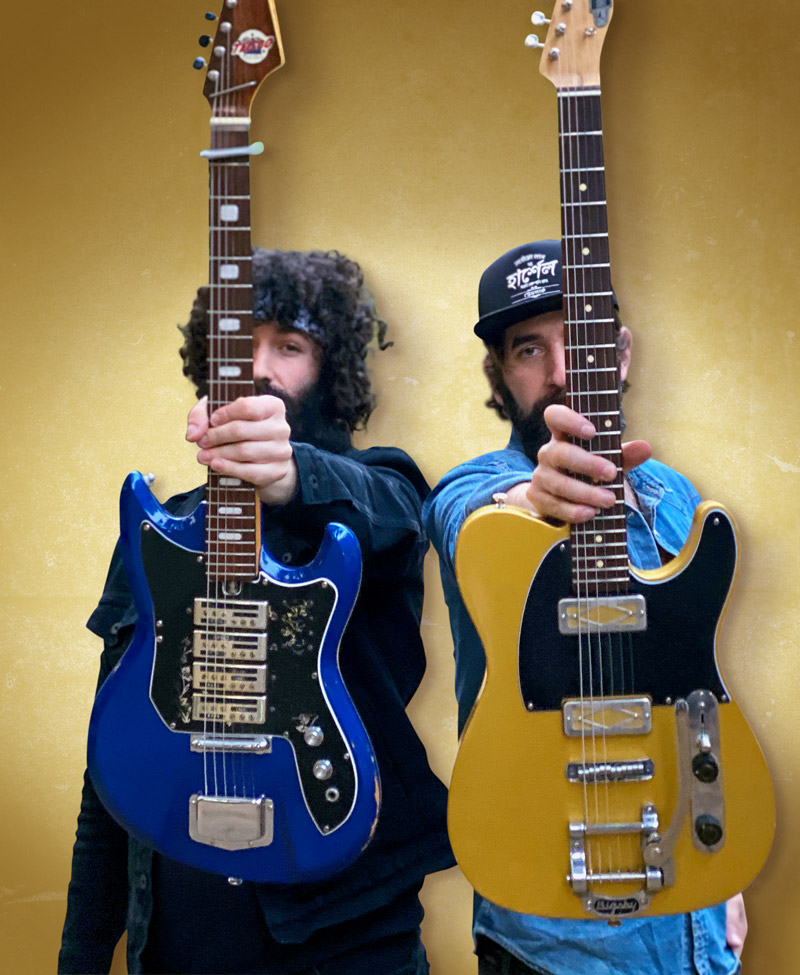 Musical gateways opened by Jimi Hendrix and the Doors led Matt Stubbs to become a disciple of Johnny "Guitar" Watson, Earl Hooker, and the guitar Kings – Albert, Freddie, and B.B. Their influence was catalyzed when his father took young Matt to see live performances by Luther "Guitar Junior" Johnson and Duke Robillard; witnessing great players do what they do stirred him to create his own art on the instrument.
In 2018, Stubbs and fellow Bostonian Pat Faherty formed GA-20, set on playing old-school electric blues. While their work together is singular, their musical backgrounds bear little resemblance. Stubbs' father gigged playing old-school rock and blues on guitar, while Faherty started on piano when he was five, took an interest in guitar thanks to an uncle who couch-strummed '90s rock and pop, then studied other musical forms.
Their third album, Crackdown (see review in this month's "Hit List"), landed on shelves in early August, and we talked as they were midway through a tour stretch with Colemine/Karma Chief label mates the Monophonics and Kendra Morris. Perched in the lobby of a Salt Lake City car dealership, they awaited an oil change – just one necessity of a 12,000-mile tour.
"Our first gig was in San Diego," Stubbs chuckled. "So, coming from Boston, the tour was long before it started."
What sort of music do you remember first hearing or caring about as a kid?
Matt Stubbs: I grew up watching my father's band rehearse. They did early rock and roll – Bo Diddley, Chuck Berry, Little Richard, and early blues stuff. They'd gig on weekends and I started going to watch when I was 15. When I was 16, I joined them.
Pat Faherty: When you're growing up, music is all around you but you don't really appreciate it, right? You like certain songs. In elementary school, I had Bell Biv DeVoe and East Coast Family cassettes, then in junior high I started getting into punk rock when a friend let me borrow some CDs. The first punk I heard was a Toxic Narcotic song called "People Suck," and it hit me like a ton of bricks. When you're 13, you're like, "I didn't know people were allowed to swear that much!" It's been a steady downhill ever since (laughs).
Later, I was into jazz, funk and R&B groups in school – much more rhythm-based music, and my teacher, Richie Hart, really stressed how all melodies start with rhythm. I was in a Van Halen cover band for a number of years, doing the guitar parts and vocal parts.
Wow…
PF: I'm not saying I did them perfectly, but, yeah, I was singing and playing parts that did not match up. A lot of people learn to play and sing at the same time doing songs by people who were singing while playing, so the guitar part lines up with the vocal. But when you're trying to sing David Lee Roth and play Eddie Van Halen… It was a crash course in learning Eddie's rhythmic phrasing first, then working out the actual playing. Too many people jump to tab when they try that stuff, and miss out on a lot of details.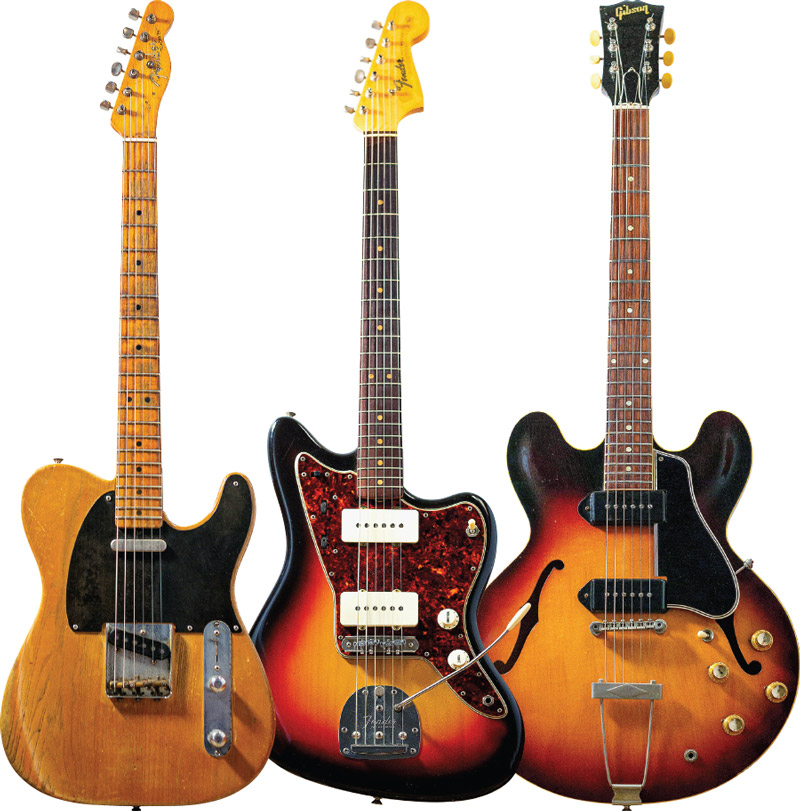 When you started to learn blues, who were you into?
PF: I'd do licks by Buddy Guy, Freddie King, Albert King, B.B. King, and Magic Sam. I got into J.B. Lenoir thanks to Matt. It was all staples of good old electric blues.
What were your first guitars?
MS: An American Standard Strat, black with a maple neck, and I swapped out the pickups for Lindy Fralins. I still have it.
PF: I started on a borrowed Yamaha acoustic with action that was half an inch off the neck (laughs). It took me a month to play a single note on the thing.
Matt, which amp did you use with your Strat?
MS: It was a solid state practice amp with gray-carpet covering. I played that the first year or two, then got a Crate tube amp with white tolex, and the thing broke every other day (laughs).
Pat, what was your first electric guitar?
PF: It was a Hondo II; 20 bucks worth of parts assembled for 30 bucks (laughs). It didn't last long before I got a Squire Strat. By the time I graduated high school, I had a Jackson Randy Rhoads, then a Fender American Strat with a humbucker and two single-coils. I still have that.
Matt, when did you start getting into vintage amps?
MS: A couple years after I started playing, my father hipped me to vintage guitars and amps, and I never looked back. My first cool old amp was a silverface Dual Showman. Shortly after – and I don't remember why – I sold it and got into Ampegs when I was 16. I still have my first one, a mid-'60s Reverberocket II. It was my first small tube amp and I have three of them now. They're one of the coolest-sounding 1x12s you can get.
When did you start looking beyond the Strat?
MS: I was taking lessons from a local blues player, and I'd go to see his band when I was 16 or 17, which got me into traditional blues and West Coast blues – swing-type stuff – which sent me down a rabbit hole. So, my first vintage guitar was a '50s Kay archtop that had a crappy humbucker someone put in, but I replaced it with two P-90s. From there, I started collecting, buying, and selling. I got a '62-reissue Tele Thin Skin in Seafoam Green, double-bound. I also had a Shell Pink parts Strat. In my early '20s, those were my main guitars.
When did the first collectible enter the picture?
MS: When I turned 21, my uncle surprised me at a gig and gifted me his '68 Jaguar, which he'd bought new but never played much, so it sat under his bed in mint condition.
Through the years, I collected a couple others; I got a really nice '64 Jazzmaster. I always wanted an early Telecaster, but I play blues for a living (laughs), so I couldn't really afford a blackguard until a friend of mine in Austin found one about a year and a half ago. He thought it was a refin, so it was a really good deal. I sold 10 guitars to buy it, sight-unseen, and turns out it wasn't a refin. We popped the neck and it's dated October '51 – the month that the Tele transitioned from Nocaster. So it might be one of the first 250 Teles. It was sold by the relative of the owner, who passed away. He wanted to sell to a player.
You recently scored a Flying V…
MS: I did. It's a 2002, like a '67 reissue Hendrix. I had one like it as a kid. I'm going to modify it, though; I'm not a huge humbucker guy, so I ordered some Mojo Gold Foils to see what it sounds like. They're the same size as a P-90 and I'll get a different pickguard to rout.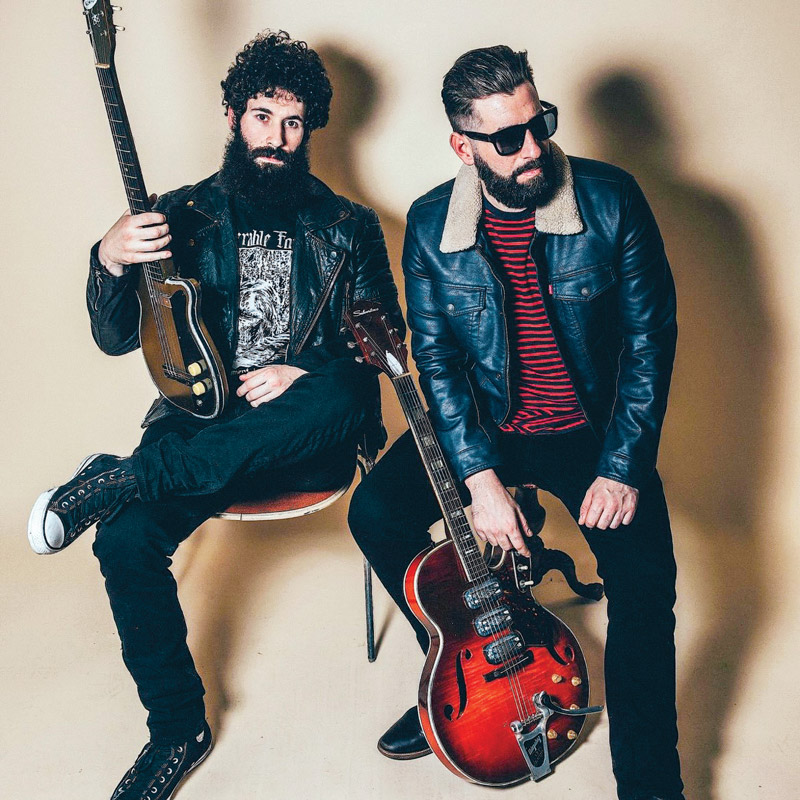 ---
"It took two hours to sing the first line [of "Hoodoo Man Blues"] while playing the guitar part underneath it. I kept rinsing and repeating, and eventually it became easier to process." – Pat Faherty
---
Beyond nostalgia, was there a reason for seeking it?
MS: I love Lonnie Mack and spent a lot of time learning his early stuff – "Wham!" and his version of "Memphis" and all that stuff. "Oh, I Apologize" is one of my favorite songs.
Pat, how did you develop a taste for vintage import guitars and budget tube amps?
PF: I've always liked that they just sound so different. In GA-20, we play a style of music that sounds a certain way, and those guitars and amps do a better job getting those tones. If they made modern gear that sounded as good, with the same quality wood and parts, I'd probably get those. My need for vintage gear says more about the state of modern gear. The wood on old ones is different, it had longer to age, the metal and aluminum used for wiring has oxidized. All of those things affect the sound. I have two of the exact same guitars – a Teisco and a Kingston – that I used for the Hound Dog record (GA-20 Does Hound Dog Taylor: Try It…You Might Like It!), and they sound completely different and play completely different, even though they have the same pickups, wiring, wood, setup, all that. They came from the same factory but have their own flavor.
My Kawais and Teiscos sound great and look great, but they play like s**t (laughs). On one, the neck is shaped like an S – it somehow bows in both directions (laughs), and the tuning is awful. I use a capo some times, so I have to strategize, like, "Okay, when the capo's not on, I'll take the E a little flat, so when I put the capo on the fifth fret, the A will only be a little sharp." I don't have the option of stopping to tune up, you know? It keeps life interesting.
Matt, after playing in your dad's band, what came next?
MS: I went to Berklee while still doing gigs with dad's band, but dropped out after a year and started doing blues side gigs around New England. I also started my first instrumental trio, doing '50s and '60s blues and surf stuff.
You moved to California in 2006….
MS: Yeah, I got a gig in Los Angeles with singer Janiva Magness, who does blues and R&B. Then I got a gig in Northern California with John Németh, and in 2007 got the Charlie Musselwhite gig through drummer June Core, who played for both Charlie and John. My buddy, Kid Anderson, was playing guitar with Charlie at the time, but getting ready to leave. I'd met Charlie once – we didn't really know each other, but he called and offered me a tour, saying, "Here's the setlist…" No rehearsals. Kid did the first couple gigs with us so I could get a feel for the arrangements, but by the third one I was on my own. The first couple tours, I was just holding onto my seat, trying not to get fired. And Charlie is very generous with the spotlight. I've soloed more in that band than any other.
Was there an intimidation factor, given the guitarists who have backed and jammed with Charlie in the past – Buddy Guy, Muddy Waters, Bloomfield, B.B. King, Clapton, to name a few?
MS: Yeah, 100 percent (laughs). Complete intimidation.
But, that gig made it possible for you to move back to Boston.
MS: Yeah, there was no reason for me to live in L.A., and when I moved back, I started my instrumental thing back up. In 2018, Charlie made his second record with Ben Harper and was going on tour with Ben for a full year. So, I was looking at a lot of time off, which sparked GA-20. Me and Pat had the idea to start a trio, just to keep busy. Pat had been coming to my solo-band gigs, and I had a blues jam where he'd sit in. He took a few lessons and we became buddies. He was into jazz and other stuff that wasn't blues, but was focused on playing blues.
Folks who dig into your catalog will find a lot of cool guitar music on your solo albums and with The Antiguas, none of which has even one lyric.
MS: Instrumental to the max.
You were in deep.
MS: Still am, man. I love it. I have a new Antiguas record ready to go, I just have to find time to release it.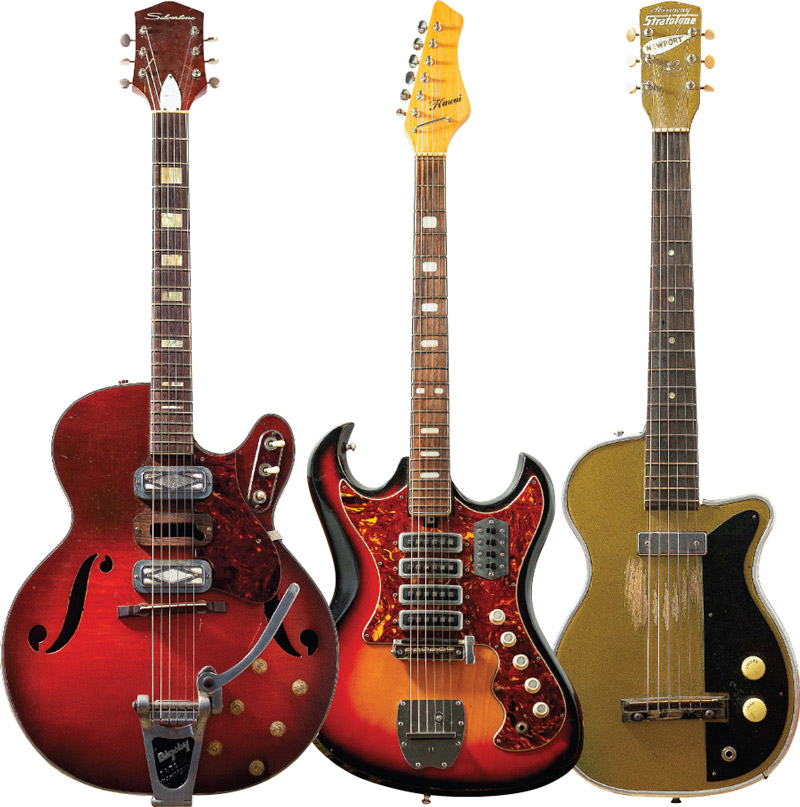 Antiguas has a '60s feel.
MS: Yup, kind of like movie music. It's a mix of blues and psych rock and cinematic stuff. When I was making it, I was listening to a lot of exotica music like Esquivel and Martin Denny.
What are your guitars and amps for that band?
MS: Mostly the Seafoam Green Tele and the Reverberocket II in the studio – and the Super Reverb, which is a little bit out of character. I usually don't record with amps that big, but for that stuff I needed that big, clean Fender sound.
Was the idea for GA-20 pretty organic?
MS: When we started, Pat was really getting into the blues, so we started talking about doing something that A) could get lots of gigs, and B) there wasn't many people doing. And it's the kind of music I love and listen to. We worked a lot that first year – everything from a wine-bar gig in downtown Boston where nobody cared what we were doing, to backyard parties and rock clubs. Anything that was paying, we were taking. We wrote a lot of the songs for our first record at gigs where no one was listening. But it was a solid concept – '50s to early-'60s Chicago blues. I wanted to keep it as lean and simple as possible. We'd hire whoever was available to play drums and we talked a lot about arrangements since there's no bass and we didn't want it to sound empty.
I didn't have the idea until I realized I'd have that year off. The Antiguas were playing a lot, but that's an esoteric style of music – not something that could work three, four nights a week and make money. I'm a full-time musician, so unless I wanted to get a day job, I needed to figure out a project.
Pat, what do you recall about getting to know Matt?
PF: When I started going to jams and his gigs, we connected over my interest in that style of blues. I asked him, "What should I be learning?" because I couldn't just show up and play pentatonics up and down. It's a job, right? So you've got to learn the repertoire. And I liked it, so he wrote a list of albums, songs, and stuff, and I tore into it and learned it all as best I could. Then, I'd go to the open mics, and one night somebody said, "Hey, we don't have a singer. Pat, can you sing one?" I bullsh***ed through it and they said, "Hey, you sound okay," so I went, "Okay, guess I'll sing."
The first blues song I learned to play and sing at the same time was the upbeat version of "Hoodoo Man Blues," off of that [1965] album by Junior Wells and Buddy Guy, and I'm not exaggerating when I say it took two hours to sing the first line while playing the guitar part underneath it. And it still didn't feel right. But I kept rinsing and repeating, and eventually it became easier to process.
How did the GA-20 sound develop?
MS: There was a lot of experimenting with amps. At first, we were playing really small places, each using a five- or 10-watt amp, but as soon as we graduated to actual "performances," we both needed two amps. So we usually have a louder, clean amp that covers low-end and a smaller amp, like a GA-20, that's a bit overdriven. Because we trade solos, we each cover a lot of sonic ground.
What do you use onstage now?
MS: We're playing much bigger venues, especially on this tour – 400- to 1,000-cap rooms, so we're using bigger amps. I'm using two '68 Bassman heads, each with a 2×12 cab, and Pat's using a '68 Super Reverb and a '59 reissue Bassman. It's a lot louder than we used to be (laughs).
And are you staging the vintage import guitars?
MS: Pat's using a bunch. I had Waterslide build a guitar for me about a year and a half ago. They build mostly Coodercasters – Strat copies with a lap-steel pickup and a Gold Foil, but I had him build a Tele copy with two Gold Foils and a Bigsby. It feels like a Tele, but covers some of the sounds I get from my old Silvertone 1454 hollowbody, which is a delicate guitar; we're doing a lot of flying and throwing stuff in and out of the van, so that stayed home. I also brought a reissue Jazzmaster as my backup. Pat has his '50s Stratotone Newport when he needs standard tuning, then for slide he's got a Kingston or Kawai four-pickup, like Hound Dog Taylor. He's got more vintage stuff on the road than I do at the moment.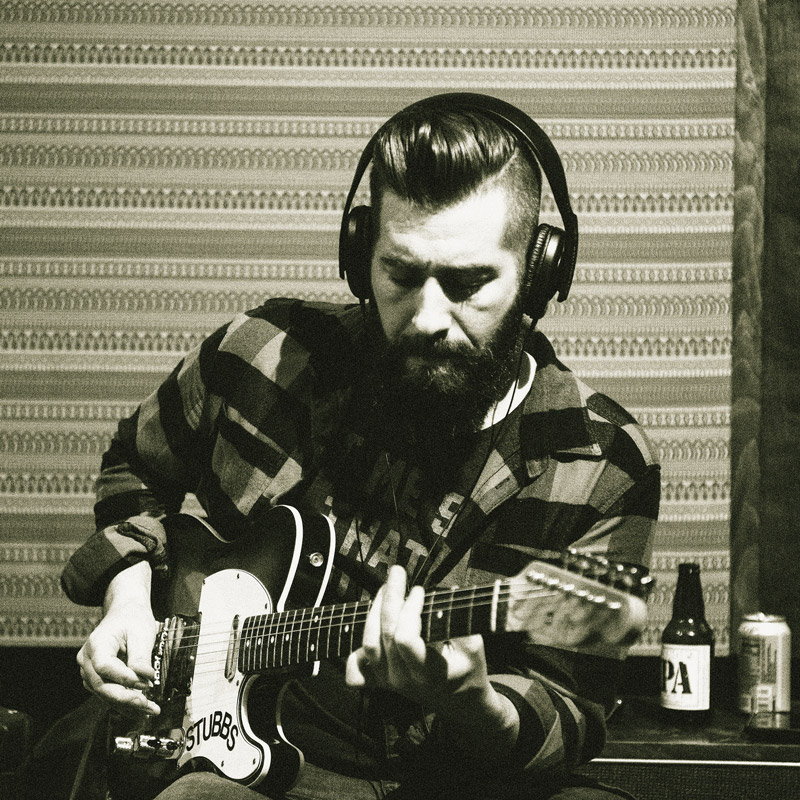 ---
"It's fun to write something and think it's going in one direction and then it ends up somewhere totally different." – Matt Stubbs
---
What's the story behind on Crackdown came together?
MS: Well, we had the songs written shortly after we released Lonely Soul. It was recorded before the Hound Dog record, and we'd planned on releasing it in 2020, when everything shut down. We had a meeting with Colemine and decided to put the brakes on it since we wouldn't be able to get out and tour.
It's crazy how different it sounds compared to Lonely Soul.
MS: Absolutely. Lonely Soul was retro, blown-out, distorted, raw sonics. I wanted Crackdown to move forward and be more song-based.
Edgier, more rock-and-roll.
MS: Definitely. We let other influences sneak in – rock, garage rock, country music.
Pat, how has your playing evolved since starting GA-20?
PF: I've learned to play the melodies and the bass-like lines while singing on top of them. When I'm writing, I try to let whatever wants to come out do so naturally and sound like my influences. It's not, "I like this other person's riff, so I'm going to write lyrics over it." It's not a copy-and-paste thing.
Which songs on Crackdown are the best examples of what you were going for?
MS: The opening track, "Fairweather Friend," is a bit of a departure, but it's my favorite song on the record. I wrote the guitar part thinking it was going to have a hill-country-blues vibe. I sent the riff to Pat and he put lyrics to it, then when we got together, out of nowhere it became a rock-and-roll song – garage rock with a '60s vibe. It's fun to write something and think it's going in one direction and then have it end up somewhere totally different.
Another is "Dry Run," which has a country vibe, but heavily influenced by Jimmy Reed, Lazy Lester, and Slim Harpo. I played the top guitar part, with all the reverb. I was thinking about Slim Harpo records where it sounds like they're in a bathroom, with all that echo.
"Easy On The Eyes" is another fun one. I love Howlin' Wolf records where they play just one riff or one chord; it doesn't go anywhere, but it's just hypnotic. So I came up with that riff while we were on tour in Atlanta, and after the gig we went to a friend's studio to jam on it and drink some beers. There, Pat came up with the "woahs" in the beginning. It started out as a Howlin' Wolf thing in my mind, but became its own thing.
How do you decide who takes a lead?
MS: It's pretty organic. On the Hound Dog stuff, Pat played slide, doing all those leads. On Crackdown, it was usually pretty clear who was going to do it. If I was playing a riff up top and Pat was playing something more like a bass line, I'd typically end up playing the lead. If I was playing the bottom, he was already on top, which, when we're playing live, keeps everything cohesive. It's never a problem.
You've been touring behind Crackdown for awhile now. Have you noticed certain songs get especially good response?
PF: Yeah, "Dry Run" and "Easy On the Eyes." I tell the people the story behind "Dry Run," which is kind of a tragic comedy. And even before the album came out, I'd notice people singing along. I'd think, "How do they know the song?" And even though it has a uniquely pathetic backstory, I can't tell you the amount of people – men and women – who've come up and said, "That song happened to me." It's such a weird feeling. I tell them, "I thought I was the only one that could happen to," but I'd hear, "I went through the same exact thing."
As a songwriter, it doesn't get much better than that.
PF: Exactly. An accidentally relatable song – and I am a uniquely unrelatable person. Having somebody come up and say, "Yeah, man, that was really relatable…" it's like, "What the hell are you talking about?" But, there you go.
---
This article originally appeared in VG's December 2022 issue. All copyrights are by the author and Vintage Guitar magazine. Unauthorized replication or use is strictly prohibited.