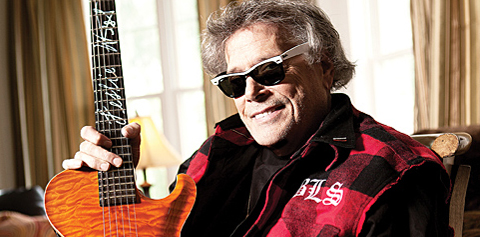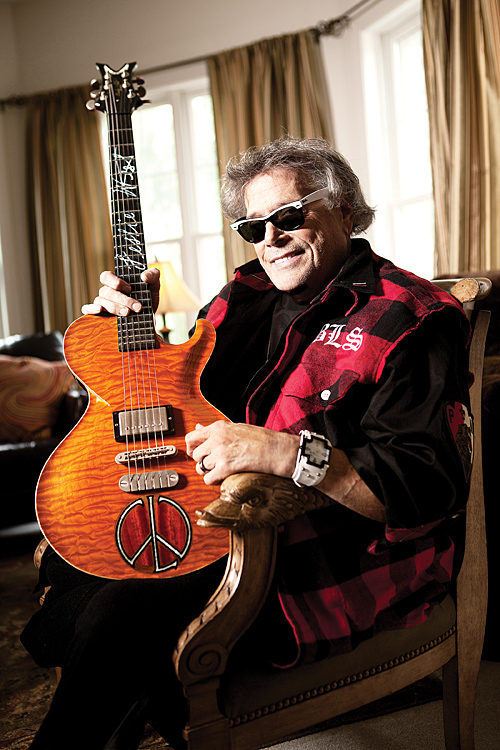 Leslie West is renowned for his iconic tone and revered as a forefather of classic rock. A true survivor, he's adjusting after a life-saving leg amputation, but forging ahead and inspired to continue making music. West filled us in with a rundown of the tracks on his aptly titled latest release, Still Climbing.
"I started recording a year ago," he said. "I wanted this album to be a progression of Unusual Suspects, and I wanted to take my time putting everything together. I had some good ideas for riffs and didn't want to be redundant in guitar solos. My wife, Jenni, wrote some great lyrics and my friend, Jon Tiven, helped with some others. My co-producer and engineer, Mike Goldberg, played drums, and Rev Jones played bass.
"I started with 'When A Man Loves A Woman,' the track with Jonny Lang. We sat in the control room, and played and sang together. I love the way Jonny sings and plays. He sings from his chest with a lot of feeling. He sounds like he could be a 50-year-old bluesman. Then I did 'Dyin' Since the Day I Was Born,' which Mark Tremonti played on. He's a fast player, but very melodic. 'Tales Of Woe' is just me with an acoustic guitar and a slide. That's one of my favorites. It's not a pity party, but I've had some 'tales of woe' in the last year; my friend David Biglin played the acoustic intro that sounds like a Spanish guitar. David also played acoustic, keyboard, and B3 on 'When A Man Loves A Woman' and 'Feeling Good.' He plays great acoustic and does things that I'm not so great at. I'd rather have him play those parts so I can play lead or slide over them. Next was 'Feeling Good' with my friend, Dee Snider. People don't realize he's not just a screamer. We trade lines in a couple of places and when we sang together, sometimes you can't tell who's who.
"I'd heard 'Fade Into You' on the [television] show 'Nashville.' A guy and girl did it acoustic, and I thought it was great. I started fooling around and changed it up by starting off acoustic, then really ripping into it heavy when the chorus comes up. I was surprised by how good it came out. 'Hatfield Or McCoy' also came from Jenni and I watching TV. She started writing lyrics, then I started playing slide and it came together quickly. That one was a lot of fun. The female vocals were Elaine Caswell. She did a great job.
"Johnny Winter played on 'Busted, Disgusted Or Dead.' He wrote a couple of songs with me before, and I'd done a track on his album, so I thought it would be great to have Mike go to the studio in Connecticut where Johnny works, and record him. He plays the middle solo and we made it sound like we're playing together.
"'Don't Ever Let Me Go' has a guest spot by Dylan Rose, who plays with James Durbin from 'American Idol.' My manager said he sounds kind of like me, so I let him play the ride-out. He has melody, but to me, he sounds like a Mark Tremonti or Zakk Wylde.
"I re-recorded 'Long Red' because of all the people who sampled it! It's one of the most sampled hip-hop songs of all time. That blew my mind! Lana Del Rey, Nas, Depeche Mode, Jay Z., Kanye West… This is the way I do it now. It's a lot heavier. Who knew when I wrote it in 1969 that it was hip-hop? My brother, Larry, played bass on it.
"My favorite track on the album is 'Not Over You At All.' Oh, boy, I love the riff on that song!
"For the gear, I changed amps on this album. I started using a Blackstar Series One 100 head with the channel-switching footpedal for clean, fat clean, slightly dirty, and then full-out gain. Mike Goldberg didn't EQ my guitar, so what you hear is the sound from the amp. For effects, I used a TC Electronic digital delay and an octave pedal.
"I played four Dean guitars, which all have my MOT Mountain of Tone pickup. It sounds like a P-90, but it's a humbucker. The new Mudflap Mama model has a stainless-steel mudflap girl inlaid on the neck, and it has the biggest sound. The Mississippi Queen sounds different altogether and its graphics are amazing. I used a Dean V for slide with a Joe Perry Boneyard porcelain slide – porcelain works really well. You don't hear the squeaking or clanking of metal. The acoustic is a Larrivee jumbo. It has a great sound for recording. I'm really happy with the way everything came out – from the songs to the sounds!"
---
This article originally appeared in VG May 2014 issue. All copyrights are by the author and Vintage Guitar magazine. Unauthorized replication or use is strictly prohibited.
---