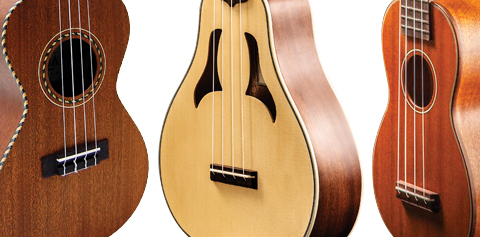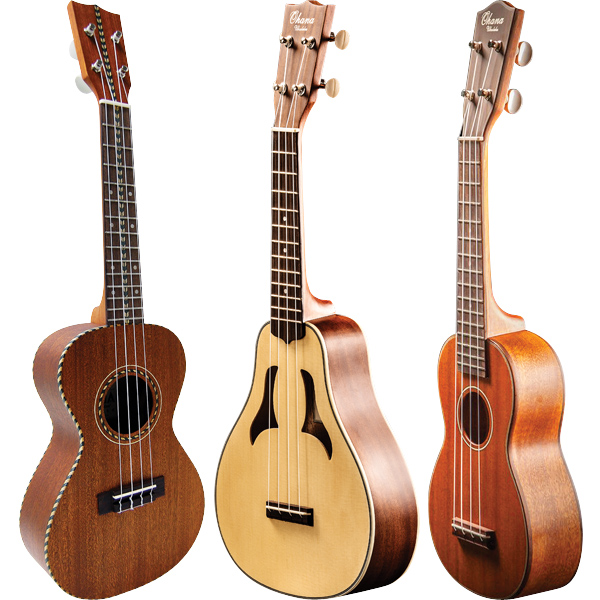 Ohana Ukuleles
Price: $249 (SK-35, CKP-70R); $259 (SK-28)
Info: www.ohana-music.com.
Just like guitars, ukuleles come in all quality levels, from uke-shaped objects made of plastic, composite board, and unidentifiable materials, to solid-wood professional-grade instruments. Ohana Ukuleles' offerings are definitely in the latter category, geared toward the serious amateur and professional player on a budget who demands a solid-wood instrument capable of tuning and playing easily, staying in tune, and projecting well.
Three examples from Ohana's current lineup – the SK-35, the SK-28, and the CKP-70R – all share a very similar price, but have three very different body styles and differing details. All three use bone nuts and saddles, Aquila strings, and precision friction tuners. Other shared characteristics include a similar high level of fit and finish. The Ohana satin finish is three coats of polyurethane and polyethylene with prep stages between each, and it's virtually impossible to hide signs of wood filler or other "fixes."
Ohana uses wood from various sources, including spruce, cedar, redwood, and myrtle from the United States, and mahogany and Indian rosewood from Africa and Asia. According to Ohana's founder and owner, Louis Wu, all woods used by Ohana are certified sustainable and compliant with regulations like the U.S. Lacey Act for forest conservation. The wood used for the tops, backs, and sides of all three ukes displayed tight, straight, grain patterns the likes of which one wouldn't be surprised to see on a top-echelon guitar or mandolin. All three displayed an excellent level of fit and finish, with no obvious flaws. The finish on the back of the neck was especially smooth and comfortable, fret ends were well-finished and didn't protrude from the fretboard, and all three were set up well so they played easily with no dead spots or intonation issues. Finally, binding details were impeccable; even the intricate rope and herringbone binding on the SK-28 is virtually seamless. The SK-35, least ornate of the three, is dressed with elegant four-ply binding on its top, three-ply on its headstock.
The bracing, which is just as important to a ukulele's overall sound as it is to a guitar's, varies from model to model, and is based mainly on three factors: body shape and size, wood combinations used, and the thickness of wood specified for the instrument. Some models have the more standard fan-bracing pattern, while others use different and unique bracing schemes.
Ohana's luthiers, who work at the company's factory workshop in China and develop the build details of each model, look at each new instrument design independently to achieve a balanced tone and durable structure (though Ohana tries to stay true to the original bracing design on its vintage reissue models).
As one might expect from solid-wood instruments with different body styles and bracing, all three sounded different. The CKP-70R has the least traditional body style (it's modeled on a Vita-Uke, with a pear-shaped body) but was the loudest of the three, with the best projection, dynamic range, more bass extension and a more harmonically complex tonality, especially in its lower midrange.
If you're in the market for a pro-level ukulele, give Ohana ukuleles a look and listen. They're serious instruments that are, most definitely, made to be played.
---
This article originally appeared in VG May 2013 issue. All copyrights are by the author and Vintage Guitar magazine. Unauthorized replication or use is strictly prohibited.
---