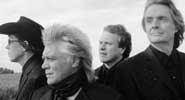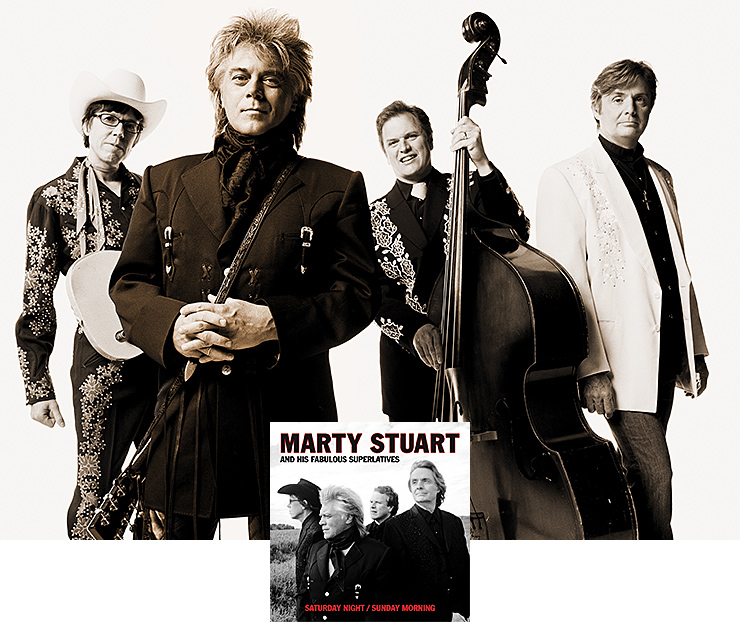 The title of Marty Stuart's two-disc album originates in a longstanding Southern paradox: the notion of raising hell, boozing, and partying on a Saturday night, usually in a barroom or dancehall – then shaking it off for a worshipful Sunday of church and fellowship.
Working with his Fabulous Superlatives – guitarist Kenny Vaughan, bassist Paul Martin and drummer Harry Stinson – and joined by select guests, Stuart creates an effective tapestry spanning both worlds, with consistent sound and feel. Most songs are Stuart originals; others are traditional numbers or smartly chosen covers.
Saturday Night opens with "Jailhouse," a churning, Chuck Berry-inspired ditty with fiery guitar interplay between Stuart and Vaughan. The explosive, raw rockabilly of "Geraldine" features infectious riffs with an added attraction – guest Mickey Raphael playing the Little Walter-style blues harp he seldom gets to play with Willie Nelson.
Stuart delivers "I'm Blue, I'm Lonesome," co-written by Bill Monroe and Hank Williams Sr. This version is amplified yet retains the haunting feel of Monroe's 1950 original. He unleashes Clarence White's string-bending Tele in the middle, quickly answered by Vaughan.
"Rough Around The Edges" has the feel of Jerry Lee Lewis' '60s honky-tonk ballads, complete with a cameo by Lewis fiddler Kenny Lovelace. While Stuart's original "Look At That Girl" has a '60s rock feel, three others are country tunes from that decade: the obscure 1965 George Jones ballad "Old, Old House," Warner Mack's 1966 hit "Talkin' To The Walls" (with Gary Carter's pedal steel and veteran Nashville A-Team pianist Pig Robbins), and Charlie Rich's classic 1969 ballad "Life's Little Ups And Downs." The acoustic rocker "Streamline" featuring guest picker Tommy Emmanuel ends the disc.
The timeless Staple Singers hymn "Uncloudy Day" begins Sunday Morning, with harmonies from Mavis Staples and Stuart playing haunting, Pop Staples-style reverb- and tremolo- drenched chords on Pop's own Tele.
On the slower tunes, especially "Heaven," "Angels Rock Me To Sleep," and "Long Walk To Heaven," Stuart's passionate vocals are telling reminders of his deep gospel roots. But he rocks hard as well, especially on "Boogie Woogie Down The Jericho Road," driven by John Lee Hooker riffs.
That's also the case on Vaughan's vocal showcase "That Gospel Music," "Cathedral," the instrumental "Good News," and the traditional "Keep On The Firing Line," sung by Martin. Stuart and Vaughan, both powerful, intense pickers, create shimmering textures behind the vocals.
Stuart and the Superlatives have worked together long enough to develop an intuitive cohesion both onstage and in the studio. This is, without question, his most ambitious effort in some time, and one that succeeds – from barstool to pew – without once losing its joy or fervor.
---
This article originally appeared in VG's December '14 issue. All copyrights are by the author and Vintage Guitar magazine. Unauthorized replication or use is strictly prohibited.
---