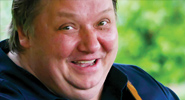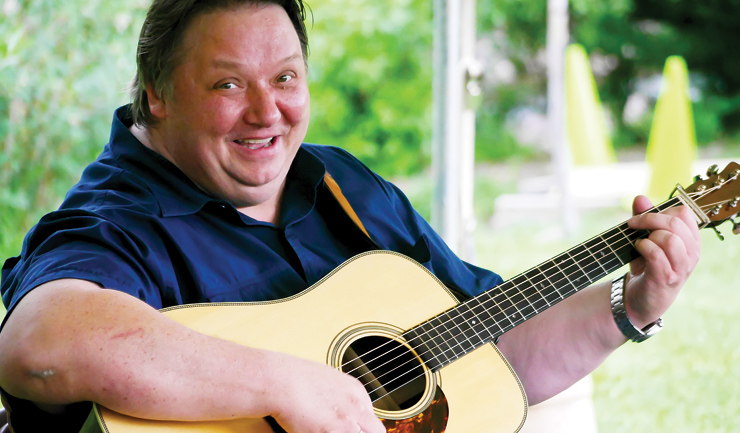 Uwe Kruger's professional musical career began at age 15, when he and his brother, Jens, left their small town home in Switzerland to busk in the cities of Europe. Quickly, the Kruger Brothers developed enough following to host a radio show on public broadcasting. In 1995, bassist Joel Landsberg joined them to form a trio.
The Krugers' music, while influenced by bluegrass, early country, and string-band music, has a unique character. Their songs aren't simple verse/chorus/verse compositions, but rather longer forms that lend themselves to improvisation and dynamic variations.
Uwe got his first guitar when he was seven – a small-bodied folk guitar with steel strings that belonged to his father. When he was 10, his mother bought him an inexpensive flat-top. "I slept with that guitar," he said.
At an early age, he became fascinated with American culture. "I got the Pete Seeger book America's Favorite Ballads and a dictionary. My father told me, 'If you're going to sing these songs, you need to know what you are singing about.'''
The Kruger Brothers' first paying gig was in a department store. "I was 13 years old. We made $80, and from then on we were pretty self-sufficient. We had our first band and basically, it was the end of our family – our mother passed away and dad wasn't taking it too well. I left home to be a butcher; I made $80 a month being an apprentice, but I made $300 a weekend playing music. I was a rich butcher." By 15, he and his brother left home to be street musicians.
Kruger has owned and played many guitars during his career. "My first good guitar was a '79 Martin D-28. It didn't amplify well. I replaced it with a Yamaha FG-375 with a pickup. It sounded wonderful; I retired it in '95 and got a Martin D-41. I also played a Santa Cruz Tony Rice model and a Martin OM-38.
"But when I moved to America, my infatuation for guitars took a turn for the worst. I cashed in a pension fund and spent more than $100,000 on guitars in two years. I owned everything – two '39 Martin D-18s, a '41 D-28, a '27 0-21, a '34 00-18… I didn't keep any of them [but] it taught me a lot, playing those guitars. I know what qualities I want in a guitar – I know what a baseline for a great guitar needs to be. Those Martins from the '30s – the '36s, '37s, and '38s were masterpieces, but by '39, quality went down. I once played Jeanie West's prototype Martin D-1 – what an amazing instrument. I bought a copy of that guitar Martin made for him in the '70s. That taught me to play on a big neck."
Currently, Kruger is playing a Collings D-2H and a Wayne Henderson D-style. "The Henderson is the closest thing to an old Martin that I've ever owned. It was a luxury, but I feel like it's mine."
---
This article originally appeared in VG December 2013 issue. All copyrights are by the author and Vintage Guitar magazine. Unauthorized replication or use is strictly prohibited.
---