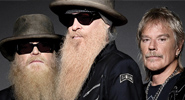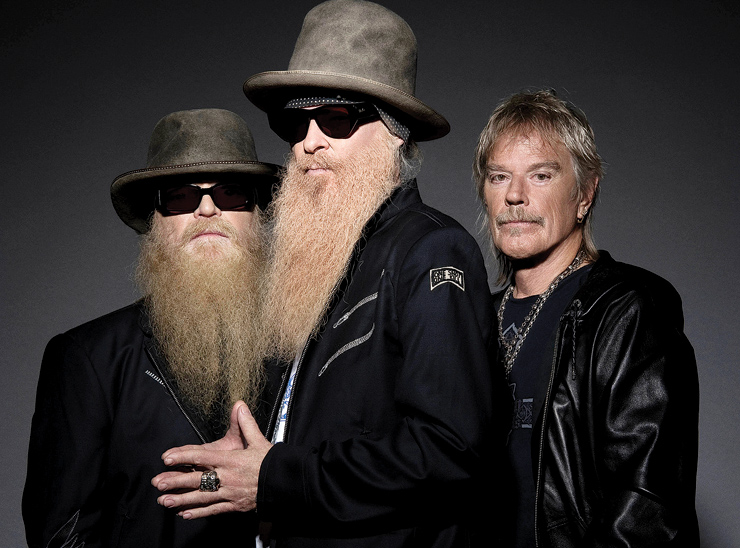 Usually, the hook with boxed reissues is that they include previously unreleased songs, alternate takes, live material, and maybe some extra tchotchkes like rare photos, revisionist essays, or poster reproductions. Sometimes it's remixed versions of familiar hits. It's rare that the main attraction is un-remixed albums the way they came out 40-odd years ago – the case with ZZ Top's 10-disc Complete Studio Albums, 1970-1990.
When ZZ Top's First Album came out in 1970, the Blues Revival spearheaded by bandleaders like Paul Butterfield and John Mayall was going strong. Along came guitarist Billy Gibbons, bassist Dusty Hill, and drummer Frank Beard, proudly brandishing their Texas roots. Although ZZ's early albums owed no small debt to Peter Green's original Fleetwood Mac (e.g. "Brown Sugar"), the band was a little too rock (sometimes of the Southern variety, like "Old Man") to be embraced by hardcore blues nerds. At the time they were more apt to wear cowboy boots and hats than the shades-and-harp-briefcase look of Charlie Musselwhite (that Dan Aykroyd later appropriated for the Blues Brothers).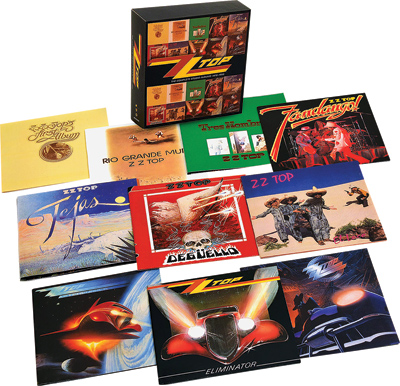 The trio earned a following on its on terms, and of course the rest is history. But sometimes history merits repeating, not altering.
After ZZ's mega-success with 1983's Eliminator and its follow-up, Afterburner ('85), the group's first five albums plus their seventh, El Loco, were repackaged in '87 as Six Pack, which is rarely spoken of today without "dreaded" preceding it. The albums were spruced up with overdubs and new mixes, in an effort to make them conform to Eliminator's glossier production. Purists, and eventually most fans, cried foul.
The four-CD compilation Chrome, Smoke & BBQ (2003) reverted to the original mixes, but, alas, it included only selected tracks from each album. Collectors were resigned to breaking out their old vinyl (the warmth and feeling of space of a clean platter played through a decent turntable and sound system is hard to beat). In fact, there are more than a few who swear that the original cassette releases were no joke (yes, once upon a time, labels released albums on magnetic tape in funny little plastic cases).
The packaging here is stripped down, but so is the price – which is obviously a major attraction, listing at $59.98. That comes to a mere six bucks per album (and the usual online outlets will obviously mark it down more). Literally just 10 CDs of the 10 albums ZZ Top produced during that time span, in "wallet" reproductions of the original covers (including the fold-out covers of Tres Hombres and Tejas), encompassed in a five-by-five flip-top box. The back of the box lists each album's tracks, because they're virtually impossible to read, shrunk down from 12″ x 12″.
There's not even a booklet with more readable track listing and credits (a la Sony/Legacy's budget "Complete Albums" series). Would it break the bank to let some starving music journalist wax poetic on this American institution? Come on, Rev. – hook a brother up.
---
This article originally appeared in VG November 2013 issue. All copyrights are by the author and Vintage Guitar magazine. Unauthorized replication or use is strictly prohibited.
---