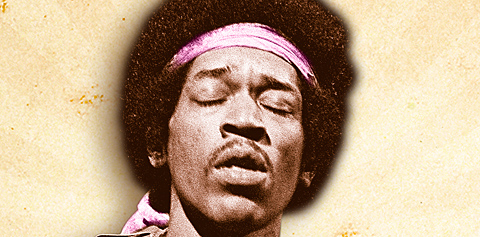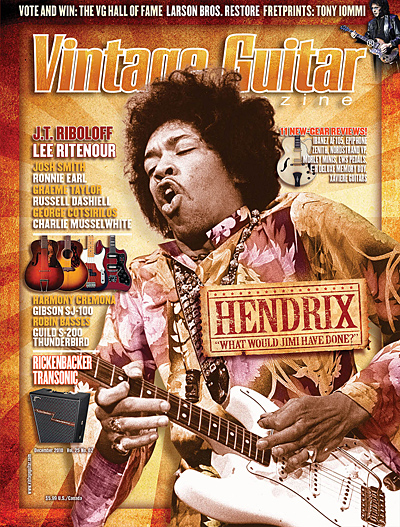 It has been 40 years since the passing of Jimi Hendrix. In his honor, this month we will look at two unexplored aspects of his life and work, including the largely untapped oeuvre of Jimi's later studio work – the period after 1968's Electric Ladyland, when he was touring heavily but still recording countless hours of material. We'll illuminate how this music dramatically differed from his more famous earlier work and, more importantly, how it could have paved way for his career in the '70s.
But first, we will leap into the unknown and make a serious attempt to glean the musical styles and ideas Hendrix might have tried. Would his career have flourished? Would he have turned to jazz, as some speculate? And who would he have played with? In reality, Hendrix left lots of clues where his music was heading, and in this piece we'll begin piecing them together to give a fuller picture of his staggering potential.
It's a common enough question; "Had he lived, what kind of music would Jimi Hendrix have played?" Certainly, the studio album Hendrix would have released in late 1970/early '71 – the assortment of tracks that fans variously call First Rays of the New Rising Sun or The Cry of Love – would have been a rock-solid recording and likely re-lit his career as a top recording artist. The other oft-mentioned project was a collaboration with jazzmen Miles Davis and Gil Evans. Add the coming tsunami of hard rock, reggae, and funk, we can speculate about various musical directions Hendrix might have explored in the '70s and beyond.
One scenario is that Jimi would have continued in his bread-and-butter profession, releasing funky hard-rock LPs in the rising world of "arena rock," but also investigating other veins of music in a variety of smaller, collaborative projects. Surely, he would have continued playing 10,000-seat hockey and basketball arenas for the growing masses of white, suburban teenagers, refining a touring business he pioneered with manager Mike Jefferies. This would have put him alongside Led Zeppelin, the Rolling Stones, Yes, Pink Floyd, and the Who, all of whom benefited from the proliferation of FM radio, hit albums, and the kind of relentless touring that would make them icons of the "classic rock" era. Suddenly, rock and roll had turned into big business and, with his and Jefferies' business acumen, Hendrix would have been a part of it.
Back to Jimi, Davis, and Evans. On that matter, speculators often fail to address the fact Hendrix was not a jazz-trained guitarist – he could not sight-read music nor indulge in the kind of complex modal improvs that John McLaughlin, Bill Connors, and Larry Coryell would perfect in the coming years. Instead, any fusion collaboration between Hendrix, Davis, and Evans would have been crafted to fit the guitarist's ability, just as George Martin would later bend jazz arrangements around the rock style of Jeff Beck on Blow By Blow and Wired. As Davis' '70s work bore out, the influence of Carlos Santana and his band was pervasive in early fusion – the Santana model of a grooving, rhythm-based band with instrumental solos on top would provide one standard for jazz-fusion jamming. In that light, a potential Hendrix/Davis/Evans album might be framed against LPs we know, such as the McLaughlin/Santana set Love, Devotion, Surrender, or the 1974 Santana/Alice Coltrane set, Illuminations. Like Jimi, Carlos wasn't a jazz player, but that never stopped him from jamming with serious jazzers like Wayne Shorter and Herbie Hancock. This is a reasonable bet for how a rocker like Hendrix might have explored the jazz universe.
One also has to think about reggae. As a musician based as much in London as in New York, Jimi would have been right at ground zero for the U.K. reggae boom of the '70s, when white British musicians picked up on the hip, groove-based sounds of Bob Marley and Peter Tosh. It would be hard not to see Jimi trying out a few reggae moves, as many rock musicians experimented with the fresh island sounds, from Eric Clapton ("I Shot the Sheriff") to Jeff Beck ("She's a Woman") to Led Zeppelin ("D'yer Maker").
It's harder to gauge the impact Jimi Hendrix would have had on the funk universe. Considering that he, along with James Brown and Sly & the Family Stone, helped invent the genre, it's difficult to see whether the guitarist would have continued to be a guiding force or merely relegated to being one of its forefathers. Judging by "Ezy Rider" and "Freedom," Jimi's own material was certainly headed in a funkier direction (see "Bringing the Funk"), so he might have been a big star of that genre. Or perhaps he would have collaborated with Parliament/Funkadelic, the Ohio Players, or Tower of Power on some bootylicious recordings. One could even speculate on a partnership with War, the California-based funk band fronted by ex-Animals singer Eric Burdon; you may recall it was Animals' bassist Chas Chandler who "discovered" Jimi in '66. It's an interesting exercise that brings the Jimi/Chas connection full circle. Lending further credence to this idea is the fact Hendrix did sit in with War on September 16, 1970, two days before his death. It would be his last performance ever.
Like many rock giants of the late '60s/early '70s explosion, however, Jimi may well have hit the wall by the end of the decade. With the rise of punk, disco, and the arena crunch of Aerosmith, Kiss, and Van Halen, Hendrix may have retreated from the spotlight, as his brand of blues-fueled guitar may have sounded anachronistic by the early '80s. But there was hope…
In the '80s, Hendrix's career may very well have re-blossomed, thanks to Stevie Ray Vaughan, Robin Trower, and Frank Marino (much the way Clapton and the late Mike Bloomfield helped revive the careers of B.B. King, Muddy Waters, and other electric blues icons 15 years earlier). Even if Jimi's career didn't hit high gear in the '80s, one could see him on the ubiquitous Alligator Records label, cranking out fresh electric blues alongside Roy Buchanan, Johnny Winter, and Albert Collins. Think about it.
Into the '90s (and assuming he was still musically active), Hendrix would have been perfectly positioned to ride the wave that saw the Fender Stratocaster and Gibson Les Paul return to their rightful places as definitive rock instruments. Furthermore, with Stevie Ray Vaughan's passing in 1990, he would have been the world's preeminent living Strat player, especially as retro rock continued to rise in popularity. Around the millennium, anything would have been possible – a Hendrix/Clapton CD of their favorite Chicago blues tunes, or a Hendrix/Beck jam of electro-fusion, pushing the Strat deeper into outer space. The sky's the limit…
Today he would a be 68 years old – a rock-and-roll elder statesmen, either winding down a long, fascinating career or, like Paul McCartney and Bob Dylan, touring as much for personal pleasure as anything else. And while all of the thoughts and ideas here are pure speculation, Hendrix left a number of musical clues as to where he was headed toward the end of 1970. Whatever would have happened, good or bad, his later career would undoubtedly have been colorful and exciting. Then again, the man left us four years of brilliant, earth-changing rock and roll. In that light, perhaps it's greedy to wish for more.

Bringing The Funk
Hendix's Late Studio Recordings
In a span of only four years, Jimi Hendrix carved out a career that still reverberates and entrances music fans and historians alike. However, his legacy is rife with questions and conundrums – from those trying to decipher veiled meanings in his music to others wondering why he died so carelessly.
One simple-but-perplexing question asks why Hendrix didn't release more studio albums. This is all the more bewildering when you consider he had more than ample time to do so – in fact, there were two full years between the fall '68 release of Electric Ladyland and his accidental death in September, 1970. This was an era when rock bands routinely put out one album per year and sometimes more – Led Zeppelin released its first two albums in 1969 and Black Sabbath put out its first two classics the next year. So, was Hendrix on permanent vacation during this span? Hardly. In addition to building his own studio (New York City's Electric Lady) and touring incessantly to help pay the construction bills, Hendrix was laying down tracks – lots of them. The good news is that, despite the absence of a final studio album, enough material had been released to make a serious study of the guitarist's late recordings. With that in mind, let's take a look at what is essentially the second half of Jimi Hendrix's recording career.
The recently released Valleys of Neptune is good jumping-off point for a primer on the guitarist's late style, as it captures a number of studio recordings from 1969 and '70. Despite the high audio quality and production values on Neptune, it's still a posthumous Jimi album and, as such, only a glimpse of how he might have tweaked these tracks for release. As one hears regularly in material cut during the last two years of his life, its focus is on a stripped-down trio format and a brutish blend of hard rock, blues, soul and, most of all, funk. For example, you'll hear "Valleys of Neptune," a mid-tempo, soulful rocker, and the explosive "Bleeding Heart," both of which sit comfortably next to later tracks like "Freedom" and "Roomful of Mirrors" as evidence of the increasingly urban late-Hendrix style. The Experience's concert favorite, a cover of Cream's "Sunshine of Your Love," is equally powerful. What you won't find from the early Hendrix days are any nods to pop hit-making – you won't hear the sweet psychedelic trippiness of "Burning of the Midnight Lamp" in later recordings. This is lean, mean Jimi.
Another glimpse of later Hendrix in the studio is The Baggy's Rehearsal Sessions, a Dagger Records CD of live-in-the-studio recordings from December, 1969, featuring bassist Billy Cox and drummer/vocalist Buddy Miles. These jams were recorded shortly before the fabled Band of Gypsys concert at New York's Fillmore East, ostensibly to tighten up the set for the upcoming show. Just cue up this version of "Ezy Rider," which packs a veritable right-cross to the jaw, while "Burning Desire" and the studio version of "Power of Love" get that deep-funk/Band of Gypsys treatment. There are no frills and no Sgt. Pepper-inspired fashion puffery – just a tight trio at the peak of its game. And while you can argue that Baggy's was never intended as an official studio album, the recordings do capture Hendrix's musical mindset at the end of '69. In that light, it's a useful – and quite enjoyable – studio document.
Released in '97, First Rays of the New Rising Sun is the definitive posthumous Hendrix album. Made up of remastered and retooled tracks from such '70s LPs as The Cry of Love, Rainbow Bridge, and War Heroes, it's the closest thing we have to Jimi's last studio album. Compared to Are You Experienced? and Axis: Bold as Love, these recordings crisply reveal his leaner approach to arranging and instrumentation. Again, gone are the psychedelic pastiches of the early Chas-Chandler-produced albums; they're now replaced by an earthier vibe – just guitars, bass, and drums, without many of the backwards-tracked guitars and wild echo and flanging sounds (though "Drifting" does showcase some of those effects). Of course, we don't know how Jimi might have adjusted the tracks during final mixdown, but quite a few of them are extremely close to being final mixes, according to John McDermott's typically illuminating track annotations.
"Roomful of Mirrors" is a great example of Hendrix's growing hard funk/rock hybrid, featuring fiesty Latin percussion and Billy Cox's propulsive bassline, along with stereo-panned slide guitar. "Dolly Dagger" remains a stunning fusion of rock and soul, embellished with rhythm guitar licks that harkened Jimi's days on the R&B circuit – in retrospect, there's no way contemporaries like Clapton, Beck, or Page could have pulled off masterful chord work like that. Perhaps the coup de grâce is "Ezy Rider," a remarkable blending of what we might now call "FM hard rock" over a funky groove with more Latin influences. Like Santana, Traffic, and Chicago, Hendrix was now emphasizing the rhythm section in much of his later work. It was a brand-new decade and Jimi was clearly getting his groove on.
The broader lesson one gets from listening to Jimi's post-1968 recordings is that there are two distinct eras of Hendrix's studio legacy. One is the earlier pop-fueled, psychedelic work guided by Chas Chandler and the other is the later, self-produced work that came from a thousand studio jams and sessions for his never-completed last album. And in the middle is Electric Ladyland, arguably the transition between Jimi's distinct eras of polychromatic acid rock and the dangerous, politically-charged funk of his final months. Neither is superior to the other, but 40 years on, we can now see them as separate entities of unsurpassed beauty and power.
---
This article originally appeared in VG December 2010 issue. All copyrights are by the author and Vintage Guitar magazine. Unauthorized replication or use is strictly prohibited.
---