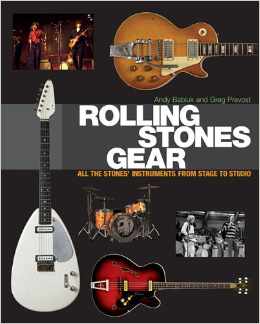 The rest of the world may be titillated by what the Stones smoked, shot, snorted, or ingested. But some of us have our priorities straight; we're more concerned with what the band strummed and drummed.
Noted guitar historian Andy Babiuk is hip to all this. Babiuk is, of course, the author of the phenomenal Beatles Gear plus the glorious Paul Bigsby history. With Rolling Stones Gear, he has done it again. And he's done it against all odds. Babiuk had help here from music writer Greg Prevost, who is a bandmate of Babiuk in the Chesterfield Kings. The creation of this book was a Herculean task on every front, from documenting the 50 years of music and instruments to getting access to the Stones' original gear. Kudos all around.
Babiuk says he thought the Beatles were a tough camp to break into. But the Stones were exponentially worse. And there were many more decades of the band and its instruments to cover.
The result is this 672-page, seven-pound tome chock full of hundreds and hundreds of photos. The authors document every tour and studio session of the Stones from 1962 to present. Fittingly, the fracas at Altamont is covered in just a couple paragraphs, whereas Ron Wood's arsenal of Zemaitis guitars gets pages and pages of history, interviews, and wonderful twopage-spreads of photos.
In many cases, the authors have been able to shoot the band's original gear, even equipment from the earliest years. In other instances, they've been forced to fall back on photographing similar, non-Stones vintage gear, but this is usually only for the rarest of the rare instruments.
They tell the story of that gear – both the development and commercial history of a guitar model as well as that particular guitar's story in a Stones' hands: What changes were made and why, what broke and where, how it was repaired or modded to achieve a certain sound. From stompboxes to kick drums, basses to keyboards, it's all here.
The studio photography of the guitars is glorious. The book kicks off with Brian Jones' circa-1962 Harmony Stratotone H46 Mars, the first true electric guitar he used with the band, and continues through his famous custombuilt Vox Mk III Teardrop. There are even shots of the dulcimer he played on "Lady Jane" – yes, both the original acoustic dulcimer and an electrified Vox Bijou model built just for him to play the song live.
Keith Richards' gear makes up the bulk of the guitars covered – Micawber, Malcolm, Sonny, George, Gloria, 999 – and those are just some of his Teles and Esquires. There's many more from Gibson, Rickenbacker, Dan Armstrong, Travis Bean, Jesselli, Sadowsky, on and on. And don't forget the Vox and Selmer amps, Maestro stompboxes, etc.
The gear of Mick Taylor, Ron Wood, and Bill Wyman is all well-documented, as are the instruments of everyone from Mick Jagger and Charlie Watts to Ian "Stu" Stewart, Bobby Keys, and other sidemen.
A sole complaint is that for such a phenomenal book at such a price, the paper stock is disappointingly thin. But that's minor.
Rolling Stones Gear is big, heavy, lavish, and beautiful.
This article originally appeared in VG's June '14 issue. All copyrights are by the author and Vintage Guitar magazine. Unauthorized replication or use is strictly prohibited.