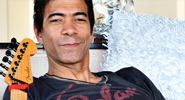 Greg Howe continues to evolve, pushing his artistry into fresh territory. One of the most successful artists on Shrapnel Records, Howe is following his unique vision and has created a catalog built on his unique style and diverse musical interests. With a stack of killer solo records and collaborations with Richie Kotzen, Victor Wooten, Dennis Chambers, and Jason Becker, Howe recently returned to rock with a fiery four-piece band called Maragold.
How did you find Meghan Krauss, the singer in the new band?
She was discovered by my bass player, Kevin Vecchione, in a cover band. He sent me a picture and I thought, "Wow, she looks great!" At the time, I hadn't considered a female singer – we had a guy in mind, but he ended up getting a gig with Chris Daughtry.
When I got that picture of her, I was thinking, "Hopefully she can sing." Then they sent some tracks and I was like, "Wow!" She looks great, sounds great, and has a great live presence. She pretty much has everything I look for – the rasp, soul, and nuance. She's really incredible.
How did you decide on what the band would sound like?
My initial vision was more sophisticated in terms of chord changes and maybe a little bit more Sting-esque, more singer/songwriter. When I got together with Kevin and we started writing, things just started to happen in more of a rock way. I just went with it because it felt like that's where this was supposed to be going.
There wasn't really any plan about what musical direction we were going to take. I knew that whatever we were going to create together was going to be something cool – I just didn't know exactly what it was going to be. Kevin is very similar to me in the sense that he likes everything. We listen to everything from hip-hop to country to classical to metal to jazz. It doesn't matter, we like all of it.
Were the songs written with Meghan's voice in mind?
She did help inspire the direction, but a lot of the songs had already been developed before she came on board. When I heard her voice, it inspired me to write music that would lend itself to maximize her thing. Half the album was written after she came on board.
Did you record together as a band?
In some cases we did basic tracks together, and in some cases I would go back and re-do the guitars. Sometimes, the basic tracks were done for the purpose of getting the rhythm section together. In some instances, some things came out perfect with me, the bass player, and the drummer. A lot of what was originally intended to be reference guitar tracks ended up being real tracks. When I would go back to track the "real" guitar, sometimes it wouldn't have the vibe that went down as a reference track.
This album is a departure for you in terms of guitar tone.
I broke out a lot of single-coil stuff. I used a couple of my standard Strats, and I've been working with Laguna on an all-single-coil version of the LE924 I play. I ended up using the DiMarzio Area series pickups, which are genuine-sounding and noiseless. They were phenomenal. The LE924 has a Super Switch that gets a lot of spanky Tele tones, particularly in the 2nd and 4th positions even though there are only two pickups. As many albums as I have done, I haven't done a lot of that, and I love that stuff. It was a fun opportunity to reveal a different side of my playing.
When you tour, what's going to be your amp of choice?
I'm developing a signature amp with DV Mark, which is based in Italy. It's a very organic, natural, straightforward amp – not a lot of bell and whistles. Essentially, it's 40 watts, and I wanted the output tubes to play a big role. We decreased gain in the front end and quickened the response time of the signal to the preamp tube. It sends a clearer, louder signal to the output stage driving the tubes. In the end, 6L6s worked best because they had a nice balance of compression and clarity. In a perfect world I'll have a combination of my signature amp and a power amp handling the Axe-Fx, to let me access all the tones quickly.
What's next for Maragold?
We're planning a tour and talking with management companies to see if we should end up on a label. Luckily, with my fan base we can go out and do a successful tour.
---
This article originally appeared in VG September 2013 issue. All copyrights are by the author and Vintage Guitar magazine. Unauthorized replication or use is strictly prohibited.
---