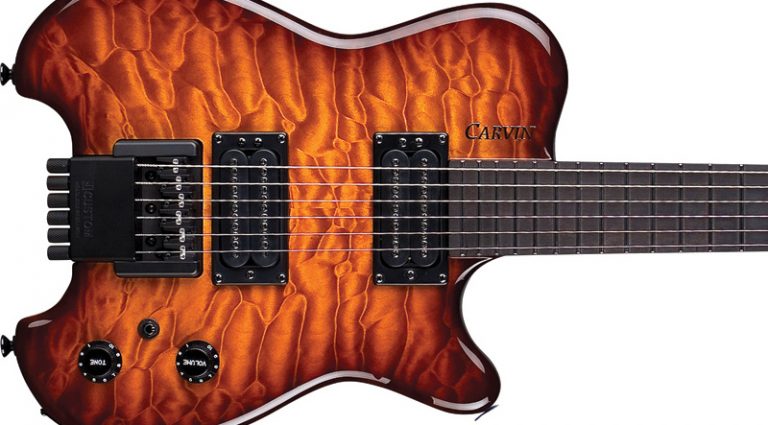 Headless guitars and basses, which had their heyday back in the big-hair/thin-necktie '80s (think Power Windows-era Geddy Lee), still have a few diehard fans who like the instruments' compact, lightweight design. But for the most part, headless guitars have, of late, been somewhat relegated to the "travel guitar" market. However, at the request of longtime artist and endorsee Allan Holdsworth, Carvin has relaunched the headless electric guitar with the new HH2 and HH1 Holdsworth signature models. With the guitarist's input, Carvin did a ground-up redesign of a headless version of Holdsworth's signature model, focusing on tonewoods, design, and overall quality that would elevate the new creation above those of other headless designs.
The HH2 as tested sports a highly figured flamed maple top with a very deep vintage sunburst finish, a slightly sized-down chambered alder body, a set-in maple neck, a 20″ radius ebony fretboard with abalone dot inlays, matching abalone-inlayed control knobs, a JCustom Headless Research bridge/tailpiece, and a pair of H22 humbuckers with coil splitters mated to a master volume, master tone, and mini three-way toggle controls. The HH2 is super-lightweight, just a hair over five pounds, but the body is big enough to make it feel comfortable to play while sitting down and very well balanced with a strap. The satin-finished neck, smoking low action, and ultra-smooth polished stainless-steel jumbo fret wire give the HH2 excellent playability and effortless bending.
Even though the HH2 is relatively small, just 31″ total length, it doesn't feel like a kid's or travel guitar, nor does it have the vibe of one – it not only has the feel, familiarity, and comfort of a full-sized instrument, it also has an unmistakable pro-quality high-end vibe. With its chambered body, set-in neck, and the overall tight fit and finish of the guitar's components, the HH2 has a surprising amount of acoustic volume and resonance. The JCustom bridge/tailpiece and endcap are well designed and very high quality. The bridge's individual components are superbly cast and powder-coated in a durable flat-black finish and have generously radiused edges that don't dig into hands. The bridge/tailpiece also allows plenty of "travel space" for the tuners to accommodate alternate and drop tunings; the tuners themselves are easy to manipulate and offer quick, tight tuning. The endcap accepts both double-ball-end strings and standard electric guitar strings, and, yes, there is just enough of a lip to accommodate a standard clip-on tuner. Having no headstock as a visual reference does take a bit of getting use to, lest you overshoot the end of the neck, but the learning curve is short.
Carvin offers a long list of options for the HH2, including mahogany, walnut, and koa body woods; premium white birch, flamed and quilted maple, and flamed koa top woods; solid and transparent finishes; fretboard inlays; and tremolo and single-pickup options.
The HH2's humbuckers produce a bright, articulate tone with excellent chime through the clean channel of a Fender Blues Deluxe 1×12″ combo and maintain their clarity through the overdrive channel of a Marshall JCM 900 head mated to a Celestion 4×12″ cabinet, even with the gain dimmed. The bridge pickup is hot, giving ample output without being muddy, and the neck pickup is round and clear without being too dark or mushy on the bottom end. The H22 humbuckers, combined with the stainless-steel fret wire, 251/2″scale, and ebony fretboard really help give the HH2 a nice blend of classic Fullerton and Kalamazoo.
For even more snap and jangle, the H22s can be split with the push/pull tone pot. The result is similar to the tone one might get out of a Tele but with a bit less output and midrange. The real magic, though, is in humbucker mode with some overdrive dialed in. Here, the natural resonance of the HH2 and the clarity of its pickups make for a strong, singing distortion/lead tone with tons of natural sustain and smooth overtones. With 11 adjustable pole pieces on each coil, string balance is excellent – there are no dead spots, even with aggressive bending.
The Carvin Allan Holdsworth HH2 is a compact, lightweight, high-quality guitar with full-sized pro-level playability and sound to cover a wide variety of classic tones. In fact, the performance is such that all memories of mullets and skinny ties are vanquished.
---
This article originally appeared in VG March 2013 issue. All copyrights are by the author and Vintage Guitar magazine. Unauthorized replication or use is strictly prohibited.
---