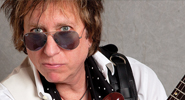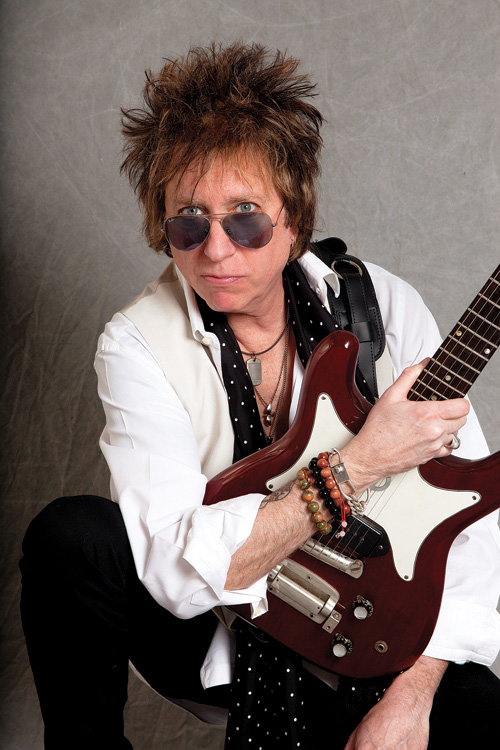 "I wanted to make the type of album I would've liked to have heard when I was 13 – cool and greasy," said ex-Blackhearts guitarist Ricky Byrd of his debut solo album, Lifer.
Byrd worked with Joan Jett and her band from 1981 to '91, while they amassed a string of hit records, most notably "I Love Rock and Roll" and "Crimson And Clover," along with popular MTV videos. They also opened for the likes of The Who, Deep Purple, Aerosmith, and ZZ Top.
After leaving the Blackhearts, Byrd toured with Roger Daltrey and Ian Hunter before focusing on a solo career. More than 45 of his songs have been covered by other artists.
Getting his first guitar at age nine, Byrd's first six -string heroes were Paul Kossoff, Jeff Beck, Jimmy Page, "Bluesbreaker-era Eric Clapton," and Peter Green. Those players, their music, and his vociferous appetite for reading interviews in the British magazine Melody Maker led him to learning about the musicians like Scotty Moore, Muddy Waters, Buddy Guy, Freddie King, and Albert King.
"The British gave it back by mixing those influences into a stew that became British rock and roll," Byrd acknowledges. "All of the bands I love, like Free, The Who, The Rolling Stones, all have that in common – deep roots in American soul and R&B. I mean, Paul Rogers is really a blues singer."
On Lifer, Byrd isn't reinventing the wheel. His influences are openly displayed – Mott The Hoople, Humble Pie, Stooges, New York Dolls, Faces ("It takes a lot of rehearsal to play that sloppy," he says, laughingly referring to Rod Stewart and Ron Wood's former band). There are also obvious Wilson Pickett, Al Green, and Otis Redding Stax-like horn parts, courtesy of the Asbury Jukes, though the 56-year-old Bronx native performs the 11 original compositions with such enthusiasm and exuberance, he makes it all sound fresh. Those who are familiar with Byrd's guitar work only via Blackhearts music will be pleasantly surprised by his soulful vocals and fine songwriting.
The album's opening track "Rock 'N Roll Boys," seems almost autobiographical…
Well, in high school I wasn't one of the bright nerdy kids, but I also wasn't one of the tough greaser kids. So, that left me kind of isolated. But I eventually learned that once you started playing guitar, the girls started looking at you differently and the tough guys wanted to hang out with you.
Was there any specific event that really inspired you early on?
It was definitely seeing the Rolling Stones on "The Ed Sullivan Show." The girls were screaming and Jagger reminded me of myself – sort of disheveled, skinny, with bad teeth! What struck me the most, though, was how disgusted Ed looked. To me, that was the perfect reason to investigate.
What kind of gear did you use on the album?
I've always been a Gibson guy, but I mixed things up to make it sound like a live band. My main electrics were a '53 Gibson ES-295, a '75 blue-sparkle Les Paul Deluxe, a '77 black Les Paul Deluxe, and a 2004 Gibson Les Paul Standard. Amps were a '65 blackface Deluxe, a '75 Champ, and a '77 Marshall. For acoustics, I played a '64 Gibson Country and Western, a '61 Gibson SJ, and a '90s J-200. I like to do some fingerpicking when I can.
Lookin back, "I Love Rock and Roll" was dominated by power chords, but your solo is laid back, befitting Joan Jett's vocal delivery…
I had originally heard (ex-Sex Pistol) Steve Jones playing on the demo, but instead of trying to copy that, I took the advice of my good friend, [Mountain guitarist] Leslie West. He always told me, "Just play off the melody of the song like the soloists in the big-band era used to do." It turned out to be the right break for the song. As you said, it's not flashy – just very simple. But it fit the song perfectly. In the long run, you just want to play for the song, whatever instrument you're on.
You've been open about your problems with drugs and alcohol. Was there any one particular incident that made you realize you were headed to be another rock and roll casualty?
Yes. One day in 1987, when, fortunately, I had a moment of clarity. I weighed around 128 pounds and my nose was always bleeding, from cocaine. I was drinking a lot and always getting sick. I probably would have died if I didn't stop. I've been clean and sober now for 25 years, and I'm a better musician.
You're involved with Rockers In Recovery, a group that does fundraisers and raises awareness amongst young musicians about the pitfalls of what you and others in the industry have gone through.
When you're in that world (of drugs) you're always high, because you don't know any other way to live. You get up in the morning, and that's the first thing you think about. A lot of people think Keith Richards is invincible, but he's not. None of us are. He could still die from cirrhosis of the liver if he's not careful. Our goal is to show kids that you can be a rock and roll pirate without drugs and alcohol.
Joan Jett and The Blackhearts were nominated again for induction to the Rock And Roll Hall Of Fame. How optimistic are you of the band's eventual induction?
I think it's going to happen. I don't lie awake thinking about it, but of course it would be great to be in the same place with all those very special people you grew up idolizing. One day, you're a kid with a lot of rock and roll dreams, and then all of a sudden you're in the Rock and Roll Hall of Fame. It's like, "Whoa! How'd that happen?"
---
This article originally appeared in VG July 2013 issue. All copyrights are by the author and Vintage Guitar magazine. Unauthorized replication or use is strictly prohibited.
---