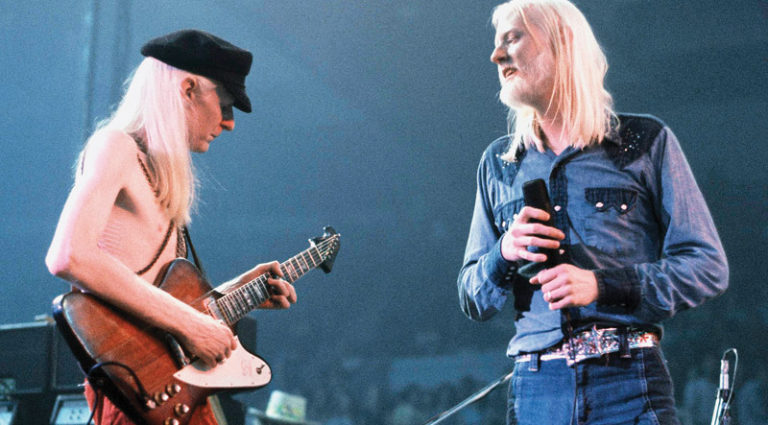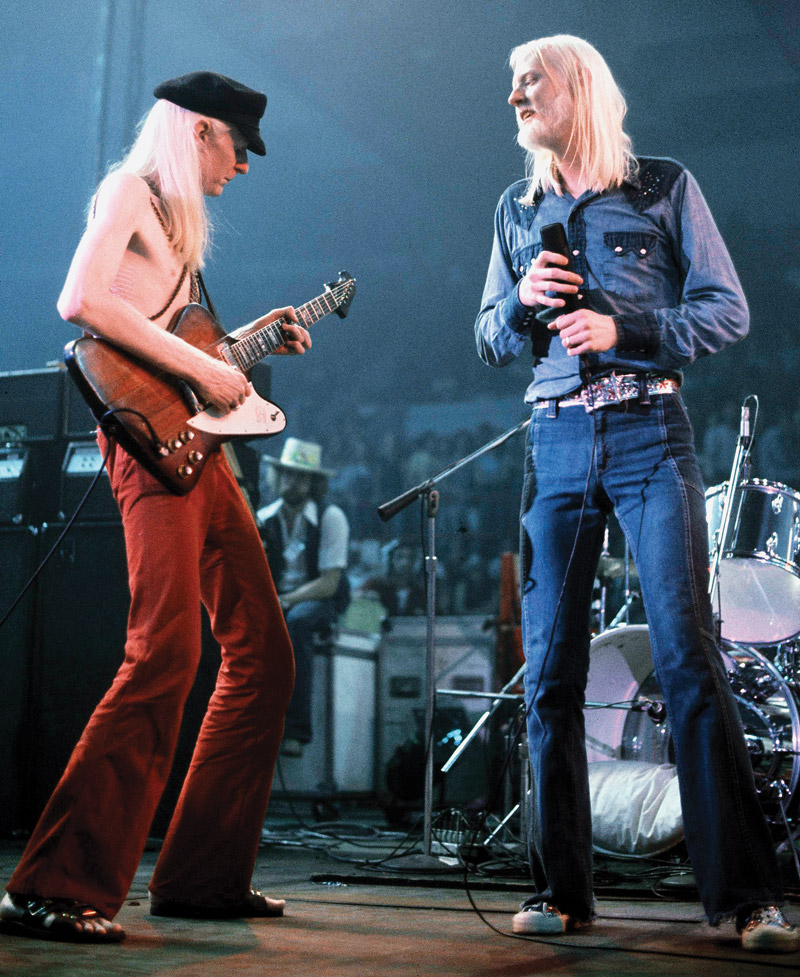 Edgar Winter describes making Brother Johnny in tribute to his late brother, blues-rock guitar icon Johnny Winter, as "one of the most intensive and rewarding recording experiences I've ever had."
The Beaumont, Texas, brothers shared an "almost telepathic communication" musically, in addition to both being albino.
"He could play a 12-bar blues and take 20 choruses, and it was this endlessly inventive stream of consciousness that kept building," Edgar says of his older brother. "You'd think it can't go any further, and he'd kick it up to that next level."
After playing on Johnny's first two Columbia albums, multi-instrumentalist Edgar enjoyed a successful career with "Free Ride" and the #1 hit "Frankenstein."
Choosing guitarists to tackle Johnny's scope and versatility for this project, Edgar enlisted Robben Ford, Kenny Wayne Shepherd, Phil X, Keb' Mo', John McFee, Doyle Bramhall, II, and others for both blues and signature rockers "Rock And Roll, Hoochie Koo" and "Still Alive And Well." And a Beatle even cameoed on drums – Edgar having toured with Ringo Starr's All Starr Band.
In his teens, Johnny recorded singles like "School Day Blues."
That was his first record ever. I played piano on that. On "Gangster Of Love," I played drums.
How old were you on "School Day"?
Maybe 11. We won a talent contest – The Johnny Melody Contest. Our band was Johnny and the Jammers. The hottest song we knew was "Johnny B. Goode," and first prize was you got to make a record.
When I was four, we played on a local kiddie-hour radio show called "The Uncle Willie Show." Johnny was about seven and had just learned the uke from our father, who played some guitar and banjo, and played alto sax in a swing band in his youth. My mother played beautiful classical piano. Everyone in our family was musical, so I thought everybody played music. I was shocked when we tried to put together bands with our friends – like, "Your dad didn't show you no chords?"
When Johnny graduated to guitar, it became apparent he was going to be the guitar player. So I just said, "I'll play everything else."
When you were kids, did the fact that you were both albino form a stronger bond?
Absolutely. It gave us a completely different mindset and world view that we shared, different from anyone else's. As kids, he had such drive and ambition and that dream to be a star. Johnny loved the spotlight, but I was quite content to avoid it. When we formed our first band, none of our friends knew how to play, so Johnny would pick the songs, then I'd figure out what all the other instruments were doing and teach our friends how to play them. He was Johnny "Cool Daddy" Winter with the pompadour and shades and guitar and the girls, and I was the quiet kid who played all the instruments.
Johnny showed me not only that albinism could not be a disability or drawback, but could actually be cool. He turned it around and made it work in his favor. So he was not only my all-time musical hero, but a life hero.
How did you go about picking songs and guitarists for the new record?
When I was going down the list with Joe Bonamassa, I got to "Self-Destructive Blues," and he said, "That's the first Johnny Winter song I ever heard! That's the one I want to do." I think Joe came closest to channeling Johnny, stylistically. He came in with a Firebird and a Bassman, and "Self-Destructive Blues" has that fire and energy. I think "Mean Town Blues" is the most difficult Johnny song; his slide playing was so authentic, and I didn't know who could do that. When I asked Joe, he said, "That will be a challenge." But he killed it.
"Stranger" is not a characteristic Johnny song, but I wanted to demonstrate the full scope of what he played. I thought Joe Walsh would want to do something rocking, but when he picked "Stranger," it really touched my heart. I thought it would be the perfect song to incorporate some of Ringo's fills.
So did the guitar players get to pick their songs?
Yes, I only wanted people to play a song they were passionate about. Like "Memory Pain" is an R&B song, and Warren Haynes said, "That's it." Billy Gibbons wanted "I'm Yours And I'm Hers," and he ripped the first solo, and Derek Trucks followed up with screaming slide. "Hoochie Koo" – I heard it with a wild, crazy, kind of Hendrixy guitar solo. Steve Lukather has a great sense of humor and played that slightly twisted, somewhat demented solo.
It was amazing, getting to meet people I'd never worked with. Ross Hogarth, the engineer, recommended David Grissom, and I loved what he did with "Johnny B. Goode" because he obviously listened to Johnny's version and put it right between Chuck Berry and Johnny in a very tasteful way. It wouldn't be the album it is without Ross. I don't want to work with any other engineer or mixer.
I don't think Johnny would have liked it if I'd done just a straightforward blues record. I wanted to tell the most honest, profound truth of what I know as Johnny, and make the album he would've wanted me to make. My wife, Monique, said, "You owe that to your brother. If it weren't for him, you wouldn't be where you are. But you owe it to yourself and to the world."
---
This article originally appeared in VG's May 2022 issue. All copyrights are by the author and Vintage Guitar magazine. Unauthorized replication or use is strictly prohibited.
---