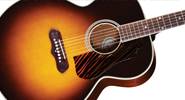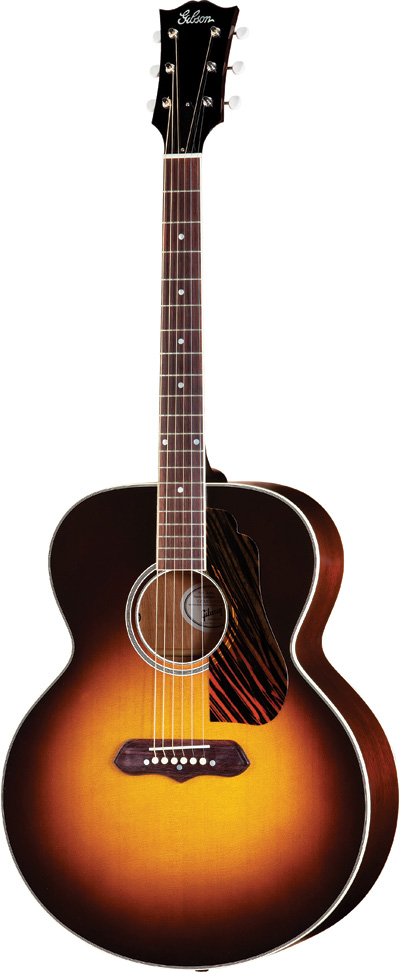 Gibson 1941 SJ-100
Price: $3,868 (list)/$2,999 (street)
Info: www.gibson.com
Sporting a unique "stair step" headstock, the first Gibson SJ-100s began trickling out of the Kalamazoo factory in 1939. This original design lasted only two model years before it was replaced in 1941 with a second version that was itself soon discontinued, this time due to Gibson's war effort, making it one of the rarest Gibson flat-tops. According to guitar historian A. R. Duchossoir, only 177 were produced. Good luck finding one on the used market.
As part of its reissue series, Gibson Montana has resurrected the 1941 SJ-100 design with a new guitar called, appropriately, the 1941 SJ-100. This (re)incarnation features a jumbo body shape like the SJ-200; unlike the SJ-200, which usually has maple back and sides, the 1941 SJ-100 has a mahogany body. The top is Sitka spruce with thin braces, while the mahogany neck, with its bound rosewood fretboard and standard-pattern 4497 frets, is connected to the body at the 14th fret. Unlike many vintage Gibsons with fretboard binding raised to meet the fret ends, the 1941 SJ-100's fret ends extend over the top of the binding all the way to the edge of the fretboard.
One almost unique feature (shared by just one other Gibson) is the SJ-100's bridge shape. In place of the moustache bridge found on SJ-200s and most SJ and J-100 reissues, the 1941 SJ-100 has a diamond-shaped bridge of the sort that was used only on the SJ-100 and the J-55. This rosewood unit features three mother-of-pearl dot inlays and curved, beveled edges. It also houses a Baggs under-saddle pickup with a built-in battery. There's a mini volume knob inside the upper edge of the soundhole.
Available in sunburst and natural finishes, the SJ-100 sports a vintage-style fire-stripe pickguard, Gotoh tuners with white plastic buttons, a bone saddle and nut, five-ply top binding, three-ply back binding, a multi-ply rosette hole pattern, and a vintage-style mother-of-pearl script logo headstock inlay. In terms of overall quality of workmanship, the 1941 SJ-100 ranks among the cleanest and most carefully finished new Gibson acoustics, the most egregious flaws in the test model being a slightly rough finish on the top edges of the headstock and a slight misalignment on the seam of three-ply binding on the back.
The factory setup was slightly on the high side, especially at the nut. But since Gibson expects its dealers to do a final, adjusted setup on new acoustics, this wasn't a flaw as much as the Gibson way of doing things. (Gibson dealers who don't perform a final setup before putting a guitar on the show floor or sending it to a customer simply aren't doing their job.)
Even with the slightly high action, the 1941 SJ-100 played easily with a nice springy feel. Compared to, say, a 2002 Advanced Jumbo, the SJ-100's action is a trifle soft, with less string resistance on the neck and the pick. Although the SJ-100 has a longer 251/4″ scale, its softer feel was closer to that of a J-45 True Vintage, which has a shorter 243/4″ scale length.
The neck shape on the 1941 SJ-100 isn't the baseball bat found on some reissues. Gibson chose a midrange shape that should appeal to many players – not too big and not too shallow, with a soft, even oval curve that makes it as easy to play in third position as in first.
In both size and sound, the SJ-100 certainly deserves to be classified as a jumbo-bodied guitar. And while it looks more like an SJ-200 than an Advanced Jumbo, the sound is closer to an Advanced Jumbo than a SJ. Not only is it hyper-responsive, with the sound jumping out even when strummed lightly, but it also holds up well to aggressive right-hand attacks. Instead of bottoming out or buzzing when picked hard, the SJ-100 just gets louder with very little compression or muddiness. In terms of sheer volume the SJ-100 can be ranked right up there with the loudest new acoustics.
The SJ-100 offers excellent sustain, string definition, and "portable piano" tone that combines sustain and harmonics to give big chords a satisfying rumble. Few new guitars achieve this quality as well as the SJ-100.
Players who are in the market for a big-bodied guitar like a J-200 but who want something less ornate and more suitable for soloing and purely acoustic work should audition the 1941 SJ-100. It's loud, comfortable to play, and has that unmistakable big Gibson sound.
---
This article originally appeared in VG July 2013 issue. All copyrights are by the author and Vintage Guitar magazine. Unauthorized replication or use is strictly prohibited.
---