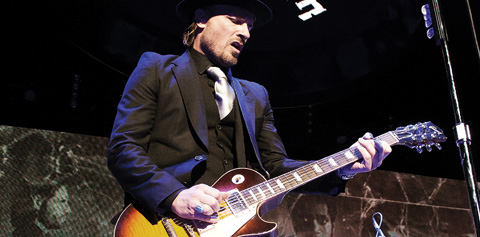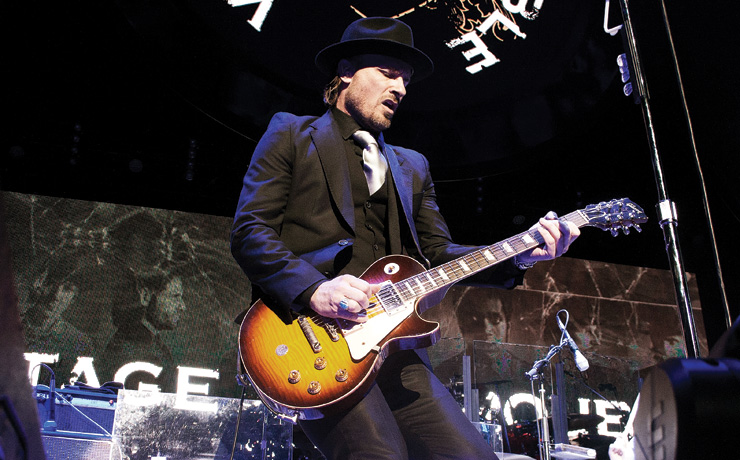 Vintage Trouble has emerged as one of the hardest working bands on the music scene. Laced with an ultra-cool visual style and a soulful vision, singer Ty Taylor and guitarist Nalle Colt bring together groove, sweat, and sex. Their debut album, The Bomb Shelter Sessions , mixes '60s rock-and-roll with the spirit of Otis Redding, Al Green, and James Brown.
Colt's less-is-more approach to accompaniment and soloing harkens to the stuff of Stax rhythm sections while at the same time personalizing his sonic territory with Led-Zeppelin-esque swagger and power.
Vintage Trouble's appearance on "Late Night With David Letterman" was exciting…
Thank you. It was really fun. It was fun to see David that excited. He couldn't stop laughing.
You guys really have the retro-soul thing down. Can we expect some different influences on the next record?
Yeah. We've been on the road with different artists and it has influenced us a lot. Being on the road with Pete Townsend, I get to walk backstage and sit and watch every show, and to be honest, I never paid much attention to The Who before – I was a big Rolling Stones/Led Zeppelin/Beatles fan. It's been an eye-opener on the road with Pete; he's a stunning guitar player and there are some interesting rhythm things coming from me after checking him out. There's a lot of inspiration. I can definitely hear more old-school rhythm vibes coming through.
Are you saying you'll be coming up with more of a rock thing than an R&B influence?
I guess it would be rock, in a way, but I see him coming from more of an old rhythm-and-blues style. Since we made our first record, we've been really diving into old music. I just want to find out what my heroes were really listening to. I've been listening to Magic Sam, and as a result, I want to get cleaner with my sound. There's something about that nice clean tone, so I'm using fewer and fewer pedals. We listen to a lot of Ike and Tina Turner, too – Ike is one player who did a lot of cool stuff.
When's the next record?
We have two sessions recorded and we mixed some of it, put it on tape, and really just wanted to throw out the computers. We wanted to capture that old feeling, and a lot of those recordings came out really well. We actually released two extra songs, "Run Like The River" and "Pelvis Pusher," as a taste.
Your playing has a great sense of economy and melody. What did you listen to that prepared you for this band?
I grew up in Sweden, so the first influences that caught me were The Beatles, Rory Gallagher, and Jimi Hendrix. They were the big ones. Rory Gallagher had a really raw, violent tone that was special. Then, of course, Hendrix and The Beatles were just meaningful to me, and so inspiring. It started me wanting to play guitar and really get into it.
Where does the R&B come from?
I met our singer, Ty Taylor, 15 years ago, and he was inspired by gospel music and rhythm and blues. He was a big source of older music. When I moved to Los Angeles, I got crazy into Led Zeppelin. So it was all that, and playing with rhythm-and-blues singers. I love working with vocalists, and going back and forth with that energy that comes from rhythm-and-blues and soul music. It's really inspiring.
How do you handle the criticism that Vintage Trouble is ripping off Otis Redding and James Brown?
I'm quite happy for it! When Led Zeppelin or The Rolling Stones started, they were all just taking Howlin' Wolf and copying the tracks. I'm not saying we're copying anything; I love the music and energy from raw blues. There was something so honest with a "f**k you" kinda vibe on it. They were just playing . If people want to criticize that, then fine. We love that music and we stand for it.
When we tour and do shows, I meet so many young people who have no idea about some of these old artists. We want to bring them up front again. I'm talking to 15- and 16-year-olds who never heard of Muddy Waters or Howlin' Wolf. It's great to be the connector to old music. That music still stands so strong, especially today, when everything is so cleaned up digitally and every beat is perfect. My god, we need a little wiggling and swing!
You play a 2005 Gibson Les Paul Standard. Why does that guitar work so well in Vintage Trouble?
I grew up being a Fender guy. I was into Strats and Hendrix and Rory Gallagher; I never played Les Pauls. It's a hard guitar to play. I bought one six years ago and couldn't play it – didn't sound right. So I put it in the closet. But once we started working on the early demos for the first couple of songs, I thought it would be really cool with a Les Paul and a tweed amp, so I brought it out of the closet. I really liked it and I started playing it all the time and I couldn't stop.
It was tough to beat it in. I had to put some mojo into it – we fought pretty much on that whole first tour. I had to beat it into submission, and now it's an amazing machine, and I love it. It's in-your-face. It just fits.
– Oscar Jordan
---
This article originally appeared in VG May 2013 issue. All copyrights are by the author and Vintage Guitar magazine. Unauthorized replication or use is strictly prohibited.
---