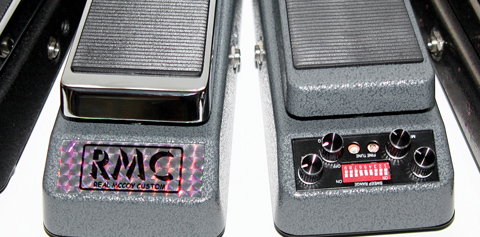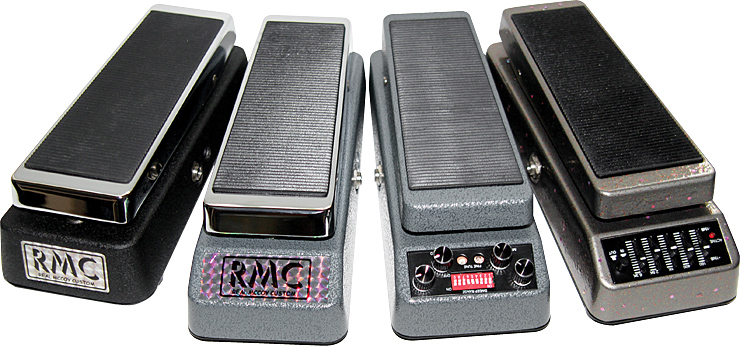 RMC3FL
Prices: $255
RMC4 Picture
Prices: $235
RMC8 Guitar Eqwahlyzer
Prices: $269
RMC10
Prices: $235
Info: www.realmccoycustom.com.
Geoffrey Teese began modding wah pedals in 1993, and eventually earned a reputation as the "Wah Guru." A true specialist, he painstakingly studied the electronic, structural, and tonal intricacies of various wah pedals built from the '60s on, recording extensive meter measurements and notes.
After years of repairing, modding, and offering custom pots for players to hot-rod their own pedals, Teese began selling Real McCoy Custom wahs, which embraced the best attributes from the most desirable examples. All are housed in metal cases, can run on AC or DC power, offer true-bypass switching, and have tension-adjustable treadles. We recently gathered all four McCoy wahs currently in production – the RMC3FL tunable wah, RMC4 Picture wah, RMC8 Guitar Eqwahlyzer, and Teese's latest, the RMC10 – to hear their differences and similarities.
To observe each pedal's behavior, we fired up a '68 Marshall 100-watt Super Lead plexi stack and grabbed a stock '65 Strat and a '59 Historic Reissue Les Paul.
The RMC4 Picture was inspired by the circa-'67 Italian-made Vox Clyde McCoy pedal (the one with Clyde's picture on the bottom plate). Its circuit (along with those of the 3FL and 8) uses a custom-designed inductor, RFI and EMI filtering, licensed fuzz technology from Foxrox Electronics, and the proprietary RMC Roc-Pot. A toggle under the treadle changes sweep speed and low-end resonance.
In terms of tone and response, the RMC4 is nice and greasy, expressive, and easy to control. Its sweep is long, smooth, and even, with no breaks or dropouts. Its '60s-faithful coloring blended very nicely with the Marshall and both guitars to deliver classic rock tones.
The RMC3FL, Teese's flagship model, allows precise nuance and voicing control beyond that offered by traditional wahs, and has a fully tweakable design for DIY mods (no technical knowledge required!). Its electronics are housed in the same case as the RMC4, but with four front-mounted controls that manipulate low (low frequencies in the sweep), mid (midrange frequencies and vocal qualities of the sweep), volume (output level of the effect), and Q (sweet spot within the sweep range). Additionally, nine mini dipswitches alter the sweep within a nine-octave range, and two trim pots fine-tune the setting, allowing for 200-plus possible sweep ranges. Plenty of choices make it a great tool for the studio.
The RMC8 Guitar Eqwahlyzer adds a five-band graphic EQ to the 4. Each band adjusts +/-15 dB to precisely dial in the desired tone. The EQ is easy to use, whether boosting or cutting lows, mids, or high, and proved useful for making its timbre more consistent when using different guitars or rigs. An in/out switch activates the EQ (a red LED confirms it's on) so it can be used as a basic wah (a la the Picture), and the EQ can be kicked in when wanted. Be creative and use a half-cocked wah for a texture effect, then kick on the EQ for a boost and rock the pedal for a solo.
The RMC10 is a different animal, using the classic Thomas Organ style that offers a different feel and response. Its electronics are also different, with a circuit that incorporates a custom-designed metal-can inductor and an RMC-ICAR potentiometer.
Compared to the basic Real McCoy Custom wah, the 4 and 10 both possess classic "Italian" characteristics, but the overall tone of the 10 is noticeably cleaner and the sweep range is somewhat shorter and more focused, with different beginning and ending points. The 10 has a throaty character and more highs are noticeable as you push toward the toe. The 4 seems more like a well-worked-in Clyde, while the 10 is more like a factory-fresh wah picked from the Jen assembly line, as if you went back in time. It's a diverse range of wah options to complement your rig and personal style.
---
This article originally appeared in VG April 2015 issue. All copyrights are by the author and Vintage Guitar magazine. Unauthorized replication or use is strictly prohibited.
---