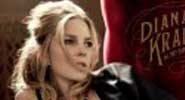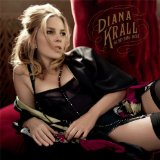 Fans familiar with Krall's records featuring swinging tunes and gentle ballads might be more than a little surprised when they hear Glad Rag Doll. It wouldn't be fair to say she's left the jazz world, because many of these 13 song are old jazz tunes that fit that bill. But they are done in such a rollicking fashion with – not to confuse things – such an "old-time modern" feel that they bear no resemblance to her previous work.
Let's talk players for a moment. Your first hint should be the producer, T-Bone Burnett, who is on a hot streak of unrivaled proportions. He plays guitar along with the eclectic Marc Ribot, Bryan Sutton, and Colin Linden. We also get someone named Howard Coward, who is actually Krall's husband Elvis Costello. Those players, with their very different résumés should give you an idea how different this music is.
There's great playing on pretty much every cut. Lovely acoustic on "Prairie Lullaby;" big, loud repeating guitar figures on "I'm a Little Mixed Up;" jazzy lines on "I Used To Love You But It's All Over Now;" and some nasty playing on a rendition of "Lonely Avenue" that can only be described as surprising and yet right on the money.
While the players are all great, Krall herself deserves a tip of the hat for stepping out of her comfort zone. Many of these songs could have gotten a clichéd vocal, but she meets the challenge of them all. Sighing, sexy, growling, or melancholy, she handles the assignment perfectly. While her piano isn't featured as prominently as in some of her other records, when it makes an appearance she shines, as on the aforementioned "Lonely Avenue."
Kudos to everyone involved for making a record that could have sounded like the relic of another period, but instead feels new and fresh.
This article originally appeared in VG's Feb. '13 issue. All copyrights are by the author and Vintage Guitar magazine. Unauthorized replication or use is strictly prohibited.