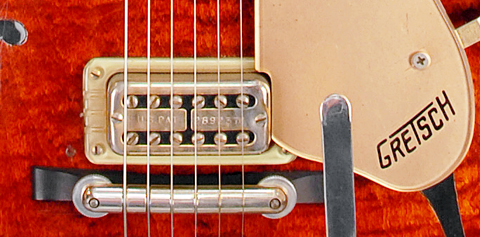 Consider American guitar manufacturers that have been in business during the last 100 years and the different instruments they've produced. Only a handful  have become cultural icons – given no information except "Les Paul," "Stratocaster," "Telecaster," and "White Falcon," even non-players can identify them as guitars. It's not uncommon to hear "Telecaster? That's a Fender guitar isn't it?" Many non-players also identify certain artists with specific instruments, and some can even name specific artists and song combinations that featured a particular instrument.
While the Les Paul, Stratocaster, Telecaster, and White Falcon are clearly in the first echelon of cultural icons, Gretsch's Country Gentleman is ensconced at the upper end of the second echelon, due largely to the impact of Chet Atkins and George Harrison, two of its most-celebrated players.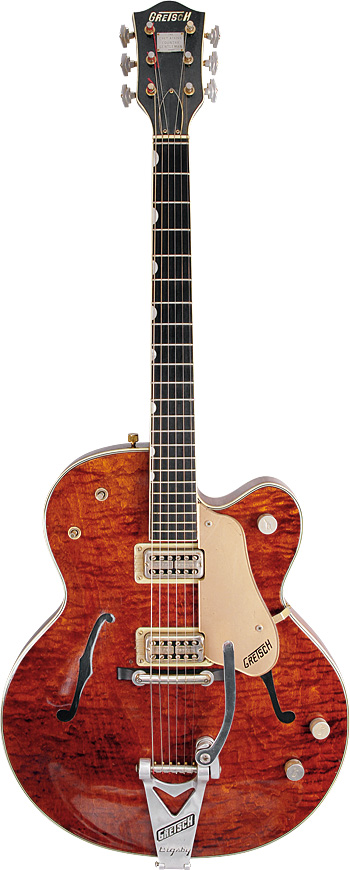 The Chet Atkins Country Gentleman (the model's official name) had at least two distinct incarnations (and several variations) during its long life span: originally as a single cutaway model and later as a double cutaway version. The development of the original single-cutaway model probably began in late 1956/early '57, years which saw competition in the electric guitar market really begin to escalate. Gretsch and Gibson were pursuing very similar design/development paths during this time period. The parallels and timing are quite intriguing. Both companies were working steadily on what they perceived to be the next generation of electric guitars semi-solid with a much thinner body and electronics that didn't hum. Gibson was developing its legendary humbucking pickup, and the ES-335 – and Gretsch was working on its humbucking pickup, the Filter'Tron, and what was to become the Country Gentleman model.
Grestch's earliest forays into this new generation of guitars were shaped by artist/endorser/guitar superstar Chet Atkins who had experienced some noise problems with the DeArmond pickups used on his Chet Atkins Hollow Body Model 6120 and Chet Atkins Solid Body Model 6121. Chet was a "no frills" guy, and while delighted to have an endorsement deal, he wasn't completely enamored with the "flashiness" of his 6120 and 6121. He preferred a high-end, no nonsense instrument with quality design and construction rather than making a visual statement. He was also interested in increasing an instrument's sustain and thus was a proponent of solid construction – from the nut to the end pin. He made several recommendations to achieve this (including using a metal nut and bridge) and even suggested that having a closed body might make the instrument sustain more. The earliest version of Chet's vision/philosophy was produced in mid 1957 and has come to be known by Gretsch aficionados as the "White Gentleman" (appropriately named for its white colored top). Bearing no official name, just a lable affixed to the bottom of the pickguard with the model number 6122, these instruments appear to be Country Gent prototypes. And very few were produced. Three or four have surfaced and all of them have serial numbers in the 23000 range. It's clear from examining these "White Gents" that Gretsch was developing one of the earliest semi-solid, thin body electric guitars.
The Country Gentleman (numerically designated in Gretsch catalogs as Model PX6122) made its official debut in late 1957, as a 1958 model. While the name "Country Gentleman" could aptly describe Chet Atkins himself, it's more likely in reference to a song of the same name that Chet originally recorded in 1953. As a high-end model (it was the top of the line in the Chet Atkins series), it was produced in limited numbers. And given the $500 price tage, a substantial sum of money in 1958, it sold in limited numbers (in Gretsch's electric line, only the White Falcon was more expensive). Produced as a single cutaway from model year 1958 through model year 1961, there's a simple understated elegance to this version of the Gent. Sporting a closed 17" wide "electrotone" body (with solid bracing and simulated f-holes), Gretsch's new humbucking pickup (the Ray Butts-designed Filter'Tron), and its trademark metal nameplate on the headstock, the Gent was fairly conservative in its appearance. Its walnut/mahogany stained finish was quite a contrast to the rest of the Grestch line which featured wild colors like Oriental Red, Bordeaux Burgundy, Cadillac Green, Lotus Ivory, Bamboo Yellow, Copper Mist, Spotlight Sparkle silver, Smoke Green, Jaguar Tan, and Amber Red/Orange. From the sophisticated Art-Deco stairstep Grover Imperial tuners, to the ebony fingerboard with the neo-classical position markers, to the exquisitely figured curly maple used to construct many Gents from this period, it's clear that this is a very fine, high-end instrument. Just look at our beautiful examples from 1959, 1960, and '61.
By '61, Gretsch had decided to revamp its line of electric guitars. The single biggest change was the decision to phase out the single cutaway construction in favor or a double cutaway design. The Country Gentleman made this transition in late 1961. Other significant changes included a snap-on back pad for more comfortable playing, and the addition of two felt "string mutes" (one for the bass strings and one for the treble strings) that could be raised or lowered by dialing up the appropriate knob. Still a high quality instrument, the Gent retained the Grover Imperial tuners, dual Filter'Tron picups, and metal nameplate. As with the single cutaway Gent, many of these early double cuts continued to feature beautifully figured maple tops.

In Feburary 1964 the Beatles visited America for the first time. Their appearance on the "Ed Sullivan Show" marked the beginning of the "British Invasion" and is touted as "the day popular music in America was changed forever." By this time George Harrison had been a Gretsch player for several years (his first quality American electric guitar was a Duo Jet) and when he appeared on the Sullivan show playing a 1963 Country Gentleman (with a very dark mahogany stained finish that on television looked black), this marked the beginning of the Country Gent's rapid rise to the role of cultural icon. It also marked the beginning of a huge increase in the production of the Country Gent and of Gretsch guitars in general. If Gretsch had a rough equivalent to Fender's Stratocaster in terms of production numbers/volume, the "post Sullivan appearance" 6122 was it. Gretsch sold thousands of Country Gents based on George Harrison's unofficial "endorsement." Gretsch couldn't produce them fast enough and, for quite a while, demand far exceeded supply. Today, even though the single-cutaway Gents are much harder to come by, the '63 version, with stair-step tuners and "flip-up" string mutes with red felt pads, may well be the most sought-after by collectors.
Like most of Gretsch's other instruments, the double-cutaway version of the Country Gent went through many changes in its production life, including different pickup configurations, truss-rod systems, tuners, mutes, control knobs, and closed/open f-shaped sound holes (our example from '67 has a single string mute for all six strings and large button Grover tuners.) There were very few 12-string versions produced, quite possibly only one or two.
---
This article originally appeared in VG Classics #02 issue. All copyrights are by the author and Vintage Guitar magazine. Unauthorized replication or use is strictly prohibited.
---