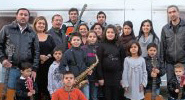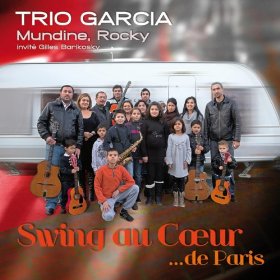 Translated, the title of this album reads "Swing From The Heart Of Paris." But that only begins to sum up Rocky and Mundine Garcia and their musical home.
The Garcias are stalwarts of La Chope des Puces, the tiny bar in the center of the Paris flea market just around the corner and paces away from where Django Reinhardt's Caravan burned back in October, 1928. Today, La Chope has became the center of the entire Gypsy jazz universe. The Garcias themselves are upand-comers from the latest generation of one of the most famous of Gypsy jazz clans. So when they release their debut, all aficionados should stop and listen.
Rocky is the son and Mundine the nephew of Ninine Garcia, who in turn is the son of Mondine, the Gypsy jazz patriarch who ruled over La Chope for decades, stretching back into the 1950s. And his ancestors played with Django himself. They may even have been among those who taught Django how to play guitar.
But while the title of this debut may be an understatement, the music certainly is not. Both Rocky and Mundine are guitarists who sharpened their playing alongside some of the best. And they honed their craft sitting in each weekend for the famous afternoon jams at La Chope that draw stars from Biréli Lagrène to Tchavolo Schmitt to any and all players who stop by. Much like an old-time head-cutting contest, La Chope is home to both friendly and fierce sessions.
Tall and thin with incredibly long fingers, Mundine is a constant – and accomplished – accompanist at the bar. But here he takes over solo duties, which he handles with aplomb. He plays with serious mien and yet grace – careful about every note, but poetic in its use. Rocky is rock solid in his rhythm, playing la pompe (the pump) with some intense swing. Together, they make for an ideal duo, backed by string bassist William Brunard and joined by guest Gilles Barikosky who lends a cool, smooth sound to proceedings with his sax.
Thankfully, this album is not yet another homage to Django, respectfully covering the timeworn classics while not daring to color outside the lines. Instead, the cousins play their own unique set list – and it's new, inventive, and inspired.
The album opens with Ninine's "Mon Fils Et Moi," a sweet-souled, midtempo tune. Mundine and Barikosky trade solos, joining together for the last run through the theme. Mundine's fretwork is beautifully phrased and articulated; while it might not ring with the daring of Django, it's stylish and fresh. On "Les Demoiselles De Rochefort," the sax and guitar intermix, alternately echoing and challenging each other. Throughout, Rocky's rhythm keeps the song moving on a constant current of chordal transition.
The recording quality – and indeed whole mood – is warm, bright, and clear. It's a gorgeous collection of modern Gypsy jazz, perhaps not a pyrotechnical fest, but all the better for it. Like La Chope itself, the music here has soul.
This article originally appeared in VG's June '12 issue. All copyrights are by the author and Vintage Guitar magazine. Unauthorized replication or use is strictly prohibited.