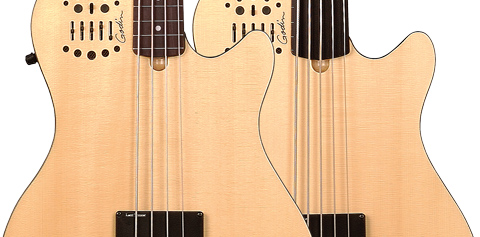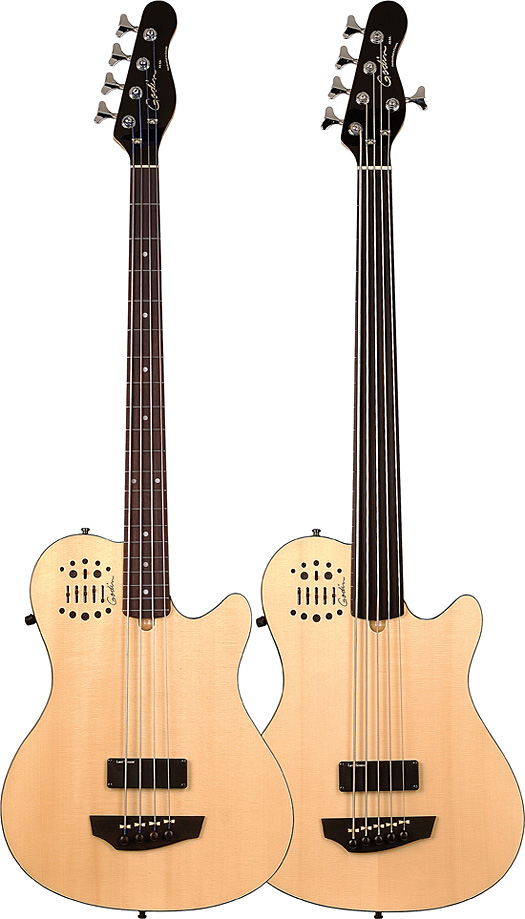 Godin A4/A5 Ultra SA
Price: $1,395 (A4 Ultra SA fretted); $1,645 (A5 Ultra SA fretless)
Info: godinguitars.com.
For years, Godin Guitars has been finding creative ways to improve guitar and bass design, often by working directly with musicians. This has resulted in numerous breakthroughs typically packaged in traditional-appearing instruments. A good example is their A Series guitars and basses.
The A Series line is Godin's approach to an acoustic-style instrument that can withstand louder volumes. The latest offering are the A4 and A5 Ultra SA basses, four- and five-string semi-acoustics constructed with a two-chambered silver-leaf maple body and solid spruce top. They use 34″-scale bolt-on maple necks with either rosewood (on the fretted models) or ebony fingerboards (on the optional fretless). Both have a 16″ radius for a comfortable feel without an abundance of chunk. There's a slight flatness to the neck that gives it an almost asymmetrical feel and adds to its playability. Standard chrome tuners and a nice, semi-gloss finish help complete its look.
The "ultra" part of the Ultra SA boils down to electronics. There are a total of three output options; magnetic pickup, string transducers, and Godin's secret weapon – a 13-pin synth output. The Ultras sport individual string transducers for acoustic-like tone. This enables a more-refined approach to capturing string vibration over traditional piezos. The bridge-mounted magnetic pickup is a specially designed Lace Sensor in the optimum position for capturing the midrange bite bassists look for, especially on fretless models (think classic Jaco tone!). For ultimate tone shaping, the Lace Sensor and transducers can be sent to individual output jacks. The 13-pin synth output can route signal to guitar synthesizers like the Roland GR series, AKAI, or anything with a 13-pin connection, giving it the ability to go pretty much anywhere in the sonic universe.
Godin also installs custom preamps that complement the string transducers and pickup. The five sliders on the body act like a traditional graphic EQ; the slider closest to the outside of the bass is the master volume for the transducers or, as mentioned, a blend control when used in mono. From there, you have individual bass, mid, and treble sliders with an additional slider above the mid control for different midrange tone shaping. The fifth slider is a master volume for the synth pickup. Finally, there are two small pushbuttons on either side of the mid-shape switch, for scrolling through whatever synth module you're accessing. Simple, right? Well, perhaps not at first, but it is amazing how quickly it makes sense.
Our testers, a fretted A4 Ultra SA and fretless A5 Ultra SA, had flawless finishes and were set up extremely well. The four-string, in particular, felt more like a traditional electric bass and played like butter. The cutaway is a welcome touch, as some acoustic-inspired basses tend can be difficult to play in higher registers. The fretless five-string played just as well, and its flatwounds gave it a hip, upright-meets-Jaco vibe that cut through the mix.
With either, it's important to familiarize yourself with just how much tone is in them. Live and in the studio, both Ultra SAs impress with their flexibility, especially the fretless. On live jazz gigs, the upright-ish tone accessible via the transducers gave a traditional spirit to the music, such as when the band was swinging or while soloing and blending in the magnetic pickup. With some acoustic-inspired instruments, the lack of a magnetic pickup often causes the bass to get lost in a mix. The Lace Sensor was a wonderful option for curing this problem, thanks to its not-overbearing-yet-articulate voice.
More than the vast majority of instruments on the market, Godin Ultra SA can inspire a player to create new sounds. And isn't that one of the reasons we get into music in the first place?
---
This article originally appeared in VG October 2011 issue. All copyrights are by the author and Vintage Guitar magazine. Unauthorized replication or use is strictly prohibited.
---