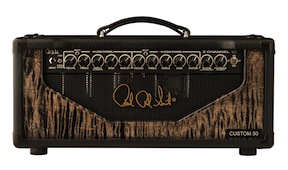 PRS' 2-Channel Custom amplifiers use 6L6 tubes and have global reverb, with controls for Volume, Master Volume, Treble, Mid, Bass along with a Bright switch for each channel, multi-tap speaker out, two output jacks, fixed bias, effects loop and a three-button LED footswitch. It is available as a 50-watt head, 100-watt head, or a 50-watt 1×12 closed-back combo.

The Brent Mason signature guitar has a Korina body, maple neck, 25 ¼" scale, and uses specially-wound 408 treble and bass pickups with a 305 pickup in the middle position, paired with a five-way blade switch.

The Paul's Guitar and Paul's MDT amplifier are designed to Paul Smith's specs and match his personal gear. The guitar is based on the Modern Eagle, with "brushstroke" bird inlays and two 408 pickups. The single-channel Paul's MDT amp uses a Cinemag transformer and adds controls for Midrange and Presence controls, as well as a Clean/Dirty switch. Learn more at prsguitars.com.