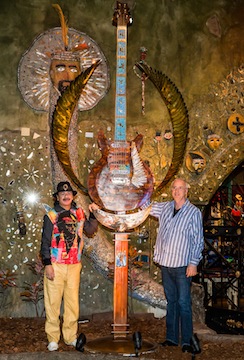 A 13-foot steel, glass, and bronze sculpture of a PRS Santana signature guitar was unveiled this week in front of the House of Blues Las Vegas. The statue, entitled "Wings of Legend,"  was created by Dale Evers, who said it represents the tens of millions of guitars that have become an intrinsic part of American pop culture and pays homage to the artistry of Santana and his relationship with PRS.
"The sculpture truly embodies the magnificence that is Carlos Santana," he added.  "It is an understatement to say I am honored and greatly appreciative for this grand moment in my life." Evers' signature is characterized by his fusing of glass, bronze, and steel, and his commissions have led to permanent installations throughout the U.S. and Mexico.
The unveiling ceremony included presentations by House of Blues CEO Ron Bension, Evers, Santana, and Paul Reed Smith, who donated six SE guitars in Santana's name to the International House of Blues Foundation, in support of their Action for the Arts music program, which supports youth music and arts programs. For more, visit actionforthearts.org and ihobf.org.