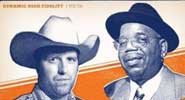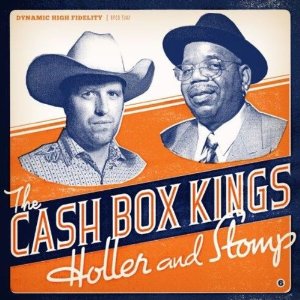 The Cash Box Kings are part of the multi-ethnic, crossgenerational, Chicago-based community of musicians that includes the Killborn Alley Blues Band, guitarist Billy Flynn, producer/multi instrumentalist Gerry Hundt, and other like-minded souls. Like the others, the Kings put as much fire into country blues like the title track as they put back porch soul into its citified counterpart on tunes like guitarist Joel Paterson's snaky "That's My Gal" or the Stones' "Off The Hook," even meeting country music coming the other way on Hank Williams' "Blues Come Round."
Good as much contemporary blues is, it's often missing that unnamable "thing" that characterized the smoke and whiskey-fueled Kent Records early electrified blues of the 1940s and '50s. Whatever that thing is, it's here in abundance. It's in vocalist/harmonica player Joe Nosek's original shuffle "Fraulein On Paulina" and the old-timey "Hayseed Strut," which has Flynn's mandolin snug against gutbucket bass from Jimmy Sutton and piano from the aptly nicknamed Barrelhouse Chuck that is so spot-on you can smell the spilt beer and pig knuckles. And it's in their take on Muddy Waters' "Feel Like Going Home" – a tune that shows that even in one of possibly hundreds of cover versions and after many decades, the Great One's mojo is still preternaturally strong.
Veteran singer Charles Wilson and Paterson are a spine-tingling combination punch on a bare-bones working of Lightnin' Hopkins' "Katie Mae" that at least ties Paterson for MVP honors with Nosek, who contributes several solid compositions like "Sara," where he shows himself to be the quintessential guitar player's harmonica man working in perfect tandem with Flynn and Paterson to the point where, at times, like on Paterson's snaky "That's My Gal," it's only the timbre of the instruments that distinguishes harp from guitar. Sutton's vocal and Paterson's guitar mesh similarly in "Oh My Baby's Gone," another Nosek original.
The Cash Box Kings' blues conveys powerful joy, commitment, and connection to history, and reminds us that so much of America's great music is delicious fruit from the same tree. When it's as good as it is here, it's all one can do to refrain from doing just what the album title suggests.
---
This article originally appeared in VG's Jan. '12 issue. All copyrights are by the author and Vintage Guitar magazine. Unauthorized replication or use is strictly prohibited.
---